/ Source: The Associated Press
Democratic presidential candidate Barack Obama began on Monday searching for votes in Republican strongholds and other battleground states, aiming to draw sharp contrasts with opponent John McCain — especially on the struggling U.S. economy.
McCain, the presumptive Republican nominee, planned a series of fundraising stops first in Virginia and Washington, D.C., looking for donors as the general election campaign begins in earnest now that Hillary Rodham Clinton suspended her bid for the Democratic nomination and robustly threw her support behind Obama over the weekend.
McCain will need all the financial help he can muster as he moves toward the November vote against Obama's well-oiled fundraising machinery that has rolled up an astounding bankroll, much of it from small donors on the Internet.
Obama has raked in $264 million (??169 million) in 16 months. McCain has raised less than half that much, $115 million (??74 million), in 17 months. However, at the national party level, the Republican National Committee was ahead, raising $166 million to the Democratic National Committee's $82.3 million over the past 17 months.
On Monday, Obama planned to travel to North Carolina — a state that has not voted for a Democratic presidential candidate since 1976 — to talk economics to an electorate increasingly edgy about its future. The country's economy has been laid low by shrinking growth, bounding unemployment and staggering increases in energy costs.
Later in the day Obama was on his way to Missouri, which last voted for a Democrat in 1966. The tour was also to take him the Illinois senator to Virginia, which last voted Democratic in 1964.
His campaign also said he would be in Ohio, Pennsylvania and Florida and other states to be announced shortly for what aides are calling a "Change that Works for You" Tour.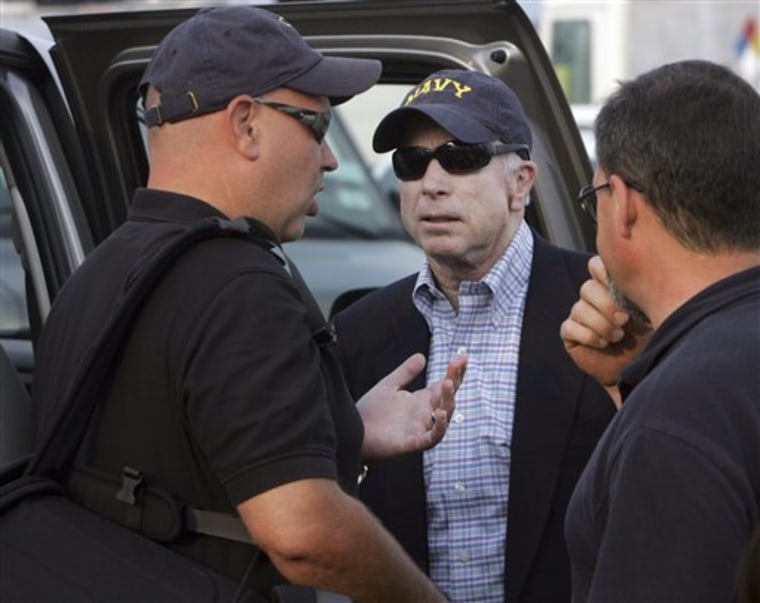 By moving into some Republican and other battleground states, Obama could force the McCain camp to spend precious resources defending traditionally home turf. The general election is a series of state-by-state, winner-take-all contests.
For his part, Obama faces the huge challenge of wooing the Clinton base, as the Democrats try to patch things up after what was an extended, exhausting and often bitter campaign. Time grows short for Obama on that front with the party convention set for late August in Denver. Through the primary season polls showed Clinton backers — especially women and working class voters — increasingly declaring they would vote for McCain rather than Obama.
While Obama feels comfortable with an offensive against McCain on the economy, which has badly faltered in the last months of the Republican Bush administration, the Arizona senator hopes to counter-punch with attacks on his opponent's perceived lack of experience in the international arena.
But McCain is saddled with the Iraq war, which he supported at its inception and believes must continue to a still undefined U.S. victory. And even if he can gain renewed traction with his Iraq policy, a war opposed by a majority of Americans, the issue has fallen off front pages as voters turn inward, concerned about their faltering economic prospects.
Adding to McCain's troubles-by-association with President George W. Bush, the nation's unemployment rate shot up to 5.5 percent in May, the biggest one-month jump in decades. So far this year, 324,000 people have lost their jobs.
The release of those figures on Friday sent the stock market skidding, with the Dow Jones Industrial Average dropping nearly 400 points. As oil prices hit new highs, home mortgage foreclosures continued to send shock waves through the already wobbly economic system.