/ Source: Forbes Traveler.com
Tourists have been traveling to see buildings since the days of the Great Pyramids, but recent years have seen a big jump in "architourism," as it was first called at a 2002 conference at Columbia University. This has prompted city planners around the world to commission increasingly iconic bridges, concert halls and museums — in an effort to attract more tourism dollars.
Scholars and architects credit the Frank Gehry-designed Guggenheim art museum in Bilbao, Spain, for jumpstarting this architourism trend. But Gehry is hardly the only "starchitect" out there; culturally minded travelers also seek out structures built by Rem Koolhaas and Zaha Hadid, to name but two.
At the same time, there's a revitalized interest in classic Modernist structures, which date from the early- to mid-20th century. Public buildings, residences and planned cities designed by such influential Modernists as Alvar Aalto, Frank Lloyd Wright and Le Corbusier have become the darlings of preservationists — and destination sites for cultural tourists.
"The historic preservation movement, which really only got going in this country in the '60s, has now more than reached critical mass," says Joan Ockman, a professor at Columbia University who edited the book "Architourism: Authentic, Escapist, Exotic Spectacular." "There are now organizations all over the place whose mission is to preserve monuments of modern architecture, not just older architecture."
The majority of 20th-century Modernist icons are located in Europe and the U.S., because that's largely where the movement was rooted. But there are notable examples elsewhere. For architourists who need to economize their time abroad, Ockman suggests looking for a "cluster" of structures.
One such cluster is actually close to home. Frank Lloyd Wright's Fallingwater, Kentuck Knob and Duncan House can be seen in a daytrip from Pittsburgh. The famously zen Fallingwater, which inspired Ayn Rand's classic novel The Fountainhead and recently underwent a $5 million restoration, is a cantilevered structure that sits partially atop a stone waterfall in the middle of the woods. The water passes underneath, which helps the structure blend with its natural surroundings. It was voted "the best all-time work of American architecture" in 1991 by the members of the American Institute of Architects.
The early-20th century American Modernists also have a strong presence in Chicago, described as "the first city of American architecture" by Dr. Greg B.C. Shaw, an assistant professor in the Department of Recreation, Parks and Tourism Administration at California State University, Sacramento. According to Shaw, Wright's Usionian and Prairie Styles "were based largely on the Illinois landscape that surrounds the city." One example is the Robie House, which features some of the iconic horizontal lines and overhangs that would find their way into Wright's later work.
Designs by Modernist icon Mies van der Rohe can be found on the Chicago campus of the Illinois Institute of Technology, where he was the head of the School of Architecture for 21 years. Van der Rohe designed 13 of the school's buildings; they reflect his cool, functional modernism. In Plano, Ill., 58 miles outside of the city, Mies' Farnsworth House is distinctive in its purity of form and simplicity.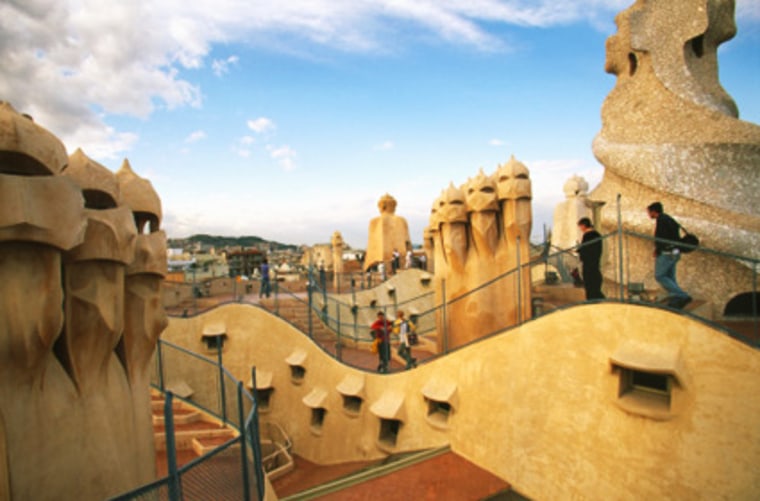 To see the intersection of Modernist architecture and urban planning, Shaw points to the "planned cities" Brasilia in Brazil and Chandigarh, India — two examples that grew out of a "cold sterility" often idealized in the last century. "They are modern cities that were blank slates, designed from scratch," he says. They're unlike the Modernism seen in Europe and the United States, possibly because they had to fit within an existing cultural context. "They show the power of modernism," he adds, "but perhaps also its limitations since the environments aren't necessarily warm."
Brasilia was designed by architect Oscar Niemeyer and urban planner Lucio Costa in the late 1950s to fulfill a clause in the Brazilian constitution to move the country's capital. Located in what was once an empty patch of land hundreds of miles from any other city, Brasilia was designed and built in just four years. The city has an underlying socialist ideology behind its design (all apartments are rented by the government, and common workers live side-by-side with government ministers), and a visual unity throughout the buildings.
The planned city of Chandigarh, in northern India, was designed at first by Albert Meyer with architect Matthew Nowicki, but later handed off to Le Corbusier. It was commissioned after the partition of British India necessitated a new capital city be created for the Indian state of Punjab. Chandigarh was designed on a grid pattern with sectors of identical size creating rectangular neighborhoods — each with their own markets, schools and temples.
Finnish architect Alvar Aalto isn't as widely known as many of his contemporaries, but a trip to Helsinki and its environs can provide a rewarding tour of his large public buildings, such as Finlandia Hall, and smaller residences Villa Mairea in Noormarkku. A few hours from Helsinki (by car) in Paimio, Aalto's Paimio Sanatorium was built originally as a TB ward. Aalto's gesamtkunstwerk (or "complete artwork") approach to this project involved all of the building's accessories, including the furniture, designed to fit together.