Wine collecting dads this year might unwrap a coveted bottle of 2003 Silver Oak cabernet sauvignon this Father's Day.
A lucky few will visit the Silver Oak vineyard. Book him a special package at the Napa Valley wine estate Meadowood, and its resident master sommelier, Gilles de Chambure, will accompany Dad on appointments to this and other exclusive local wineries. He'll enjoy personal tours and tastings as well as a picnic lunch in one of the vineyards. In the evening, he'll sit down for a four-course dinner with wine pairings at the estate's Michelin-rated restaurant. Prices range from $2,420 to $3,070 for a one-night stay.
This is one of a handful of weekend trips suitable for adventure-loving dads.
Depending on his interests, other gift ideas might include whitewater rafting down the Colorado River, fly fishing in the remote wilderness or a weekend at an 18-hole resort and spa.
These trips can also include friends and family. The PGA National Resort & Spa in Palm Beach, Fla., for example, offers the "family fun fore all" and "guys buddy trip" promotions. With the family package, two children and two adults stay for $99 a night and enjoy unlimited golf on three courses, discounted meals and spa services and access to golf clinics. The "guys buddy trip" promotion is $445 per person through October and includes 18 holes of golf each day and cart and caddie fees.
James M. Gelfand, the resort's vice president of sales, marketing and revenue development, says that while most book family packages for Father's Day weekend, buddy trips are also popular. The bottom line, he says, is that, "Dad gets to come and play golf and he doesn't have any guilt."
What people buy
This year, consumers are expected to spend $95 each on Father's Day gifts, according to the National Retail Federation, a trade association. Common presents include clothing, books, CDs, computer accessories, gift certificates and greeting cards.
There are also gifts that might exceed Dad's wildest expectations. The Scotch whisky distiller Chivas Regal is offering a $117,650 package that includes a five-day stay at a private mansion in Scotland, a round of golf at St. Andrew's Links, dinner with the Duke of Argyll at his castle, helicopter transportation and a bespoke kilt and family crest consultation.
For $49,000, you can transform him into a Vegas high roller. The "ultimate mancation" package offered by the JW Marriott Las Vegas Resort & Spa includes the keys to a Ferrari 360 Spider, one day of racecar driving, golfing at TPC Las Vegas and cigars to end every dinner.
Even without the promise of a lifestyle makeover, Las Vegas is still a popular destination for Father's Day weekend. Lauren Volchef, director of marketing for the Web site lastminutetravel.com, says that Las Vegas bookings usually spike that weekend. This year, they account for 23 percent of the site's bookings; they usually comprise 8 to 10 percent. Volchef also says that golf meccas like Palm Springs and Myrtle Beach are common destinations.
What to do
Gambling and golf, however, are not your only choices. Jennifer Gaines, contributing editor for lastminute.com, says that families spend more time in the outdoors during the holiday weekend. She recommends locations like Monterey, Calif., for the beach setting; Boise, Idaho, for the mountain backdrop; and, Charleston, S.C., for history buffs interested in the Civil War.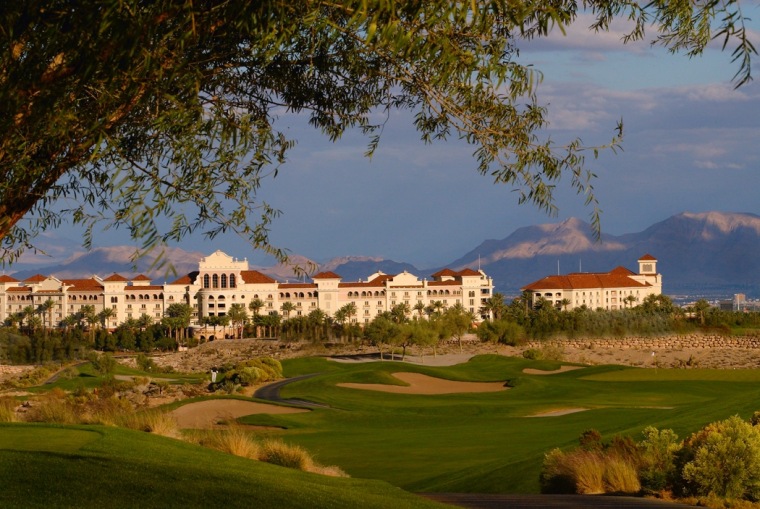 Brandon Lake, vice president of the guided tour company Western River Expeditions, says that hiking, rafting and camping excursions are a perfect fit for active dads. His company, which is based in Salt Lake City but conducts tours of the southwest, offers multi-day packages of whitewater rafting, off-road safaris in bio-diesel fueled Hummers and backcountry camping. A four-day "sampler" trip includes accommodations at $575 for each adult and $475 for children between 5 and 15.
Fishing is another excellent outdoors activity. Though guided fishing trips are often difficult to schedule at the last minute, they are worth the effort. Gail McCoy, owner of the Montana fishing lodge Spotted Bear Ranch, sells out for the holiday weekend months in advance because families enjoy the isolation.
"They can be fishing all day and not see another person," says McCoy. "There's a quiet comfort ... and a silent camaraderie that's absolutely a bonding experience."