/ Source: The Associated Press
Mao Mao the panda's remains were gently laid in a wooden crate and wheeled to a patch of ground in China's famed Wolong Nature Reserve where a freshly dug grave awaited.
The center's director stood cap in hand and shoveled in a few spades of dirt. Then Mao Mao's keeper stepped forward crying, and arranged two apples and a piece of bread by the grave. Three minutes of silence followed as workers gathered around the grave.
Nearly a month after she was crushed to death when China's devastating earthquake collapsed the wall of her enclosure, 9-year-old Mao Mao was laid to rest Tuesday in a quiet corner of the Wolong panda breeding center.
The facility was badly damaged by the May 12 quake, but officials initially thought all 64 pandas had survived. Then they discovered two were missing. Mao Mao's body was discovered Monday, buried under debris.
As He Changgui, Mao Mao's keeper, turned away red-eyed after Tuesday's burial, the director of U.S.-based Pandas International, Suzanne Braden, put her arm around him.
"You must look after her babies, OK?" said Braden, who had arrived a day earlier to survey the quake damage and help in the recovery. "And their babies."
He nodded. "I will go back to see her every day," he said.
Big blow to breeding program
The loss of the panda, a mother of five, was a blow to the breeding program at Wolong, which continues to struggle to recover. The quake was centered just 20 miles (32 kilometers) away in the heart of Sichuan province's mountainous panda country, and five Wolong staff members were killed.
The endangered panda is revered as a national symbol in China, where about 1,600 pandas live in the wild, mostly in Sichuan and the neighboring province of Shaanxi. Another 180 have been bred in captivity.
For the staff at Wolong, Mao Mao's loss was all the more acute because she was killed in her prime, something that rarely happens, said David Wildt, who heads the Center for Species Survival at the Smithsonian's National Zoo in Washington.
"I don't think it's surprising there's a great deal of concern over the loss of this animal," said Wildt, who has worked closely with the Chinese panda program for more than a decade.
"The people who work at Wolong are completely dedicated to those animals. Most of the animals have been born there. The way they are raised, they are handled a great deal. People get to know these animals. They're all named and have their own personalities."
Ron Swaisgood, who worked at Wolong for seven years, said he'd never seen a funeral service like the one Tuesday.
"I think that this is probably a result that everyone is feeling very sentimental about the earthquake and this tragic loss of life. She didn't die of old age," said Swaisgood, who co-heads the Giant Panda Conservation Unit at the San Diego Zoo.
Quake devastated province
More than 69,000 people were killed by the quake, which left 5 million people homeless, crushing buildings and tossing down boulders the size of cars. Frequent aftershocks continue to rattle the area.
Wedged in a narrow valley a few hours drive from the capital of Sichuan province, Wolong was pummeled by landslides on both sides. Panda enclosures were smashed, and the entry gate for visitors was buried under stones, forcing the 30 tourists there at the time to escape by climbing a ladder through the center's clinic.
Wolong's 14 panda cubs played outdoors Tuesday, less than 30 yards (meters) from a huge pile of debris left by a landslide. They had been at the same spot when the earthquake hit.
"They were so nervous when it happened," said Huang Yan, the deputy director of research. "I found seven of them huddled together."
The center remains closed to visitors, and Huang said it might not open again until next year. Six pandas have been sent to another reserve in Sichuan, and eight have been sent to Beijing for an Olympics stay at the Beijing Zoo that was planned before the quake.
Will there be babies?
Now one of the biggest questions is this year's breeding program. The quake hit during what the Chinese delicately call the "falling in love period," — a 24- to 72-hour window each spring when female pandas are fertile — and 18 females had been artificially inseminated. No one knows what the effects of the quake will be.
"We still don't know how many are pregnant," Huang said. "We still don't know what will happen."
Also shaken in the quake were the fragile collections of semen from more than 15 pandas, both dead and alive, meant to help the species' diversity. The samples are kept in aging freezers that are still run, like the rest of the center, on a generator — which broke down briefly Tuesday.
"The first things they asked for after the quake were freezers," Braden said. "With only 1,600 pandas left in the wild, genetically every sperm is important."
With the funeral over, the center turned quiet Tuesday. Mao Mao's keeper, He, had cared for the panda since she was 3, speaking to her in the local Sichuan dialect as he worked.
"It's like you could say something and she would understand," he said. "If you were happy, she was happy too."
'Wild thing'
Mao Mao was brought to Wolong from the wild in 2000 and didn't have a name at first, said Swaisgood, so he called her "Wild Thing."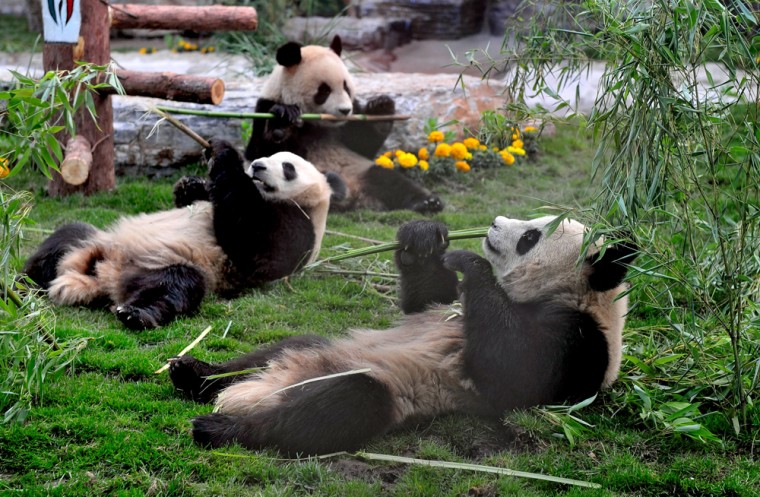 "She had a different personality than the other pandas ... When she was young she was a bit more independent and wilder, a little more sensitive to her environment. She very quickly endeared herself to all of us," he said.
Swaisgood said it was likely Mao Mao was pregnant when she was killed because she mated successfully in the spring.
"Mao Mao was a little unique genetically because she was brought in from the wild," Swaisgood said. That made her especially valuable, though her five cubs meant she had good genetic representation.
"With any breeding program you want to maintain a diverse gene pool to avoid inbreeding," he said.
At Wolong, the staff mark the days since the quake by little improvements: the return of cell phone service. The first open road to the outside world, less than two weeks ago. The crucial truckloads of bamboo for the pandas, one every five days.
But the program can't stay here, Huang said. It has to move to a safer location, with more room to grow for the new cubs.
"This place is dangerous," he said. "It's amazing that we only lost one panda." Another, named Xiao Xiao, remains missing.
As he spoke, there was a rumbling sound. Huang, in his office with broken windows, rose from his chair and looked up at the hills.
"Aftershock," he said. "We get one every day."
Associated Press writers Tini Tran in Beijing and Lindsay Holmwood in New York contributed to this report.