The Coalition of National Park Service Retirees (CNPSR) just released their list of the five quietest national parks in the lower 48 states as well as their five noisiest national parks. Where should you go this summer and fall if you want to escape the rising tide of man-made sound? Here are their findings in their words.
CNPSR Executive Council Chair Bill Wade said, "When people think of national parks, they think of scenery and wildlife. Many also think of a place they can escape the ruckus of everyday life. National Park Service (NPS) policies recognize the soundscape as an important park characteristic that needs to be protected. Some parks remain natural cathedrals to silence and natural sounds, while others now face an onslaught of airplane overflights, traffic sounds, snowmobiles, jet skis and other man-made noise pollution."
The parks listed in this article are subjective. However, they are based on the thousands of years of experiences of CNPSR members who are among those who know the parks best of all. CNPSR hopes that park visitors will appreciate and pay attention to the preservation of natural sound — an important aspect of our national treasures.
Top five parks for peace, quiet and natural sounds
When you visit these or other national parks, tell the rangers you want to be away from man-made sounds as much as possible and ask their advice for the best sections of the park to visit quietly to enjoy the park and its natural sound:

"You can hear the birds' wings as they fly," says a retired superintendent of this park. "Come to Great Basin National Park to experience the solitude of the desert, the smell of sagebrush after a thunderstorm, the darkest of night skies, and the beauty of Lehman Caves," beckons the park's Web site. The Great Basin region is bounded by the Wasatch Mountains to the east, the Sierra Nevada to the west, and the Snake River Plain to the north and includes most of Nevada, half of Utah, and sections of four other states. Its rivers and streams do not drain to either the Gulf of Mexico or the Pacific Ocean. Sitting in the rain shadow of the Sierra Nevada and Cascade Mountains, it is a temperate desert with hot, dry summers and snowy winters. Because of its drastic elevation changes from valleys to peaks, the region supports an impressive diversity of species, from those adapted to the desert to those adapted to forest and alpine environments. Great Basin National Park preserves a small representative piece of this entire region, and also includes reminders of its past human habitation, from Native American to ranching and mining. Hiking here, or especially snowshoeing or cross-country skiing in the winter, are excellent ways to experience peaceful natural sounds in one of the West's lesser known and lesser visited parks.

Isle Royale is a remote wilderness park, at least remote for the Eastern half of the country. It is surrounded by the large, clear, cold, and untamed waters of Lake Superior. The land base is 99% designated wilderness, although the majority of the park acreage is in Lake Superior where motorized boating is allowed—requiring some attention to location and timing to find places where the sounds of nature prevail. The peak boating is during the month of August; many of the dock accessible campgrounds in spring and fall or outside of August are often vacant of motorboats. The months of May, June, to mid July, September and October give the best opportunities for experiencing the wilderness qualities Isle Royale is known for. These same qualities can be found almost anytime by those in the interior, especially when hiking, paddling and camping in the more remote areas. Many boaters find the best natural qualities in the peak of the season by anchoring out in isolated bays, coves, and harbors.
Jagged peaks and deep valleys, encompassing 9000 feet of vertical relief, cascading waterfalls, over 300 glaciers, temperate rainforests and ponderosa pine systems make the North Cascades National Park Service Complex scenic, diverse, and a great place to explore. Three park units in this mountainous region are managed as one and include North Cascades National Park, and Ross Lake, and Lake Chelan National Recreation Areas. Three national forests surround the complex. While recreation includes motor boats in portions of the National Recreation Areas, jet skis are not allowed in any of the three areas. The Steven Mather Wilderness Area includes over 634,000 acres, most of it in the national park. Almost 400 miles of trails allow visitors to experience nature with minimal human-caused intrusions. In the wilderness area, areas such as Cascade Pass, Mt. Shuksan, Thornton Lakes, Easy Pass, and Hidden Lake Peaks receive heavy day use and are therefore somewhat less quiet. Opportunities for solitude are greatest in the more remote cross-country zones. Overnight recreational use is closely managed to provide a high level of solitude, including permits, designated campsites, and party size limits. As in other parks, ask the rangers for their advice to help plan your trip to the quietest parts of the park.
The battle at Big Hole grew out of a long struggle between non-Indians, hungry for land and gold, and the Nimiipu, or Nez Perce. After failing to uphold an 1855 treaty, the United States signed a second treaty in 1863 that reduced the Nez Perce lands by 90%, a treaty not signed by Nez Perce bands outside the new reservation. During a forced eviction in 1877, three young Nez Perce men took revenge on settlers for Indian deaths, beginning the Nez Perce War. At this site, Nez Perce fleeing to Canada were attacked in their tipis before dawn; while the Nez Perce prevailed and continued their flight, several were killed and buried here. It is considered a sacred burial ground by the Nez Perce. The battlefield sits in the beautiful U-shaped Big Hole Valley near Wisdom, Montana. Characterized by willows, sedges, and grasses—though many are non-natives—and flanked by sagebrush steppes and coniferous forests, the park provides habitat for moose and elk and retains much of its 1877 character. In addition to evoking thoughts about the war, spending quiet time in this park can give hints about what the site must have been like in more peaceful times before the battle of 1877, when the Nez Perce and others used this area to hunt and gather resources, such as tipi poles and camas lilies.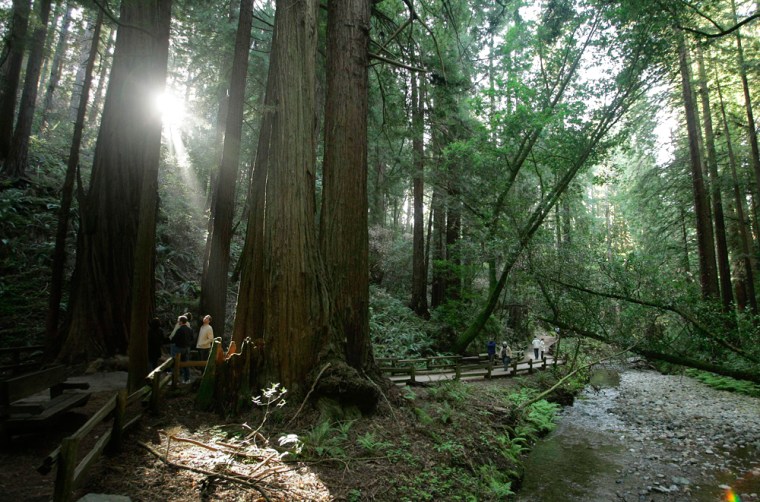 This small park in the greater San Francisco Bay area probably isn't the first park you would think of if you wanted to get away from it all, with its daily crowds of tour buses from the city. The short half-mile path through the redwood forest is never far from the parking lot, though longer, more remote hikes are available. However, the park takes its responsibilities to protect the primeval qualities of the old-growth redwood forest seriously. To that end, they have embarked on a variety of efforts to document the soundscape and to enlist social scientists to help understand if people value the natural soundscape and what they would change to help protect it. Upcoming is a Centennial DVD of the park soundscape, to complement planned new visitor center exhibits. The Junior Ranger program was reworked to have quieting exercises and a new QUEST (a poetic treasure hunt) also that emphasizes listening and appreciating the natural soundscape. These efforts responded to visitors noting that rambunctious kids were the main source of human noise. The park has also tested quiet days and quiet zones. In December 2007, a Winter Solstice celebration included quiet times and five Quiet Days are planned in 2008.
Note: The preceding list deliberately omits national parks in Alaska. Many Alaska parks are inaccessible by road and relatively lightly visited. That means less automobile traffic, RV generators and many other sounds of modern life. But airplane transport is required for many of these parks, and snowmobiles and ATVs are normal backcountry travel in the Alaskan bush, bringing their own noise in varying amounts. Compared to sites in the lower 48 states, a trip to a national park in the Alaska bush still provides for plenty of peace and quiet and lots of natural sounds.
Five national parks with the most serious noise problems are:
This park in the Boston suburbs commemorates the beginning of the American Revolution. It is difficult enough in its current environment to experience the battlefield as it was and or find an atmosphere of reverence. The proposed expansion of commuter service at Hanscom Field has caused significant public controversy regarding the potential impact to the park. Hanscom Field is located just north of Minute Man and is surrounded by four historic communities: Lexington, Concord, Lincoln, and Bedford. Visitors to these sites should be able to experience a soundscape that is as similar to the late 1700s as possible.

Mojave, whose Web site indicates that it "provides serenity and solitude from the crowds of major metropolitan areas" is threatened by proposed new airport near the town of Primm, about 40 miles southwest of Las Vegas. The proposed airport would alleviate air traffic at Las Vegas McCarran. If all goes as planned by the county, the new airport would be built by 2017 and handle about 35 million passengers per year. The proposal is opposed by those who object to air traffic over Mojave National Preserve in California, and to noise and air pollution in parts of California and southern Nevada. An environmental impact study for the proposal is scheduled to be finished in 2010.

This part of the country would otherwise seem to be an ideal place to find a quiet park. However, an air tour Interim Operating Authority is in place for over 5,000 flights annually, with activity concentrated during the summer holiday months. The primary operator has suspended operations, but the FAA maintains that their allocation could be picked up by anyone willing to purchase the company. The park is so small that air tours are audible throughout the park for most of their flight tracks. Another issue that affects quiet at this and other parks is emerging. Sturgis, South Dakota is the focus of a two-week motorcycle rally in August. The noise from this event and those traveling to it affect Mt. Rushmore and other Dakota parks. Motorcycle traffic affects other parks as well, particularly intentionally-loud motorcycles. While many motorcycles are as quiet as or quieter than an automobile, there are a significant numbers that are very loud, and that are marketed and ridden with this sound production capacity as an identifying, and to some, a desirable characteristic. Cities like Denver and Malibu are starting to take action against after-market changes that increase motorcycle noise. Could roads through parks be the next sites for a crack down on the growing noise problem?

This National Park is most often visited to view its active volcanoes, Kilauea and Mauna Loa, and to appreciate the wonders of volcanism's constant changes to the landscape. The park is located on the youngest and largest of the Hawaiian Islands. As an island ecosystem, its array of species that arrived from other places to survive and reproduce includes many unique species and a living laboratory for the study of evolutionary processes. The Park is one of the few remaining natural areas in Hawaii protecting contiguous habitat from sea to summit. To experience all of the geologic and biotic wonders of the park there are 150 miles of trails to explore. Active eruptions are not always viewable by foot or car; in these cases overflights are the only way to see eruptions. But there are tens of thousands of air tour flights per year. The routes in the park are subject to nominal Federal Aviation Administration (FAA) regulation, but orbiting time over eruption sites is uncontrolled. The Napau Crater wilderness hike lies directly underneath one of the most active air tour routes.

Everglades National Park preserves a million and a half acres of unique tropical water and grass environment along with hammocks, mangroves and other systems — most of it designated wilderness. Sound travels well over water, and grass does little to absorb it, so control of unwanted noise is particularly important. Yet Everglades, as well as other south Florida parks—Big Cypress Preserve and Biscayne Bay — are impacted by air boats, motor boats, generators, and other motors operating inside and outside the park, causing big impacts. Ft. Jefferson on Dry Tortugas, in particular, is dependent on noisy generators. While the wilderness canoe trail is a popular activity to explore and enjoy the park's wilderness, it does not offer respite from manmade sounds. Thus there are issues of controls, as well as the need for better, quieter equipment where operations require motors.
Two national parks are omitted from the preceding list, since their long-standing noise issues are well known — Grand Canyon and its aircraft overflight issue and Yellowstone's snowmobile problem. While Yellowstone has seen an unsatisfactory resolution of snowmobile-related noise issues, there has been some progress at Grand Canyon, where special legislation was passed aimed just at controlling overflight activities at this park and reducing their impact. The National Park Service works with the FAA on these issues (and the military in relation to their overflights). While FAA does the regulating, NPS is the acknowledged expert on determining effects on parks and FAA the expert and responsible party for issues related to aircraft use and safety. At no point in a FAA reauthorization process should changes be made to the Park Service's current lead role in the regulation of aircraft overflights.
About CNPSR
The 650 members of the Coalition of National Park Service Retirees are all former employees of the National Park Service with a combined 19,500 years of stewardship of America' most precious natural and cultural resources. In their personal lives, CNPSR members reflect the broad spectrum of political affiliations. CNPSR members now strive to apply their credibility and integrity as they speak out for national park solutions that uphold law and apply sound science. The Coalition counts among its members: former national park directors and deputy directors, regional directors, superintendents, rangers and other career professionals who devoted an average of nearly 30 years each to protecting and interpreting America's national parks on behalf of the public. For more information, visit the CNPSR Web site at http://www.npsretirees.org.