/ Source: NBC News and news services
Boy Scouts who survived a twister that killed four of their friends described the fear followed by the quick action to help the injured that followed the tragedy Wednesday night.
The National Weather Service said it was an EF3 on the 1-to-5 Enhanced Fujita scale of tornado intensity, with an estimated wind speed of 145 mph. Meteorologists said the twister cut a path about 14 miles long.
Homeland Security Secretary Michael Chertoff toured the camp and said it appeared that the Boy Scouts "didn't have a chance" and that the tornado came through the camp "like a bowling ball."
"The devastation was massive through the campgrounds," Gov. Chet Culver earlier told NBC's "TODAY" show, calling it "horrific."
At the campsite, a pickup truck had been tossed on its side. Tree limbs rested on top of the Scouts' tents. Trees were flattened. And the meeting room where the scouts had sought shelter was a pile of cinderblocks and chimney bricks.
When the howling winds finally died down, the Boy Scouts — true to their motto, "Be Prepared" — sprang into action.
Putting their first-aid training to use, they applied tourniquets and gauze to the injured. Some began digging victims from the rubble of a collapsed fireplace. And others broke into an equipment shed, seized chainsaws and other tools, and began clearing fallen trees from a road.
Scouts were at leadership training
Dozens of the boys, ages 13 to 18, were hailed for their bravery and resourcefulness Thursday.
"There were some real heroes at this Scout camp," Culver said, adding that he believes the Scouts saved lives while they waited for paramedics to cut through the trees and reach the camp a mile into the woods.
The 93 boys, all elite Scouts attending a weeklong leadership training session, had taken part in a mock emergency drill with 25 staff members just a day before the twister hit.
"They knew what to do, they knew where to go, and they prepared well," said Lloyd Roitstein, an executive with the Mid-America Council of the Boy Scouts of America.
Killed were Aaron Eilerts, 14, of Eagle Grove, Iowa; and Josh Fennen, 13, Sam Thomsen, 13, and Ben Petrzilka, 14, all of Omaha, Neb. Roitstein said the four were in one of three buildings where Scouts sought shelter.
Forty-eight children and adults were hurt, and at least a dozen remained hospitalized Thursday with a variety of injuries.
Boy Scout officials said the campers had heard the severe weather alerts but decided not to leave because a storm was on the way.
"They were watching the weather and monitoring with a weather radio, listening for updates," said Deron Smith, a national spokesman for the organization. "The spot they were at was the lowest spot of camp. It was deemed to be the safest place."
A group of Scouts who had set out on a hike had returned to the camp before the storm hit, Smith said.
Thomas White, a scout supervisor, said he dug through the wreckage of a collapsed fireplace to reach victims in a building where many scouts were seeking shelter when the twister struck at 6:35 p.m.
"A bunch of us got together and started undoing the rubble from the fireplace and stuff and waiting for the first responders," White told KMTV in Omaha. "They were under the tables and stuff and on their knees, but they had no chance."
On the other side of the state, 3,900 homes were evacuated from flood-stricken Cedar Rapids, where rescuers removed people with boats, officials estimated 100 blocks were under water, and a railroad bridge over the flooded Cedar River collapsed.
In Albert Lea, Minn., 90 miles south of Minneapolis, a man died Thursday after his vehicle plunged from a washed-out road and was submerged in floodwaters.
Also Thursday, several Kansas communities began cleaning up from tornadoes a day earlier that killed at least two people, destroyed much of the small town of Chapman, and caused extensive damage on the Kansas State University campus.
Scouts helped ranger, family
Meanwhile, tales of heroism emerged from the Iowa camp.
Roitstein said a group of scouts pulled the camp ranger and his family from their destroyed home. Doug Rothgeb of Omaha said his 15-year-old son emerged from a ditch where he had taken cover, then joined other Scouts to break into the equipment shed.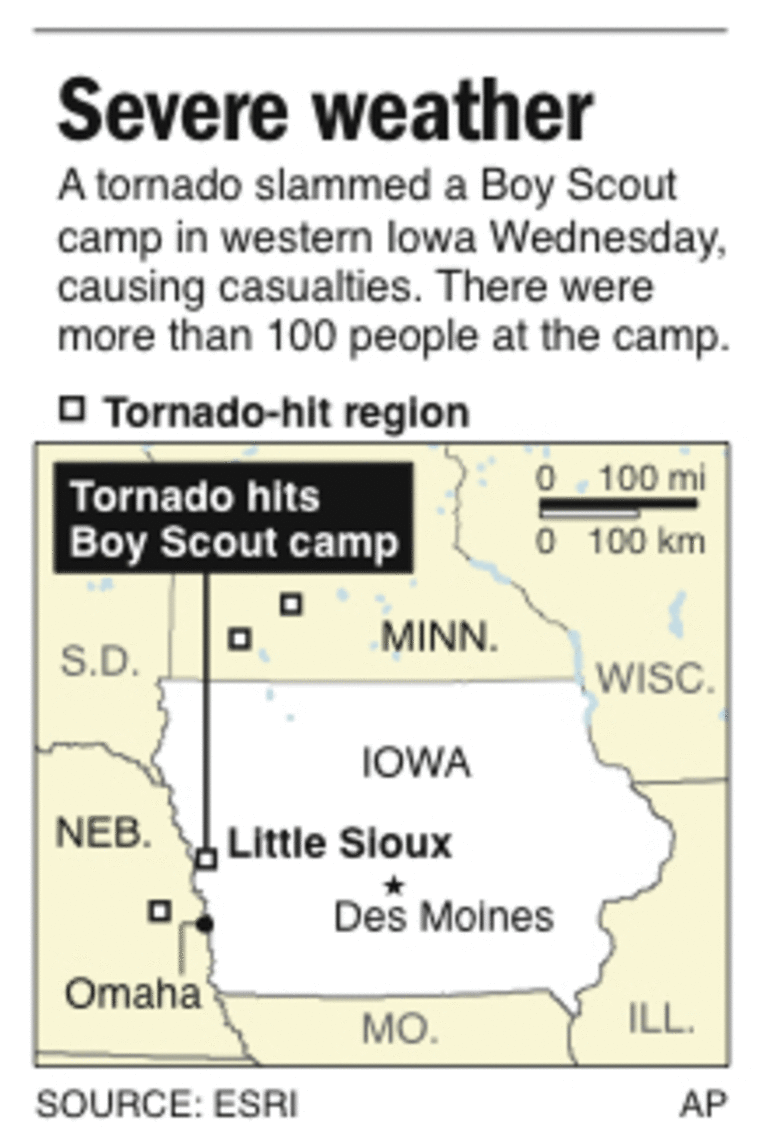 Fourteen-year-old Zach Jessen of Fremont, Neb., said that before the storm struck, someone spotted the rotation in the clouds and a siren sounded in the multipurpose building, which had tables, a TV and a fireplace. Jessen said he and others managed to get Scouts out of their tents and indoors just before the tornado hit.
Jessen said shortly afterward, the door on the building flew open and he heard someone yelling to get under the tables.
"All of a sudden, the tornado came and took the building," Jessen said. "It sounded like a giant freight train going right over the top of you."
Ethan Hession, 13, said he crawled under a table with his friend.
"I just remember looking over at my friend, and all of a sudden he just says to me, 'Dear God, save us,'" he told TODAY.
Ethan said the scouts' first-aid training immediately compelled them to act.
"We were prepared," he said. "We knew that we need to place tourniquets on wounds that were bleeding too much. We knew we need to apply pressure and gauze. We had first-aid kits, we had everything. We knew about this, we knew how to do it."
He added: "All of a sudden people started taking action. Like it just clicked. One of the staff members took off his shirt and put it right on the guy who was bleeding and told me to get on top of him so he would stop moving so he could apply pressure and gauze. We started digging people out of the rubble."
The 1,800-acre Little Sioux Scout Ranch is in the Loess Hills in westernmost Iowa, close to the Nebraska line, about 40 miles north of Omaha. The hills rise 200 feet above the plains in what is otherwise an exceedingly flat state. While tornadoes are often associated with flat, open land, forecasters said they are not unusual in the Loess Hills.
The camp includes hiking trails through narrow valleys and over steep hills, a 15-acre lake and a rifle range.
Lisa Petry, the mother of 13-year-old Boy Scout Jose Olivo, said she had a bad feeling Wednesday morning when she heard reports of possible severe weather. "I thought, 'Should I call the scout camp and ask if there's severe weather, where will they go?'" she said.
Culver would not address questions about whether the Scouts should have remained at the campground after severe weather alerts were issued.
"There's always lessons learned from any natural disaster, from any tragedy," Culver said. "We need to focus on the victims, the families affected."
The tornado touched down as Iowa's eastern half grappled with flooding in several of its major cities. The storm threatened to stretch Iowa's emergency response teams even further.

Tack said officials were confident that the state's emergency response teams could handle the crisis because western Iowa had been largely unaffected by the recent flooding.
2 fatalities in Kansas
Tornadoes also touched down in central Kansas, killing two people, as well as southern Minnesota and eastern Nebraska.

A tornado caused significant damage in Manhattan and Kansas State University, tossing cars and destroying several businesses.
One person was killed in Chapman, where part of the roof of the high school gymnasium was torn off, emergency officials said.
Sharon Watson, spokeswoman for the Kansas Adjutant General's Department, said a half-mile-wide tornado tore through the town Wednesday night, destroying more than 60 homes and numerous businesses.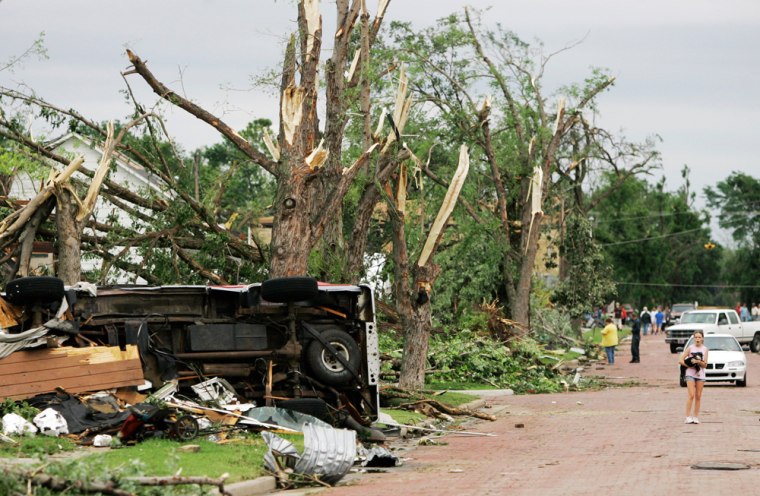 She said another victim was found dead outside a mobile home in the Jackson County town of Soldier.

A tornado ripped a house from its foundation, leaving a bathtub protruding from a back wall near Fulda, Minn., 140 miles southwest of Minneapolis. A woman inside at the time suffered a knee injury.

Another struck a farm near Springfield, Minn., causing extensive damage to outbuildings, but no injuries to people or livestock.

There were no immediate reports of damage from the Nebraska twisters, though a lightning strike knocked out radar at the National Weather Service's office in Valley, about 30 miles northwest of Omaha.