/ Source: msnbc.com news services
The United States and other Western governments are ignoring clear evidence of war crimes by Ethiopia, a key U.S. ally that launched a military crackdown on rebels last year, a human rights group said Thursday.
Separately, a U.S.-based science group said satellite images confirm reports that villages have been destroyed in the country's Ogaden region.
New York-based Human Rights Watch said America's relationship with Ethiopia means an alliance with a country repeatedly accused of violating human and political rights. In recent years, Ethiopia has become a U.S. partner in the fight against al-Qaida, which has been trying to sink roots in the Horn of Africa.
"The United States is being willfully blind," said Georgette Gagnon, Africa director for Human Rights Watch. "Because Ethiopia is viewed as a key ally in the counterterrorism efforts, they are perhaps prepared to look the other way at abuses committed by Ethiopian soldiers."
In a 130-page report, Human Rights Watch said Ethiopian troops have beaten and strangled civilians, staged public executions and burned villages during a year-old campaign against rebels in the Ogaden, an arid stretch of land on the border with Somalia. The group said the allegations were based on more than 100 eyewitness accounts.
The country in the Horn of Africa is an ally in President Bush's fight against terrorism.
U.S. says it's not ignoring war crimes reports
A State Department spokesman on Thursday dismissed claims that the U.S. is minimizing or even ignoring war crimes by the Ethiopians. Gonzalo Gallegos said officials "strongly reject" Human Rights Watch's allegations.
The report said that since early 2007, when Ogaden rebels attacked a Chinese oil site, "the Ethiopian military's killings, torture and rape of civilians have driven thousands of people from the region, while trade restriction and limited relief aid are exacerbating the humanitarian situation."
Gallegos said the U.S. has received reports from international nongovernmental organizations and other aid groups of serious abuses and harsh intimidation tactics by Ethiopian government soldiers and fighters of the Ogaden National Liberation Front.
For the past year, he said, U.S. and nongovernmental personnel have investigated, but it has been impossible to identify who carried out the atrocities.
The U.S. ambassador "has persistently raised concerns over human rights abuses with the highest level of the Ethiopian government, as have senior U.S. government visitors" to the country, Gallegos said.
At the same time, Gallegos said, the U.S. military aid program has continued, with $700 million given last year.
"U.S. government military assistance to Ethiopia is designed to transform the military into an apolitical professional defense force that can secure its borders and protects human rights," he said.
Ethiopia denies allegations
Bereket Simon, special adviser to Ethiopian Prime Minister Meles Zenawi, denied all allegations in the report.
"It's the same old fabrication," he said.
But satellite images confirm reports that the Ethiopian military has burned towns and villages in Ogaden, the American Association for the Advancement of Science reported on Thursday.
Eight sites in the rocky, arid region, which borders Somalia, have clear signs of burning and other destruction, the AAAS Science and Human Rights Program said.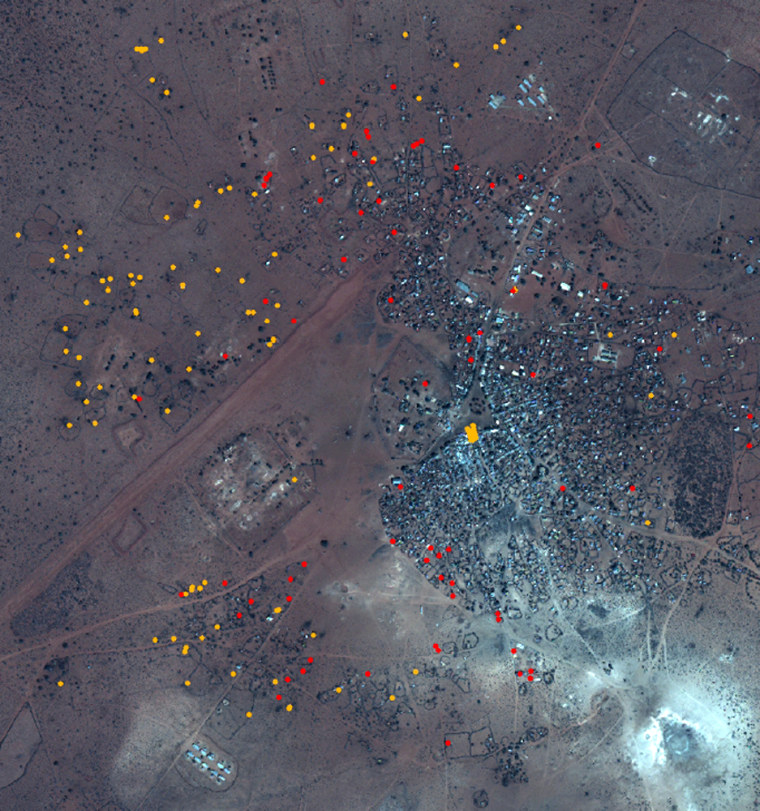 The commercially available images corroborate the report by Human Rights Watch, which also relies on eyewitness accounts of attacks on tens of thousands of ethnic-Somali Muslims living in the area, the AAAS said.
"The Ethiopian authorities frequently dismiss human rights reports, saying that the witnesses we interviewed are liars and rebel supporters," Peter Bouckaert, emergencies director at the U.S.-based Human Rights Watch, said in a statement.
"But it will be much more difficult for them to dismiss the evidence presented in the satellite images, as images like that don't lie," he said.
Ethiopia, a key regional ally of the United States, launched its latest offensive after the Ogaden National Liberation Front attacked a Chinese-run oil field in the region in April 2007, killing more than 70 people.
Lars Bromley, project director for the Science and Human Rights Program at AAAS, said his team analyzed several before and after satellite images of villages identified by Human Right Watch as possible locations of human rights violations.
They found eight, mostly in villages and small towns in the Wardheer, Dhagabur and Qorrahey Zones, that appeared to have been burned or destroyed recently.
Reports difficult to corroborate
For example, in the town of Labigah, 40 structures identified in a September 2005 image were gone in images taken in February 2008. In the Human Rights Watch report an eyewitness said the Ethiopian army "went into every village and set it on fire."
Such reports are nearly impossible to corroborate because the region "may well be the most isolated place on earth, save perhaps the densest parts of the Congolese or Amazon rain forests," Bromley said.
It is also difficult to tell what is going on in some villages, AAAS said.
"While some towns are considered permanent, they can grow and shrink over the course of a year due to fluctuations in nomadic populations, and many smaller villages will relocate altogether," the report reads.
"To ensure the most accurate results, AAAS for the most part sought to review only permanent towns in the Ogaden, as indicated by their location along a well-defined road and by the presence of square structures with metal-sheet or brick roofing, and most often including a mosque."
AAAS has used satellite images to support reports of widespread abuses in Myanmar, Zimbabwe, Burma, Chad and the Darfur region of Sudan.
Meanwhile, Simon said Ethiopia had no plans to investigate. "How can we investigate lies and innuendoes?," he said. "How can we try to disprove lies by investigating?"
Ethnic Somalis have been fighting in the Ogaden for more than a decade, seeking greater autonomy or an independent state. Somalia lost control of the region — the size of Britain and home to around 4 million people, in a war in 1977.
"The Ethiopian army's answer to the rebels has been to viciously attack civilians in the Ogaden," Gagnon said.
'Deafening silence' from Western governments
Ethiopia's military has been stretched in recent years. Thousands of soldiers are stationed in neighboring Somalia, propping up the government there and trying to quash a vicious Islamic insurgency. Ethiopian troops also are massing along the border with Eritrea amid signs of looming war.
Gagnon said Western governments and institutions give at least $2 billion in aid to Ethiopia every year. The "deafening silence" by the United States, Britain and the European Union, amounts to complicity in the crimes, she said.
"Influential states use many excuses, such as lack of information and strategic priorities, to downplay the grave human rights concerns in Somali Region (the Ogaden)," she said. "But crimes against humanity can't be swept under the carpet."
The report also said the army's tactics could be fueling a looming humanitarian crisis, brought on by a countrywide drought and skyrocketing global food prices. Because of the military campaign, the government has restricted humanitarian agencies and others from accessing the Ogaden at a time when some 4.5 million people are in need of emergency food aid.
Human Rights Watch said the Ogaden National Liberation Front also has violated humanitarian law by conducting the oil attack and by setting land mines along roads.
ONLF spokesman Abdirahaman Mahdi said the oil attack targeted soldiers guarding the area. The other victims were "caught in the crossfire," he told The Associated Press in a telephone interview from London.
He added that the situation in the Ogaden is "a deliberate international connivance to annihilate our people."