/ Source: The Associated Press
One of Alaska's most eroded villages is getting more than $3 million in state aid to help it relocate to higher ground as Alaska tries to cope with the effects of global warming.
Tribal leaders in the tiny coastal community of Newtok will now be able to begin building a barge landing at their new site to bring in building materials and, wherever possible, existing structures from their storm-battered village nine miles to the north. The bulk of the $3.3 million, however, will go toward the design and possible partial construction of a road from the barge landing to a planned evacuation center.
"It will boost the village site and speed up the relocation process," said tribal administrator Stanley Tom.
The Yupik Eskimo community of 400 is among six remote villages tapped by the state for immediate attention because they are highly vulnerable to escalating erosion, storms and flooding linked to global warming. The state is investing nearly $13 million to protect the villages in the coming year.
"The last thing anyone wanted to do was have a big flooding event and lose a life, or have a fuel tank fall into the ocean, or lose an airport in one of these communities not on the road system," said Environmental Conservation Commissioner Larry Hartig, who chairs a climate change subcabinet established last year by Gov. Sarah Palin.
Global warming is melting permanent sea ice, leaving coastal villages vulnerable to stronger storms and flooding, with their shorelines and riverbanks washing away.
Erosion and flooding affect 184 — or 86 percent — of 213 Alaska Native villages to some degree, according to a 2003 report by the U.S. Government Accountability Office. A handful are facing imminent relocations.
In Newtok, relentless erosion is heightened by melting and sinking permafrost, which further subjects the area to severe flooding from intensifying storms. The village is the furthest along in its relocation goal, completing a federal land trade for the new site — called Mertarvik, Yupik for "getting water from the spring" — in 2004 and launching preliminary work there.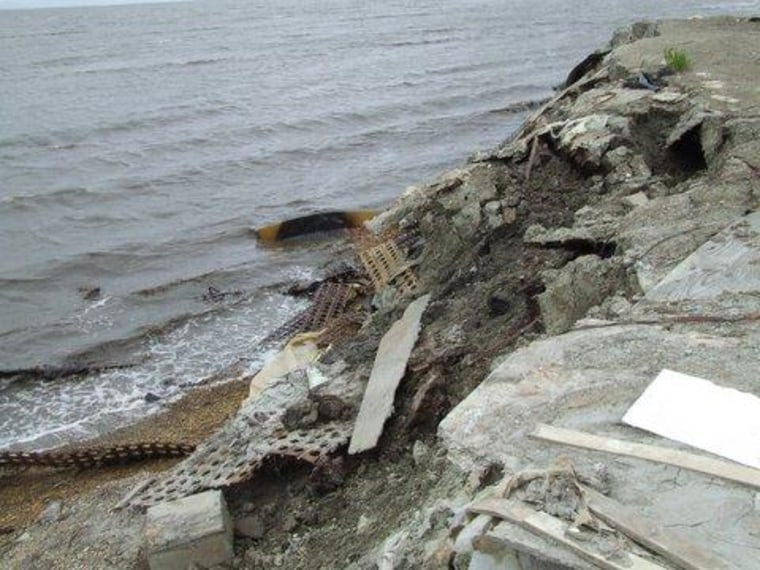 Villagers are doing as much as they can themselves, including the construction of three houses on the site, a hilly land banked by beach grasses and the Ninglick River just east of the Bering Sea.
The U.S. Army Corps of Engineers, a participant in the subcabinet group, is proposing a $20 million road and evacuation center at Mertarvik that later could be turned into a community center or tribal offices. Officials hope the state's funding will give that and other Alaska projects a higher priority for federal funding.