/ Source: National Journal
The sweeping Senate legislation to combat global warming finally got its day in the sun last week--and immediately wilted.
Before last week, a bill to mandate reductions in U.S. emissions of carbon dioxide and other gases linked to climate change had not reached the Senate floor since June 2005.
In the intervening years, momentum seemed to be gathering for action. A prestigious United Nations scientific panel had concluded that greenhouse-gas emissions were contributing to a potentially catastrophic warming of the planet. Al Gore had won the Nobel Prize (and an Oscar) for his work publicizing the threat. And although President Bush still opposed compulsory action, both John McCain and Barack Obama had endorsed mandatory carbon reductions.
With those tailwinds, supporters were understandably optimistic when Sens. Barbara Boxer, D-Calif., Joe Lieberman, ID-Conn., and John Warner, R-Va., offered legislation to require a 70 percent reduction in U.S. greenhouse-gas emissions by 2050 by instituting a cap-and-trade system. That approach would require polluters to obtain credits for the greenhouse gases they emit and would then steadily reduce the amount of credits available. (That's the cap.) Firms that reduced their emissions below the required level could sell leftover credits to other polluters, thus encouraging the most-efficient reductions. (That's the trade.)
Not much better than 2005
No one expected the bill to become law, but supporters hoped to build momentum for 2009. Instead, opponents outmaneuvered the supporters (as a field general, Boxer was no Patton) and forced the sponsors to abruptly pull the bill after failing to break a Republican filibuster. The legislation cratered so thoroughly that its failure raised doubts that even a supportive president could pass it without substantial revisions. "The concept they had wasn't ready for prime time," crowed Bill Kovacs, vice president for the environment at the U.S. Chamber of Commerce, a leading opponent.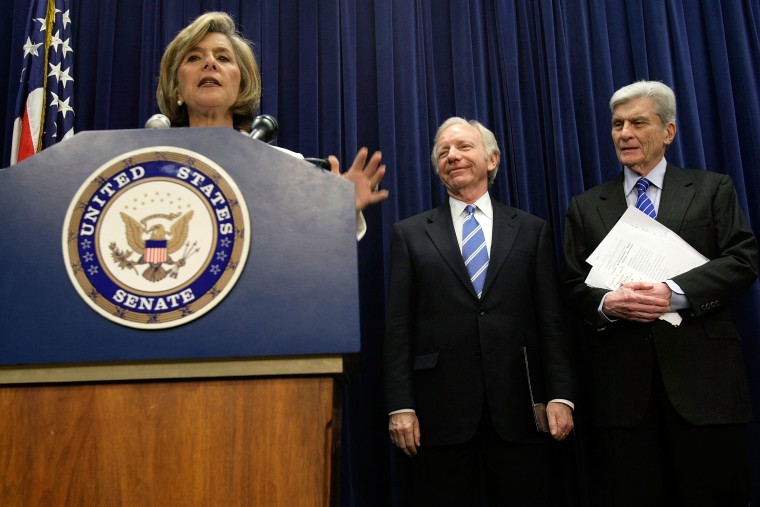 Sponsors took heart from the fact that 54 senators (of the 60 required) signaled support for ending the filibuster. But that overstated the measure's strength, because several of the 54 (including McCain and 10 industrial-state Democrats) said they would not back the underlying legislation without major changes. Probably about 40 senators supported the bill as written. That's not many (if any) more than the 38 who backed the 2005 version.
What went wrong? The bill would have established enough boards and regulations that the chamber was able to distribute a devastating chart, modeled on those used against Hillary Rodham Clinton's health care plan in 1993, that portrayed the proposal as an impossibly tangled hedge of new bureaucracies. The next version will "have to be simpler," says Eileen Claussen, president of the nonpartisan Pew Center on Global Climate Change.
The bill also provoked unexpectedly stiff opposition on a related front. Under the measure, Washington would distribute about half the credits to emit greenhouse gases for free and would auction the rest--yielding an estimated $3.4 trillion in federal revenue over the next 40 years. Republicans such as Sen. Lamar Alexander of Tennessee derided that money as a "slush fund" that would enable massive spending on causes far beyond clean-energy research. That complaint was somewhat overstated: The legislation would have allocated half of the expected revenue to tax cuts and deficit reduction. But, aiming to buy support, Boxer's final version did shower billions onto programs from wildlife adaptation to worker training. To pass, the reworked bill will need to focus more tightly on subsidizing new technology and providing tax cuts to moderate-income taxpayers to offset the higher energy costs it will trigger.
That raises the final problem. Amid soaring oil prices, proponents faltered before critics' charges that the measure would inflate energy bills. In fact, the best estimate is that the legislation would increase gasoline prices only about 2.5 cents per gallon per year. And although it would more noticeably increase the cost for electricity generated from fossil fuels, that's necessary to make clean alternatives more competitive--as the International Energy Agency underscored in a farsighted report released on June 6. The agency found that reducing greenhouse-gas emissions to a safe level might require $45 trillion in additional energy investment worldwide through 2050 but eventual fuel savings could recover most of that cost.
U.S. environmentalists won't recover from their Senate debacle unless they candidly ask Americans to bear somewhat higher energy prices now, as the cost of building a more economically and environmentally sustainable future for their children.