Beyond the short-term losses from physical damage and lost business, the worst flood to hit the U.S. breadbasket in 15 years has added momentum to the recent surge in food prices worldwide.
Farmers and local officials were still assessing the damage Tuesday, as millions of acres of farmland remain submerged and thousands of Iowa residents were unable to return home due to the flooding.
Iowa Gov. Chet Culver said the state's losses totaled in the billions of dollars, with 83 of 99 counties declared disasters and seeking federal aid. In 1993, floodwaters in Iowa, Missouri and neighboring states piled up $21 billion in losses.
The biggest economic impact — from rising grain prices — is already being felt. Corn prices at the Chicago Board of Trade soared to an all-time high near $8 a bushel Monday as the relentless rains and overflowing rivers raised fears that Midwest farmers will lose production on as many as 5 million acres, or 6 percent of the crop.
Food prices typically spike after bad weather ruins crops, but the increases are usually short-lived. This time, however, the spike follows a global rise in food prices that seems likely to last, according to analysts.
On Tuesday, the government reported that wholesale prices jumped in May at the fastest pace in six months. The Producer Price Index rose 1.4 percent, largely because of higher food and energy costs . The gain followed a modest 0.2 percent rise in April and marked the biggest increase since November.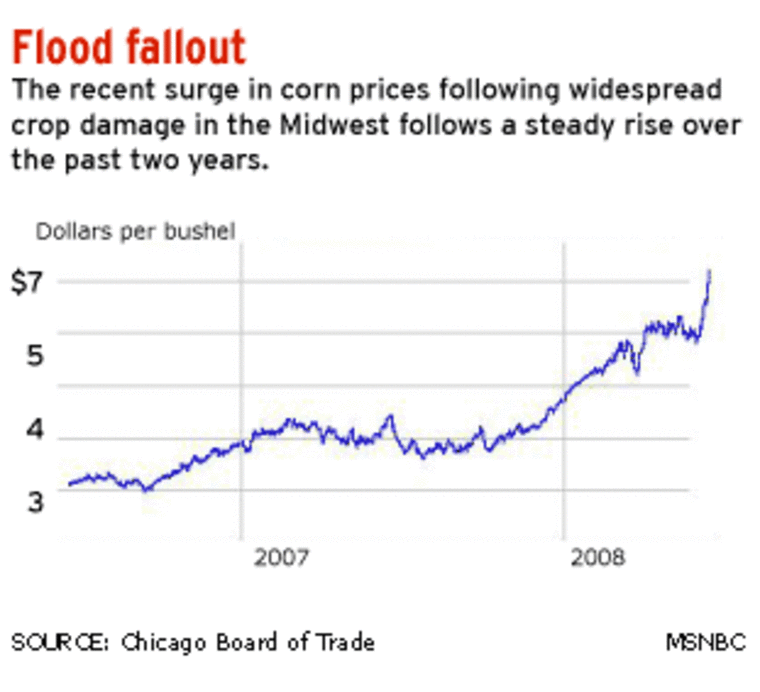 Before the recent floods in the Midwest, corn prices already had more than doubled over the past two years; they've jumped another 25 percent in just the past few weeks.
Worldwide, food prices have risen 83 percent in the past three years, according to the World Bank. Bad weather in major grain-producing regions is part of the reason.
But growing worldwide demand — at a time when production hasn't kept up — is also forcing prices higher, according to Sudakshina Unnikrishnan, a commodities analyst at Barclays Capital.
"Agriculture productivity levels have been stagnating for many years," she said. "Suddenly you've had a situation where demand from emerging markets has been growing strong and stronger. The supply response from higher prices has been pretty abysmal: We haven't seen production rising in response to the strong demand."
Concerns about rising demand and stagnant production have lead some grain-producing countries to halt exports, which has further crimped supplies for countries dependent on imports and driven up prices.
High demand coupled with tight supplies means that a disaster like the Midwest flooding could have a rapid and lasting impact.
"The issue of food security is becoming a big deal for a lot of food-producing nations," said Ewen Cameron Watt, a market strategist at BlackRock Merrill Lynch. "There's a whole host of food-producing nations — Egypt, Vietnam, Cambodia come to mind — who have effectively stopped exporting their surplus product because they're concerned about potential shortages domestically and their effects on the domestic inflation."
Demand for corn and soybeans also has been fueled by aggressive development of alternative fuels made from grains like ethanol and biodiesel. Higher oil prices also have raised the cost of producing grains, as farmers now have to pay more for fertilizers and the diesel fuel need to run their combines.
Higher corn prices could, in turn, make ethanol less profitable — despite heavy U.S. subsidies. Some 2 billion to 5 billion gallons of ethanol "could go offline in the next few months due to high corn prices," according to a research note from Citi Investment Research. The United States  now produces about 8.8 billion gallons of ethanol a year.
With the rise in grain prices showing no signs of letting up, investors have flocked to futures markets, adding further upward momentum to prices, according to Jonathan Barratt, who follows the grain markets at Commodity Broking Services in Sydney, Australia.
"Over the last six to eight months we've seen a lot of speculative money move into (farm commodities,)" he said. "With the speculators in the market that's added weight to the movements and adding to the volatility."
Just as high oil prices are spilling over into the prices of a long list of goods and services, higher grain prices also are putting upward pressure on other food products. The worry is that rising prices of these two critical raw materials will add further pressure to inflation.
That is making life even tougher for the Federal Reserve as it tries to keep interest rates low enough to revive a sagging economy without risking another outbreak of 1970s-style inflation. Fed policymakers hold their two-day midyear meeting next week and are expected to hold interest rates steady, due in part to the rising inflation.
"It pays for people to ignore the inflation when they're worried about (economic) growth," said Brian Wesbury, chief economist at First Trust Advisors. "But I'm not one of them: I'm very worried about this inflation. The core rate is accelerating, and so is the overall rate of inflation. So I just can't see how people wouldn't be worried about inflation."
The hope is that a weakening economy will prevent inflation from becoming entrenched —allowing the United States to dodge another round of slow growth and high inflation that persisted through the 1970s, the worst economy since the Great Depression.
So far, inflation appears to be contained. Tuesday's report on wholesale prices showed that after stripping out energy and food prices, which can swing widely from month to month, the so-called "core" rate of inflation rose 0.2 percent in May, down from a 0.4 percent increase in April.
One critical element that's missing this time around from the classic "wage-price" inflationary spiral is a rapid increase in wages. So far, wages have not kept up with rising prices — one big reason that many U.S. consumers feel so gloomy about their personal financial outlook.
Those relatively tame wage increases also give the Fed some breathing room as it tries to head off raising rates to fight the rise in inflation.
"Labor costs are very weak," said Joe LaVorgna, a senior economist at Deutsche Bank Securities. "I do believe that once this commodity story plays itself, you will see a lower headline inflation. And I hope the Fed doesn't raise rates because I don't believe housing market can take it, and I certainly don't believe the credit markets can take tightening."