/ Source: The Associated Press
Corn prices crept closer to an unprecedented $8 a bushel Wednesday on concerns that damage to cornfields from Midwest flooding is worse than once thought, which could drive up the price of food.
Other commodities traded mostly higher, with crude oil, gold, silver and copper futures gaining.
The U.S. Department of Agriculture will say how big this year's U.S. corn crop will be later this month, but the agency has already hinted it will do a follow-up survey to provide a better idea of how many acres have been lost to massive flooding that struck the Midwest last week. Estimates of the toll vary widely, from 2 million to 5 million corn acres damaged or destroyed by floodwaters.
"There is a fear that this destruction may be worse than we think," and that's driving corn prices higher, said Richard Feltes, senior vice president and director of commodity research for MF Global in Chicago.
Corn's momentum eases some
Corn for December delivery rose as high as $7.85 a bushel on the Chicago Board of Trade before easing back to $7.78, still up 2 cents. In the most-actively traded July contract, prices rose to $7.50 a bushel before falling back to $7.44 a bushel, up 1.75 cents.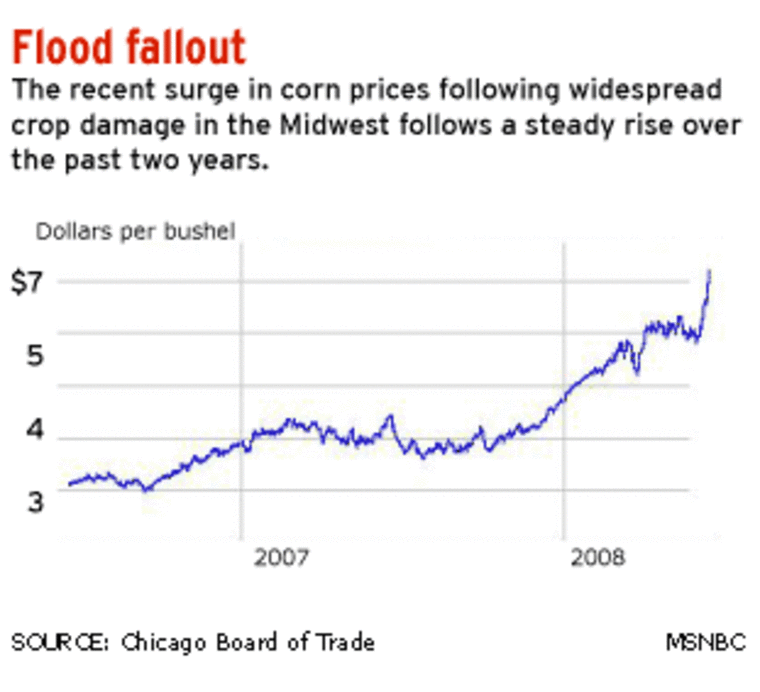 Other agriculture futures traded mixed. Soybean futures for July delivery fell 1.5 cents to $15.565 a bushel on the CBOT, while July wheat futures added 6.75 cents to $9.05 a bushel.
Corn's upward momentum has eased some in the past two days amid an improving Midwest weather outlook, but Feltes warned prices could spike again as the critical July corn-growing period nears.
"We are on the verge of a disaster if we have adverse weather in July," Feltes said. "The death knell scenario is for the rains to suddenly shut off and for us to go into a hot, dry pattern," which would significantly hurt corn yields.
"If the situation worsens, we could have $10 corn and $20 soybeans," Feltes added.
Corn prices were already on a tear before the floods, driven up more than 80 percent in the past year as developing countries like China and India scramble for shrinking grain supplies to feed fast-growing populations and livestock. Demand from U.S. ethanol producers who use corn as their main feedstock has also pushed prices higher, drawing criticism from poor countries.
High prices curb demand for corn
Record corn prices have already begun to curb demand. Credit Suisse analyst Mark Flannery on Wednesday cut his U.S. forecast for ethanol capacity to 9.5 billion gallons from 10 billion gallons as the biofuel's biggest producers slow production until corn prices ease. Corn can be used to make ethanol, which in turn can be used as a substitute for, or additive to, gasoline.
Meanwhile, Taiwan said Wednesday night it will buy sorghum and barley instead of corn to feed livestock, while U.S. livestock owners prepare to thin their herds to cope with rising corn-based animal feed. Corn accounts for half of livestock owners' production costs.
In energy markets, crude oil went higher Wednesday as investors digested a possible supply disruption in Nigeria and a surprise drop in U.S. gasoline inventories last week.
Light, sweet crude for July delivery climbed $1.97 to $135.98 a barrel on the New York Mercantile Exchange.
Other energy futures also rose. July gasoline futures added 3.33 cents to $3.4512 a gallon on the Nymex, while July heating oil futures rose 2.03 cents to $3.8425 a gallon.
In precious metals, gold futures rose $6.60 to settle at $893.50 an ounce on the Nymex.
July silver added 26.5 cents to settle at $17.34 an ounce on the Nymex, while July copper rose 9.8 cents to settle at $3.7475 a pound.