China has evacuated more than 70,000 people near the epicenter of last month's devastating earthquake to avoid further casualties from landslides and other disasters during the country's deadly annual flood season.
Rain and floods, concentrated in China's heavily industrialized south, have killed at least 176 people and left 52 missing, as authorities struggle to shelter millions made homeless by the 7.9 magnitude quake that struck southwest Sichuan province on May 12.
Authorities in Aba prefecture had moved 72,000 people living in "highly dangerous terrain" in Wenchuan county, the epicenter of the quake, to safer areas ahead of downpours on Wednesday night, Xinhua news agency reported on Thursday.
"The three-day mass relocation concluded at 8 p.m., just two hours before heavy rain hit the county," Xinhua quoted local disaster prevention authorities as saying.
It did not explain how the already devastated area was still home to so many people, whether they were living in tent cities or in homes, or where they would be evacuated to.
Authorities on Sunday had started to evacuate another nearly 40,000 residents from other regions of the prefecture on Sunday, the report said, without elaborating.
Since the earthquake struck, killing more than 69,000 people, Wenchuan county alone had experienced nearly 5,000 "secondary geological disasters," including hundreds of major landslides and mudslides, Xinhua said.
State television showed footage of villagers carrying belongings and picking their way gingerly down steep mountain paths.
Parliament chief Wu Bangguo praised the Communist Party-led government's top-down, mobilizing style of rule for coordinating relief efforts.
"One important reason that we have been so effective in handling the aftermath of this severe earthquake is that we have brought into play the advantage of the socialist system with Chinese characteristics," Xinhua quoted Wu as saying.
Floods threaten nine provinces
The death toll in China's flood season, which has forced the evacuation of about 1.66 million people and damaged or destroyed 9,000 square miles of crop-land, had risen to at least 176 people by Thursday, 50 days before the Olympic Games open in Beijing.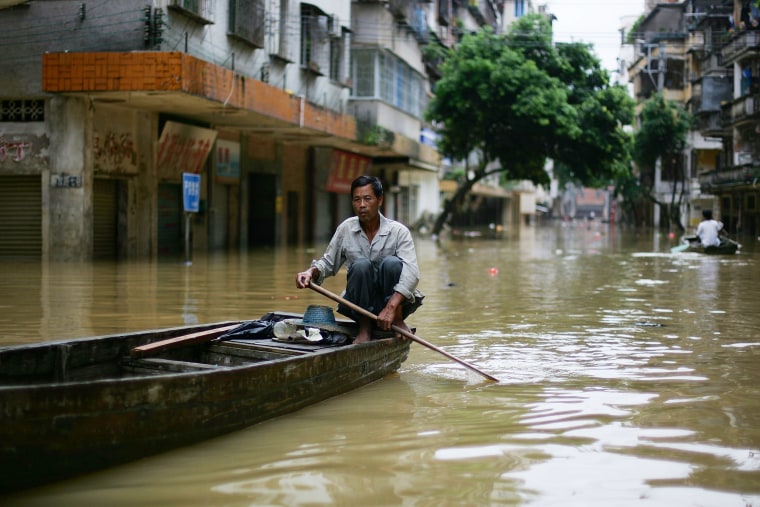 Rainstorms and floods had been recorded in nine provinces, from southwest Yunnan as far as eastern Zhejiang, where 2,000 people were evacuated in Pingyao city as waters threatened to engulf residents' roof-tops.
More than 800 residents were trapped and waiting for relief in Liyang, a village in the mountains of Guangxi region, where roads and power lines had been cut since Monday, the China Daily said.
"So far people are calm as we have enough food and water to last for three days," the paper quoted Tan Rongming, the village head, as saying.
More than 300 paramilitary troops in Guangdong's Longyuan township spent three days clearing a landslide to safeguard a major railway trunk line connecting Beijing and provincial capital Guangzhou, local media said.
The floods have seen hundreds of police and rescue workers rushed to shore up dams and reservoirs threatening to burst.
A total of 116 reservoirs reported water levels "higher than danger lines" in Guangdong, where flooding has claimed the lives of 23 people and resulted in economic losses of 5.28 billion yuan ($767.2 million), Xinhua said, citing the province's flood control headquarters.
China suffers floods, droughts and other disasters across its huge landmass every year. The State Flood Control and Relief Headquarters said the death toll was significantly lower than similar periods in previous years.
Some economists have said the cost of this year's flooding appears no greater than in previous years, but add that thousands of hectares of lost crops could add to price pressures as China battles inflation that has been driven by soaring food costs over the past year.