/ Source: Forbes Traveler.com
Hot air ballooning has long been associated with billionaire explorers, eccentric adventurers and literary heroes (or a combination of all three, as in Forbes magazine's own late Malcolm Forbes). It's not the sort of sports equipment that you can pile up next to old hockey sticks and bicycles; a hot air balloon costs as much as a Mercedes-Benz and only lasts a few hundred hours. Ballooning's most famous champions, then, have been competitive, wealthy men with extravagant tastes for risky indulgences — from the very first patron, King Louis XVI, to Steve Fossett, the late billionaire who, in 2002, completed the first solo round-the-world balloon flight.
Each year, thousands of ballooning enthusiasts flock to festivals around the world to watch hundreds of cheerful, colorful balloons ascend at once. Their ranks have grown steadily as technology and accessibility has advanced, but the real growth is due in large part to the addictively simple joy of the sport. Avid balloonists are fond of saying that they've never met a single person who went up and didn't come down hooked.
One of ballooning's most famous enthusiasts, Malcolm Forbes, once asked his driver on impulse to stop by a roadside operation offering hour-long rides on his way into work. Inspired by that first hour spent floating above the suburbs, Forbes eventually crossed the entire continental United States in a balloon. He also floated upwards in India, Pakistan, China and Egypt, and established the world's first balloon museum at his chateau in Normandy, France. If you've ever been bitten by the ballooning bug, or are eager to jump on the bandwagon, Forbes' museum in France is a great place to begin.
As the sport's birthplace, it makes sense that a full-service ballooning resort would operate in France. AtBuddy Bombard's Europe, you'll spend anywhere from five to eight days rooming at an 18th-century chateau, whiling away the afternoons in a balloon overlooking medieval castles, rolling vineyards and stately chateaus.
France's long history with ballooning began in 1793 when the Montgolfier brothers sent a hot air balloon into the air above Versailles for the amusement of Louis XVI and his infamous child bride, Marie-Antoinette. While the French courtiers gasped, the balloon's astonished passengers — a rooster, a sheep and a duck — spent a glorious eight minutes floating above the palace. One month later, the inventor-brother duo sent two adventurous Frenchmen up for a ride — and ballooning was officially the new favorite French pastime. The standard "Montgolfier" balloon design is still used today.
After the French Revolution, convinced he had finally discovered a way to effectively invade England from the air, Napoleon established a hot air balloon corps. After four years, the troop's balloons were grounded by British soldiers and patriots equipped with large bullets and common sense, and the Arostiers were disbanded. Other governments have embraced forms of military ballooning, most famously during WWI when Germany employed zeppelins in their air raids of London. It was soon apparent that slow-moving aircraft filled with flammable gas were not, in fact, a viable military offense. Then, in 1937, the Hindenburg went up in flames at an airfield in New Jersey — and commercial zeppelins went the way of their military brethren.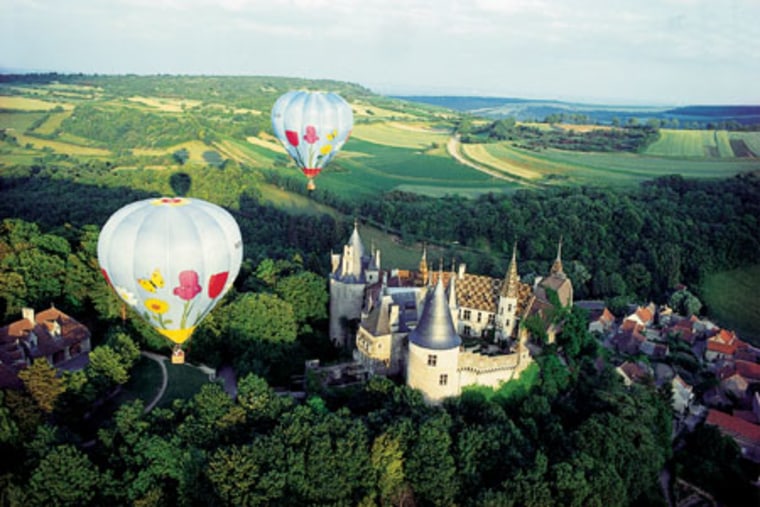 More than 70 years later, zeppelins are actually staging a comeback. In Freidrichschafen, Germany, just north of Switzerland, the decidedly non-flammableZeppelin NT takes passengers over Lake Constance, Europe's third largest freshwater lake, with views of the Black Forest and the Swiss Alps. You'll catch sight of picturesque villages nestled in the woods, beautiful foliage and maybe even a bear or two.
But ballooning is by no means an endeavor reserved for Europeans. In terms of stunning landscapes to see by air, the pyramids and sandy landscapes of Luxor, Egypt, are tough to beat. You may know Luxor by its former name, Thebes, the mythical home of Oedipus and Heracles. Here, Magic Horizon Balloons will take you over the desert and up to the top of the stunning structures.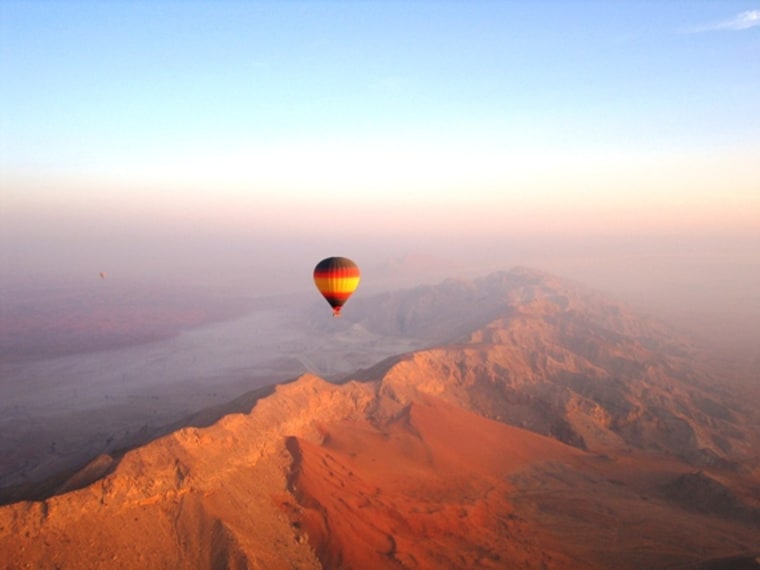 If you'd prefer to spot wildlife on your ballooning trip, Tucker Comstock runs Serendipity Adventures in Costa Rica. Her pilots will take you over exotic jungles filled with monkeys, sloths, toucans and other wild animals; lucky balloonists will catch a spectacular view of nearby Arenal Volcano's periodic eruptions. If you'd rather float over endless plains, the safari of a lifetime awaits you in the Serengeti National Park, a few hundred miles east of Lake Victoria. Because hot air balloons are nearly silent, you can creep up on giraffe, wildebeest, zebras, lions and even cheetahs on a trip with Serengeti Balloon Safaris in the Serengeti desert in Tanzania.
Which brings up an important point: Hot air balloons are at the mercy of the atmosphere. They cannot be steered; pilots decide only when to start and when to stop. But that's part of the appeal.
"You have absolutely no control over your direction," Malcolm Forbes told an interviewer in 1979. "You can float just above the treetops, everybody waves at you and yells up, wanting to know where you're going. Well, you don't know where you're going, and even that's an unusual sensation in itself."