/ Source: Forbes Traveler.com
Exhibit A: Portland, Oregon, just displaced Copenhagen as the No. 2 most bike-friendly city in the world. Exhibit B: In Davis, California, more people cycle to work than drive. Exhibit C: A growing number of Minneapolis residents continue to commute by bike through the winter.
It's official — more and more Americans and Canadians are choosing to pedal around over pushing the pedal to the metal. And, considering that the sales of upright urban cruisers continue to outpace all other bikes, city biking is here to stay.
Yet the cities that we inhabit can have a huge influence over our means of transportation. As far as incentives go, biking won't produce a single greenhouse gas or feed into the swollen crude-oil market. Though our cities may not match Amsterdam — the perennial global leader in urban biking, complete with its own bicycle trafficking department and an independent grid of bike lanes, lights and traffic rules — many city governments in these parts are determined to make urban bike travel as much a part of the daily routine as a morning latte.
Creating a list of the most bike-friendly cities requires a definitive logarithm that takes various factors into account. For example, Vancouver, B.C. offers the recreational peddler the Seawall, a majestic trail along gorgeous English Bay, as well as numerous trails within Stanley Park, one of the world's great urban wilderness parks. But cycling in the downtown core is a challenge because of competing automobile traffic and human density.
And how, the reader may ask, with kamikaze taxis and dominant "me first" road rules, can New York City ever be considered a worthy nominee for the vulnerable two-wheeler? The answer lies in current civic efforts and in the sheer number (100,000) mounting bicycles every day — by far the greatest number of bike commuters of any city on the continent. Plus, a leisurely Sunday tour of car-free Central Park permanently resides on any cyclist's bucket list. Clearly, it takes a combination of commute and casual to make the cut as a top bike-friendly travel destination.
According to Stephan Shier, owner of Seattle's Dutch Bike Company, the transition from car-crazy to cycling-centric would accelerate if the American biking community underwent a critical paradigm shift.
"Everybody in the U.S. is biking on modified racing bikes," says Shier, whose company imports über urban two-wheelers crafted with Scandinavian simplicity, craftsmanship and pragmatism. "Thus, Americans believe they need to cycle to work or participate in a weekend trek like Lance Armstrong, wearing spandex and, by ride's end, a full sweat. But in Europe bikes are the vehicles of the common man. You climb on in your regular clothes and bike away."
Schier says the best bike towns have a definite infrastructure in place, are flat and put a lot of thought into what he calls "traffic calming" effects.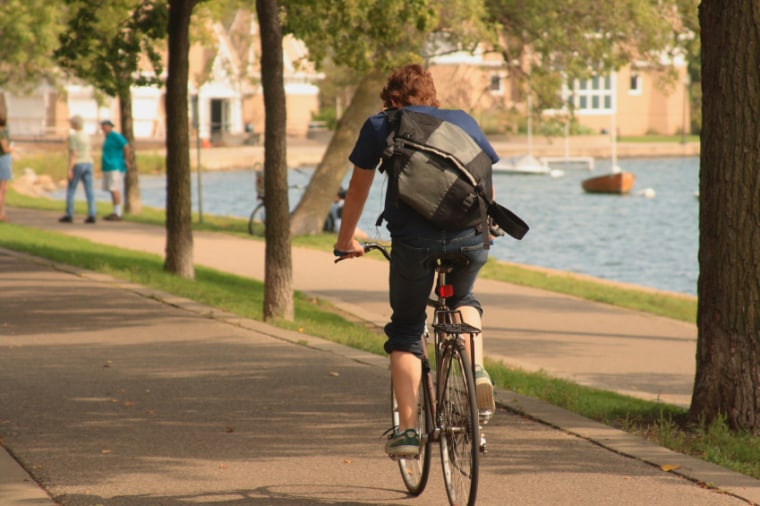 Portland is the first large American city to plan for a committed bike-focused infrastructure. The city of 500,000 has begun a "Green Box" pilot program within nine intersections, creating a road map that directs cars away from bike lanes and traditional areas of bike congestion.
"Portland is at least ten years ahead of all other large American cities," Shier confides. The City of Roses has also become the hub of American bike manufacturing, generating $68 million in revenue last year.
"Portland was a streetcar city," says Tom Miller, chief of staff for Portland City Councilman (and mayoral candidate) Sam Adams. "We still have the footprint of the dense, walkable and thus bikable city." Adams leads the city's advocacy for cycling and, not coincidentally, is leading the polls for mayor. "You can't win an election here without the support of the bicycle community," adds Miller.
"Portlanders maintain a definite focus on bicycle advocacy, whether for locals or visitors'" Miller continues. "Many hotels offer free bikes for guests, the city is changing one-car parking spaces to bike corrals that accommodate twelve bikes, and there are plenty of great tours like the 18- to 40-mile Sauvy Island tour or the Waterfront Tour, one of the great urban greenways ... You can even ride along trails all the way from the airport to downtown, 12 miles away."
Plenty of other cities are saddling up with boasts of their own. Chicago aims to become North America's top cycling city by 2015. New York City planners recently traveled to Copenhagen and Amsterdam to learn how best to move forward with New York's cycling infrastructure. This spring, Montréal initiated a pilot "rent-a-bike" program modeled after Paris's successful Vélib system.
Experiencing a city by bicycle has quickly become a favorite tourist activity, not only in cycle-crazy Portland, but in cities as diverse as San Diego and Montréal. And with alternative energy use among the most important considerations in our future, it may be time for each of us to seize our inner visionary, skip the rental car and join the two-wheeled throng, exploring urban destinations from upon a saddle rather than behind a steering wheel. Spandex optional.