/ Source: Forbes Traveler.com
One night in a standard superior room at one of Paris' most prestigious hotels — the Bristol,on the storied Rue du Faubourg St. Honoré — is now well north of a thousand bucks. With a recession on and consumer prices rising everywhere, travelers are wondering whether luxury digs like this are worth the price tag. Is it even possible to take a five-star vacation without hitting your credit card maximum?
To be sure, Le Bristol is bliss. It's very close to the Élysées Palace, home to French President Nicolas Sarkozy — who was recently spotted dining al fresco with Tony Blair and an international entourage in Le Bristol's ambrosial gardens — and the hotel spares no extravagance for its high-powered clientele of fashion movers and shakers and world leaders.
But surely even Le Bristol's 53 euro buffet breakfast (that's some $82), not included with the room rate, is likely to make even the most indulged dollar-burning guest flinch. "Everybody who comes back from (Western) Europe is complaining about how much money they're blowing through — even the wealthy set," says Tim Leffel, author of "Make Your Travel Dollars Worth a Fortune."
"The idea is that what they're getting for their money is just not worth it."
But just because the euro is in bully mode doesn't mean the pampered traveler has to downgrade expectations when it comes to a top-notch travel experience. Leffel cites The Bristol in Panama City for its world-class luxury that comes at a fraction of Western Europe's cost. Rooms start at $335 per night at this hotel that's part of the Leading Small Hotels of the World.
"More Americans are heading to Latin America these days because most of the economies are tied to the dollar, and there hasn't been as much change in the prices," says Leffel, "In Mexico and Central America especially, prices are about where they were two years ago."
Susan Weissberg, president and CEO of Wylly's Professional Travel in Coral Gables, Fla., agrees: Latin America is hugely popular for wealthy clients looking to get the most for their money. She adds that her clients are also interested in destinations in the Middle East, South Africa and Indochina.
"We are still selling Europe, but just not in the same way as in the past," Weissberg says. "People are booking luxury cruises because then they know at least their accommodation and meals are taken care of — they know all they have to do is take care of their day excursions." The trend this summer, she adds, is to prepay in U.S. dollars.
When it comes to cruising Western and Eastern Europe, the upscale options are virtually endless — and all the more appealing when priced in U.S. dollars and inclusive of not only meals but alcohol and gratuities, too. Such is the case for ships in the SeaDream Yacht Club fleet.
But don't limit your cruise search to the big names — smaller, private boats offer some of the best savings without giving up any of the amenities. The Tango is a private luxury barge that plies the Canal du Midi in sublime Languedoc-Roussillon, a region of France that's being heralded as the next Provence. With a rate of $30,000 for six-nights for a party of six, the cruise may not seem like a bargain at first glance, but consider that multi-course gourmet lunches, dinners and breakfasts and unlimited wine and alcohol are included during your private foray through a lesser known region of France. Not to mention the luxury state rooms with private, full-sized bathrooms and affable three-person crew at your disposal. As you meander along the Canal du Midi, the idea of stretching your luxury dollars is all the more tangible.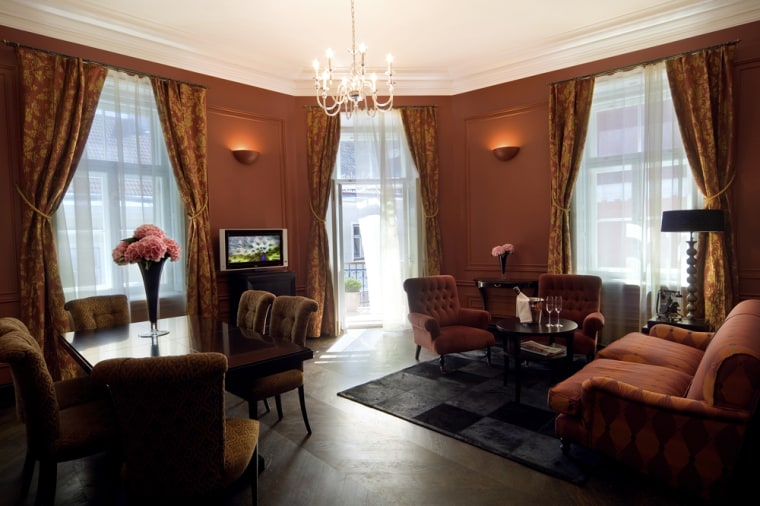 Many Eastern European destinations remain under (and completely off) the radar for American travelers, even as luxury experiences are becoming more prevalent and refined in countries such as Estonia, Latvia and Lithuania.
According to Phil Teubler, owner of Baltic Holidays, a London-based tour operator specializing in tailor made luxury vacations in the Baltic states, even wealthy British clients are opting out of Western European holidays in an attempt to further bolster their pound power. He cites Druskininkai,a low-key spa town in southern Lithuania surrounded by pine forests and rivers. Near the Belarus border, it's a prime destination for Brits and Germans indulging in spa holidays.
"Druskininkai used to bea really big spa town, drawing people from all over the Soviet States for the sanatoriums," he says, "but when Lithuania became independent in the early '90s and most of the Russians stopped coming, it declined. But in the last five or six years, the pampering spas have been overtaking the Soviet-style sanatoriums."
The city is coming into its own again. "We're finding a lot more people are going on spa trips to Eastern Europe because it's really good value, and if they're coming from the States, they often do it as part of a larger Baltic tour." He suggests a three-night package at Spa Vilnius that includes four-star accommodation for three nights, 14 spa treatments and half-board (breakfast and dinner) for under $500 per person.
Elsewhere in Eastern Europe, the recently opened Hotel Telegraaf, a five-star property in Tallinn, Estonia, offers sumptuous rooms in the city's historic center from 190 euros (about $294) per night. Rest your party-weary head in the converted hotel, a 19th-century building that was once the city's post and telegraph station.
Boris Yeltsin used to check in to the five-star oceanfront Baltic Beach Hotel in Jurmala, Latvia, where luxury rooms start from about $210 and massages from $55 per hour. Here, the wine spa treatments cost a fraction of their Italian and French counterparts but are equally luxurious.
"The idea is not going where everyone else is going when everyone else is going," says Leffel. "I think if you can find that angle no matter where you go, you're going to be better off ... whether it's going to the French countryside instead of Paris or visiting a country in the off season."
For more on indulgent vacations at reasonable rates, check out the destinations where you can stretch your dollar without scrimping on the experience.