Sitting at the corner of Howard Street and Highway 79 is a plywood shipping crate that inventor Al Arellanes says holds the answer to future battles against floods along the Mississippi River and elsewhere.
"It deploys in one second," Arellanes said of his product, known as RDFW, for Rapid Deployment Flood Wall, and manufactured by Geocell, his San Francisco-based company.
The company's claims raise eyebrows in flood-prevention circles, where the standard method of holding back floodwaters remains sandbagging, a painstakingly slow process that requires massive amounts of labor to fill, carry and place each 30- to 40-pound bag.
So Arellanes, president of Geocell, and Rey Rodriguez, the firm's vice president, are trying to get some publicity for RDFW this week in Clarksville, a town of 500 where residents have battled valiantly with perhaps half a million sandbags to keep the Mississippi from deluging its downtown art and antique shops.
Turns out RDFW is not alone in Clarksville. Metalith, a competitor's product, is an interlocking aluminum-sided barrier that is filled with sand. It is being used to protect buildings surrounding a makeshift drainage pond on one downtown street.
Arellanes demonstrated his invention beneath the emergency lights at the town's main intersection.
RDFW is a 4-foot square, 8-inch high interconnecting grid system made of the same plastic used in disposable water bottles. The 17-pound sheets fold flat, somewhat like the cardboard bottle separators in a case of wine, then snap into their ready position without the need for any tools. Once fitted together, as wide as needed and as high as 14 feet in some applications, the grids are filled by a front loader with sand and, presto, instant wall.
'Legos for adults'
"We're rated for nine feet of water," said Arellanes, who likes to call his product "Legos for adults."
"Time after time over the last few weeks, all I've heard is there wasn't enough time, there wasn't enough material," he said.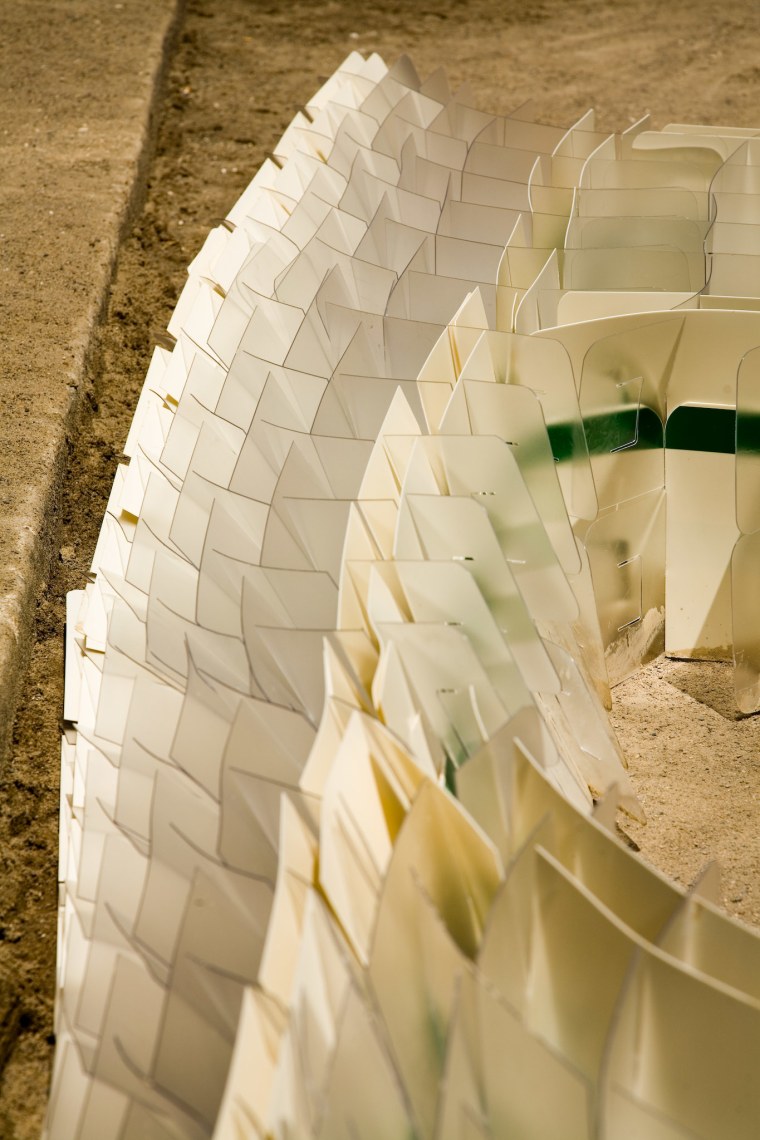 Rodriguez noted that sand will naturally condense if it's held in place. "Get a Coke cup from McDonald's, cut the bottom off it, fill it with sand and you can stand on it," he said. With RDFW's lateral reinforcement technique, "What we're doing is reinforcing soil."
Although the RDFW has been around for a decade, it has been painfully slow to win acceptance from emergency managers for two reasons, Arellanes said: "Everybody's used to sandbags" and the system costs about three times what sandbags do. However, the grids can be recertified and used up to six times, so they eventually pay for themselves, he said.
RDFW also has a number of military applications that have seen it used in Iraq and elsewhere, including as roads over swampy areas, bunkers, security walls, even blast-containment structures that can withstand the force of a 500-pound bomb, Rodriguez said.
In flood emergencies, in addition to creating new levees, RDFW can be used to quickly top existing floodwalls and repair levee breaches and "boils," where water is coming through a levee in advance of a breach. The product was used earlier this month to repair a dry levee that had been intentionally breached in the course of construction work at the BASF plant in Palmyra, Mo. It has also been used on levees in California's Sacramento-San Joaquin Delta area, Arellanes said.
With contracts from the Army to test both civilian and military applications, "It's starting to take off," said Arellanes, 59, an earthworks contractor who has worked for the Federal Emergency Management Agency. He got the idea for RDFW about 20 years ago while building roads over drifting sand.
In Clarksville, however, RDFW was beat to the punch by another product, Metalith, manufactured by Infrastructure Defense Technologies. The Belvidere, Ill.-based company supplied the town at no charge with interlocking aluminum panels that form 3-foot tall, 4-foot wide, 8-foot long chambers that are then filled with sand.
The city used the system to quickly create a pressure-relief pond for its beleaguered storm-drain system. Metalith's maker says on its Web site that the product is guaranteed for 20 years and will probably last for 40. It claims that it can be set up two to three times faster than any similar product and also has a host of military and security applications.
Sizing up the shiny metal panels that were lining Clarksville's streets as his product remained in the plywood crate, Rodriguez declined to take a swipe at the competition.
"Everything has its purpose," he said.