/ Source: Forbes Traveler.com
"Please, not another crumbling church," you think, adjusting your fanny pack and consulting the guidebook. Perhaps this summer's international escapade should feature a few more thrills. As a former professional whitewater guide, I believe there's no better way to travel than on a river — whether you're after a white-knuckle adventure or a meandering meditation.
According to Leon Werdinger, a professional outdoor photographer and longtime river guide, there are several great reasons for floating — and paddling — beyond our borders. "On some outings, it's a great way to connect with local cultures and meet villagers or sheepherders," he says. "And river trips allow you to reach locations where you can see exotic wildlife — on Africa's Zambezi, for example, you're definitely going to see hippos and crocodiles — and to access places that you couldn't reach even trekking or backpacking. These trips also often feature an international clientele, which makes them even more interesting."
On the Zambezi, encounters with wild animals can be a tad hazardous since crocs and hippos are also sharing the riverbanks. Because of possible predators, river guides tell bounced-out rafters to stay in the middle of the rivers, and as always, float on your back and keep your feet up. For less possible unwanted confrontation with the wildlife, a rafting trip in Pacuare, Costa Rica, churns out calm rides with plenty of downtime to watch toucans and sloths, and swim beneath waterfalls.
If you're considering an international river trip, do your homework. For many folks, choosing the right river can be more difficult than actually paddling through foaming whitewater. There are a number of factors to consider that might affect your safety as well as your enjoyment.
Rivers are a lot like people: formed by their surroundings and exhibiting personalities that run the gamut from frolicky to ferocious. The behavior manifested by these personalities, i.e. the rapids, are rated according to their potential for upset and injury on a scale of Class I to Class VI. The easiest, Class I, resemble a swimming pool with a few people splashing about, while Class VI rapids look more like a frothing smoothie in a blender (and are essentially unnavigable). Most active folks with an adventurous spirit will be comfortable on Class III and even Class IV whitewater.
Only real adrenaline addicts with previous river experience should sign up for Class V whitewater. On that level, what Everest is to the Himalayas, the Karnali River is to Nepal's canyons. The fact that just reaching the Karnali requires an overland trek with porters should give some idea of how remote this big-volume Class IV-V waterway is. A full-on adventure trip can also be had along the whitewater powerhouse of Chile's Futeleufu River, where the fit and athletic can trade rapids for rappelling and zip lines.
Because these trips involve far more variables than a stroll through an art museum, be careful in choosing who takes you to — and on — the river. Martha Gaughen, vice president of Sterling Brownell, an upscale leisure travel agency specializing in soft adventure, offers this advice: "It's critical that you pick the right outfitter, and the more challenging the river, the more critical ... A lot of these trips are to very remote places, so every expedition needs to have a plan and a person on the trip who's wilderness-certified." She recommends that would-be rafters ask a lot of questions and get feedback from actual clients.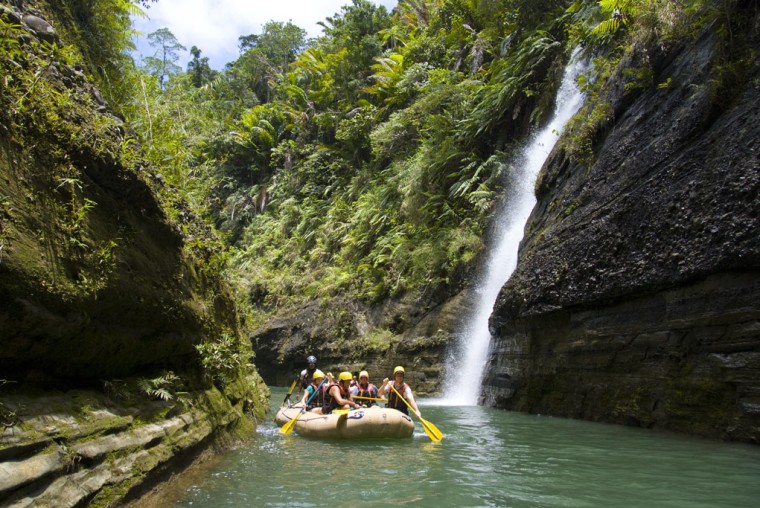 "Perform your due diligence," Gaughen says. "Find out what sort of equipment the outfitter uses. Who are their guides? What's their experience level? How long have they been in business? What safety measures are in place? Are helmets and life jackets required? What's their medical backup?"
Finally, the very styles of these trips, and the level of service offered, can vary widely. On some expeditions you can practically get a pedicure while your guides are busy whipping up a seven-course dinner. Other outings are more participatory. As Lonnie Hutson, owner of Sundog Expeditions in Deary, Idaho, explains, "I find people have a better time on our trips if they really contribute. People like to get involved, whether that means helping with gear or chopping vegetables in the kitchen. Passengers and guides really bond when they work side by side."
From Canada to China to Costa Rica, here are ten international river trip choices that shouldn't land you in hot water.