/ Source: Forbes Traveler.com
No one questions the hip quotient at beach resorts like South Beach or Punta del Este. These spots are famous for a reason. But with fame inevitably comes overexposure, and the world's VIPs often can't stomach the knowledge that their chosen swath of sand may have become something other than the latest exclusive thing. Once the word gets out, supermodels and moguls inevitably look further afield.
But they don't like to look too far. Some of the world's hottest, yet uncrowded, beaches are just a stone's throw from the well-traveled hotspots.
It's good news for travelers who like to be ahead of the curve. As Stacy Small, president of Elite Travel International, a boutique luxury travel agency in Brentwood, Calif., says, "Travelers love coming home and being able to talk about a place they've been that their friends have not." Conversely, there's nothing worse for the post-vacation glow than boasting of a recent trip to a legendary hotspot, only to have a perpetually in-the-know friend respond with the skinny on the beach you should have gone to while you were in the area.
Anguilla, for instance, isn't exactly an undiscovered wilderness, but many jetsetters are skipping over-hyped St. Barths in favor of this pristine Caribbean island that, according to Small, has become a low-key vacation destination with high-class appeal. Small describes the island's restaurants as "by far" the best in the Caribbean, thanks to a number of high-end French chefs who arrived to serve the island's moneyed clientele. It's a far cry from the ostentation that abounds just across the water.
Even VIPs who value their seclusion still demand access to the hotspots, so they often set up shop in a small village or island within easy reach of the established scene. Jose Ignacio, in Uruguay, is just a half-hour drive from the celebrity magnet that is Punta del Este. According to Small, it "retains its original fishing village charm while slowly evolving into a celebrity enclave of its own." The town itself has only a few choices for lodging and a sprinkling of restaurants, but with "Punta" so easily accessible, celebs and other trendsetters are increasingly making San Ignacio their summer home.
In other instances, a nearby scene develops due to the resourcefulness of those who have the cool—but maybe not the cash—to stay in their original resort of choice. Nowhere is this more true that in Jamestown, Rhode Island. It's located on Conanicut Island in Narragansett Bay, just two and a half miles over the water from the original exclusive American beach town, Newport. "Despite the surge of visitors to Newport in the summertime, Jamestown still offers a charming New England small town feel," says Small. And trendsetters have taken notice, as many would-be Newporters are taking advantage of Jamestown's cheaper (for now) real estate.
Sometimes, the emergence of just one fantastic resort is enough to lure the trendsetters away from the more tried-and-true hotspot. When the Acqualina Resort opened in Sunny Isles Beach, Florida, in 2006, it put the relatively quiet coastal town just north of Miami Beach on upscale travelers' radars. Serene Sunny Isles provides the perfect upscale antidote to South Beach's legendary see-and-be-seen atmosphere. And of course, there's a superb beach. The same goes for the Riviera Maya, 30 minutes south of Cancun, where Paraiso de la Bonita has been attracting scenesters since it opened in 2001.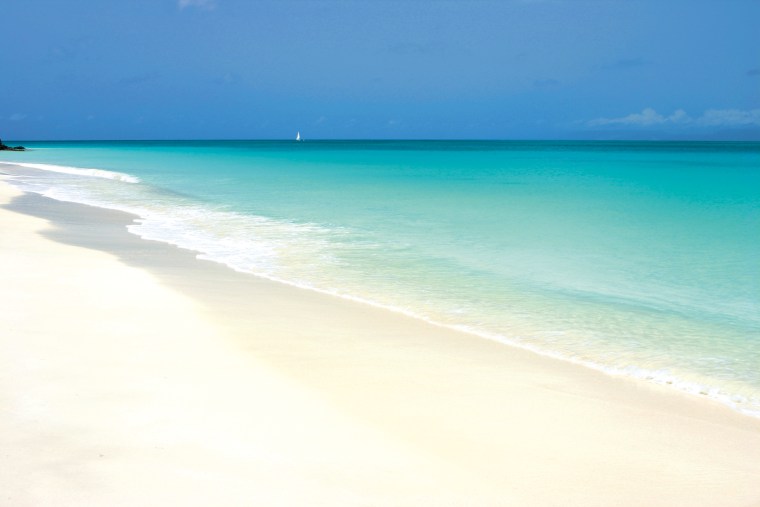 Of course, there are those beaches that have long attracted visitors from a certain region while remaining off the American tourist's radar altogether. Biarritz, just a few miles north and across the French border from San Sebastian in Spain, is one such place. In the 1800s, its beautiful beaches attracted European royalty—France's Empress Eugenie built a palace here in the mid-1800s that today houses the ultra-luxurious Hotel du Palais.
And finally, some hip little siblings are literally offshoots of their famous counterparts. Tamarama Beach, just a kilometer south of Australia's more famous Bondi Beach, has been nicknamed "Glamarama Beach" by those familiar with its daily parade of perfectly sculpted bodies. Most accommodations and nightlife remain in Bondi, but the daytime scene has been annexed by Tamarama.
Unlike some up-and-coming beaches, the resorts on this list are fairly easy to get to. And often, while the exclusive little sibling doesn't feature an exhaustive array of choices for nightlife, a short drive or ferry ride opens up all manner of partying possibilities.