Congressional Democrats for the first time named names Wednesday in their investigation of formaldehyde-contaminated travel trailers provided by FEMA to victims of Hurricanes Katrina and Rita, charging that manufacturers knew but did not disclose that the units were emitting high levels of the toxic gas that could sicken inhabitants.
At a contentious hearing before the House Oversight and Government Reform Committee, Rep. Henry Waxman of California and other Democrats grilled officials of four companies — Gulf Stream Coach Inc.; Pilgrim International Inc.; Keystone RV Inc.; and Forest River Inc. — whose trailers were found to have the highest levels of formaldehyde in testing by the federal Centers for Disease Control.
Waxman, the committee chairman, said all four companies should have known that their products contained potentially dangerous levels of formaldehyde, the airborne form of a chemical used in a wide variety of products, including composite wood and plywood panels.
But he saved his sharpest criticism for Gulf Stream, of Nappanee, Ind., which provided the Federal Emergency Management Agency with 50,000 travel trailers under two contracts worth a total of $500 million.
He said that documents reviewed by committee staff indicated the company found high levels of formaldehyde in its trailers in testing conducted in early 2006, but viewed the results as a public relations liability instead of a health hazard and failed to inform FEMA.
Letter put positive spin on test results
Waxman cited a May 11, 2006, letter in which a Gulf Stream executive assured FEMA that "our informal testing has indicated that formaldehyde levels of indoor ambient air of occupied trailers fall below, for instance, the OSHA standard of .75 parts per million."
The letter did not, however, reveal that the tests found formaldehyde levels of 100 parts per billion or higher — the level at which acute adverse health effects begin — in every one of the 11 occupied Gulf Stream travel trailers that were tested. In four of the trailers, the levels were higher than 500 ppb — the exposure level at which the federal Occupational Safety and Health Administration requires mandatory medical monitoring for workers.
"The company did test trailers," Waxman said. ".. It found pervasive contamination and it didn't tell anyone."
Gulf Stream Chairman Jim Shea responded that the company conducted only informal tests of the trailers that did not produce reliable results. He also said the company offered to share the results with FEMA and to participate in further testing.
"FEMA did not accept," he said.
Republicans on the committee rallied to defend the manufacturers, noting that federal agencies never set federal guidelines for formaldehyde exposure in travel trailers.
'Confusion ... not some conspiracy'
"The problem was and is confusion among government agencies, not some conspiracy by trailer manufacturers," said Rep. Tom Davis of Virginia, the committee's ranking Republican.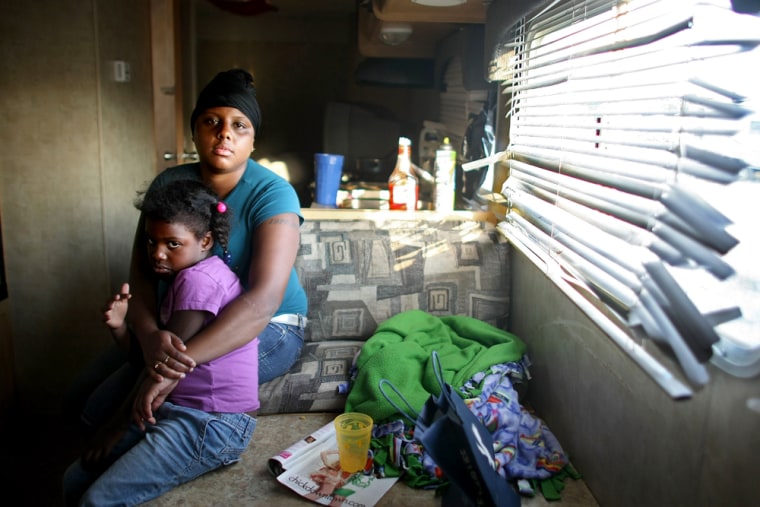 FEMA officials did not testify at Wednesday's hearing, having informed the committee that they were busy providing aid to victims of recent Midwest flooding, according to Waxman. At a hearing last year, the committee revealed documents showing that FEMA lawyers resisted conducting formaldehyde tests out of concern that it "would imply FEMA's ownership of the issue." Representatives of FEMA did not return a call from msnbc.com seeking comment.
The hearing was the second held by the committee in an effort to determine why the travel trailers contained such high levels of formaldehyde. The gaseous form of the chemical can cause a variety of immediate ailments, such as coughing, bloody noses and burning eyes, and also is considered a human carcinogen, or cancer-causing substance, by the International Agency for Research on Cancer and a probable human carcinogen by the U.S. Environmental Protection Agency.
Hurricane victims still occupy approximately 15,000 FEMA travel trailers on the Gulf Coast, down from 143,000 at the height of the emergency shelter program. All told, FEMA spent approximately $2 billion to purchase more than 120,000 travel trailers for use as temporary housing.
Waxman suggested that the government should try to recoup some of that money in light of the fact that FEMA began moving residents out of the travel trailers in February after the CDC testing found potentially hazardous levels of formaldehyde gas in both travel trailers and mobile homes provided by the agency.
'Some responsibility for the manufacturers'
"I think when we have to abandon trailers, it's not just the government that should pay for it," he said. "I think there's some responsibility for the manufacturers themselves."
Though it's unlikely that the manufacturers would be forced to repay the government in the absence of a standard for formaldehyde in travel trailers, they are facing a more serious financial threat. The four companies represented at Wednesday's hearing are among the dozens of manufacturers named in a class-action lawsuit accusing them of ignoring the health risks by using products containing high levels of formaldehyde.
There is no government standard for the amount of formaldehyde in travel trailers. The government sets standards for indoor air quality for materials used to build mobile homes, but not for travel trailers. If the government were to set a standard for materials in travel trailers, the order would have to come from Congress.
Until experts determine a safe level of formaldehyde, FEMA has set its own formaldehyde standard at 16 ppb. The manufacturers said such a low threshold would be impossible to assure and would preclude them from bidding on government contracts for emergency housing.