/ Source: msnbc.com contributor
Scott MacDonald, a 40-year-old lawyer, and his family were among the first buyers of new homes in Kirkway Estates, a residential community in the Detroit suburbs. The MacDonalds paid more than $500,000 in 2006 for a home that would be ready in July 2007. The Colonial-style brick home had four bedrooms, three-and-a-half bathrooms, and designer touches and offered everything they expected in a town known for great public schools and homes fit for Ford execs. 
Everything, that is, except neighbors.
When the MacDonalds arrived, there were fewer than 15 homes in Kirkway Estates, where 179 were planned. Their home was the only one built thus far on a cul-de-sac with six lots. They expected more houses to appear soon after they purchased, but instead Kirkway's builders ran into financing trouble and work on the community's remaining lots halted, leaving the MacDonalds and their handful of neighbors in limbo.
By the time the MacDonalds moved in, the trucks had pulled out. Workers weren't framing homes or pouring foundations. The front gate's fountain stopped working, construction trucks vanished, and unoccupied lots sprawled down the blocks, separating existing homes from one another.
"Our kids were really starving for playmates," MacDonald said. "We had to wait till school started so our 9-year-old could meet new friends, and we had to drive to neighboring communities for play dates."
The MacDonald kids were also starving for safe play space in their own neighborhood. Because no sidewalks had been built on their cul-de-sac and the empty lots lay fallow around them, the children were often in the street or romping through weed-covered lots nearby. 
"There was a period of time when the weeds were taller than our kids," MacDonald recalls.
But as 2007 wore on, Kirkway residents began worrying about more than day-to-day concerns. They wondered about the financial consequences of stalled construction.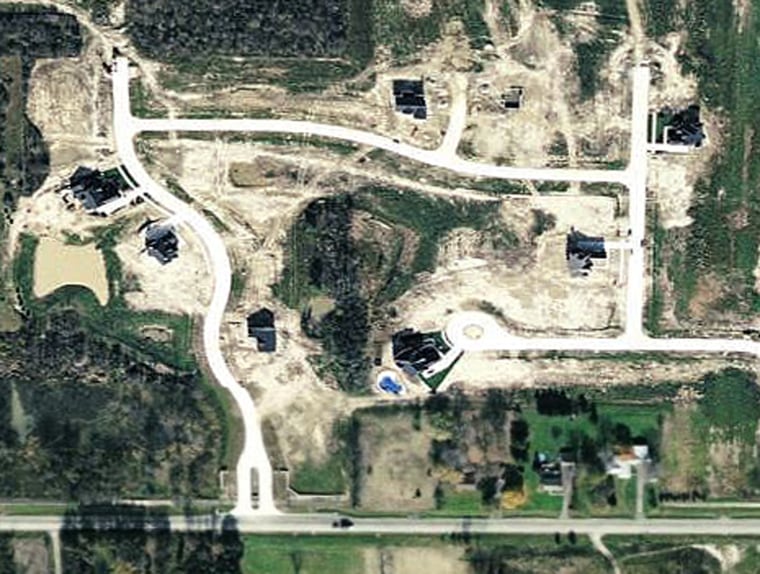 "There were six months where we were holding our breath. The original builder was clearly in a desperate situation," MacDonald says. "The talk of the neighborhood was how concerned we were about preserving our investment."
Residents wondered if construction lenders would let unbuilt land sit fallow or sell out to a new builder that would complete the community but with a different style of home, compromising their homes' value.
"Half-towns"
The example of Kirkway Estates illustrates the fragility of the American new construction housing market for both new home buyers and their builders. Americans like buying new construction — it accounted for 23 percent of all homes purchased last year, according to The 2007 National Association of Realtors Profile of Home Buyers and Sellers.
But given that a growing list of builders have seen construction loans called by banks or fail to sell newly built homes fast enough to keep up with construction loan payments, it's no wonder new construction "half-towns" are popping up along the landscape. The scenario is playing out all over the United States, and is the topic of blogs such as .
While builders are suing in some communities to reinstate their construction loans so they can finish projects, the homes they've finished in recent months are taking a long time to sell. Data from the Census Bureau and Department of Housing and Urban Development indicate that the amount of time required to sell a newly constructed home has nearly doubled between 2006 and the present. In 2006 it was 4.3 months. By 2007 it had climbed to 6.2 months. As of this June it was 8.4 months.
Against that backdrop, residents of half-built communities must cross their fingers. In many cases, delays are temporary and homeowners stand to retain their property value over time. In other cases, homeowners watch helplessly as neighboring homes go unbuilt or sell as foreclosures, lowering their homes' values and diminishing their sense of community.
Economists have said that for the housing market to correct itself, inventory levels and sales prices will need to decline during 2009 — which may mean half-built communities don't get completed and remaining homes are sold at a discount. Tim Newport, U.S. Economist for Global Insights, said in a July 31 housing market report that although the number of newly built single-family homes continues to drop, the market still has an oversupply of about 100,000 homes, based on June's inventory of 426,000.
Kat Carney, a 39-year-old cable television executive in Durham, N.C., window-shopped among two new high-end residential developments during 2007, but ended up taking a watch-and-wait approach. Both Colvard Farms and Maida Vale caught her eye because these communities offered grand new homes with more than double her current home's 1,900-square-foot layout as well as newer kitchens and spa-like master bathrooms. At Colvard Farms, homes started at $500,000, and at Maida Vale, homes with Mediterranean looks and extensive customization options started in the $700,000 range.
Parade of unsold homes
During 2007, homes from Maida Vale were featured in the local "Parade of Homes" showcase of the latest and greatest options in new construction. Maida Vale houses featured elevators, extensive landscaping and dozens of custom touches. Maida Vale will soon appear in a televised segment of "Eye on America," according to the Carol Marcusse-Sell, the community's marketing director.
But when Carney revisited the communities this summer, she noticed that they hadn't progressed much beyond how they looked in 2007.
"They're still ghost towns. Lot after lot after lot hadn't sold," she said.
She says a sales rep for Colvard Farms' builder told her that cable television is unavailable in the community — a problem for Carney, given her profession — but that the builder was willing to pay for installation and fees for her to have satellite TV.
Buy as Carney surveyed the empty streets surrounding the luxury homes, she came to the conclusion that for all the elevators, granite countertops and Viking appliances, the lack of knowing what would become of the neighborhood worried her.
"That was the deciding factor in my staying put. My neighborhood is already built, and I don't have to worry about the empty lot next door. So I'm going to stay where I am and remodel."
Marcusse-Sell says that seven of Maida Vale's 59 lots have sold to buyers who now await completion of their homes' custom construction. The community's builder has completed seven "speculative" homes, six of which sit on the market.
Marcusse-Sell says that Maida Vale's builders haven't run into financial trouble, but that the market's downturn means it may take up to five years for the entire community to get fully built and sold, versus initial estimates of three years.
Many buyers who can afford Maida Vale are having trouble selling their existing homes in other markets and thus can't finance a Maida Vale purchase yet, she says.
"We probably would have had more pre-sales if the market was better," she says. "The market is not moving."
Stroke of luck: a builder rescue
Fortunately for MacDonald and his — few — Kirkway Estates neighbors, local builder Pinnacle Homes struck a deal in December 2007 with the former builder's lender to resume construction at the community — and to maintain the architectural style initiated by the original builder so that the neighborhood's look and feel would remain consistent.
"The plan is for us to build out the whole subdivision," says Howard Fingeroot, managing partner at Pinnacle Homes.
In 2006, Pinnacle began shopping for half-completed construction projects such as Kirkway Estates, Fingeroot says, looking to strike deals with lenders who would otherwise have to oversee completion and sales of entire neighborhoods due to builders' defaults on construction loans.
"A lot of builders are struggling right now," Fingeroot says.
Under terms of the deal, Pinnacle and the bank have created a joint venture in which the bank continues to own the property and Pinnacle will complete construction of homes. Once a home is sold, Pinnacle and the bank will divide profits on each property evenly. This prevents Pinnacle from falling into the financial trap that has gotten other builders in trouble during the market cooldown — namely, buying land, building on it, then waiting to close sales before completing more construction. Since the bank owns the land due to a prior builder's foreclosure and stands to lose money from selling it un-built, Pinnacle's proposition is a win-win for builder, bank — and, hopefully, community residents.
"I'd like to say we went in with our eyes wide open," MacDonald says, acknowledging that he knew in 2006 he was buying at the start of a housing downturn. At that time, the builder told him the community was a four-year project. He's since learned the build could take a decade, meaning neighbors will appear — but slowly.