/ Source: Forbes Traveler.com
Mosquito netting isn't the crest of luxury in Amazon eco-lodges anymore. Now it's high thread counts, pools and Jacuzzis, green amenities, canopy walkways, gourmet meals and bars that stock Grey Goose. With its wild, biodiverse and sometimes lawless terrain, the Amazon basin has been luring travelers since the '60s, but only in recent memory have plunge pools have been added.
"It doesn't matter if you stay in a hammock or a treetop Tarzan House," says tour operator Jill Siegel. "It's what you do during the day that will color your experience and that has not changed a bit over the years." Siegel has been organizing tours to South America for nearly three decades with her company South American Escapes. "The important thing about seeing the Amazon is getting out there every day and exploring the flooded forest by canoe. That is where you are really going to see the abundant flora and fauna."
Officials in the nine countries that hold part of the rainforest are beginning to see how tourism can benefit the local environments a lot more than cattle farming and logging. Lodges can attract upper-crust travelers. And under the right guidance, a posh resort or lodge can be built and operated without disrupting the local communities and environment.
As the destruction and exploitation of the Amazon Basin—an area that covers more than 1.7 billion acres and holds more than one-fifth of all of the freshwater on the planet—has spiraled out of control, the potential benefits of luxury ecotourism are being realized. Just ask celebrities such as Jennifer Lopez, Susan Sarandon, President Jimmy Carter and Prince Frederick of Denmark, all of whom have visited Ariau Amazon Towers, a canopy level hotel complex in Brazil's Rio Negro National Park.
"Over the last 15 years, the Amazon has become more accessible to all types of travelers," Siegel says. "Tam Airlines has daily non-stop flights from Miami right into Manaus. It is a short five-hour flight. A family or couple may make a weekend trip to Manaus and enjoy a three-night/four-day package at Ariau Amazon Towers and be back in their office on Monday or Tuesday morning."
This new breed of Amazon lodges is moving toward sustainability. Some are carbon neutral; others want to be. Vast areas of wilderness have been converted into reserves and national parks, cattle ranches are being turned back to forests, jobs are being created, generators are being replaced by solar power and endangered species such as the Ptenoura brasilensis, or Giant River Otter, are being saved. At least for the time being.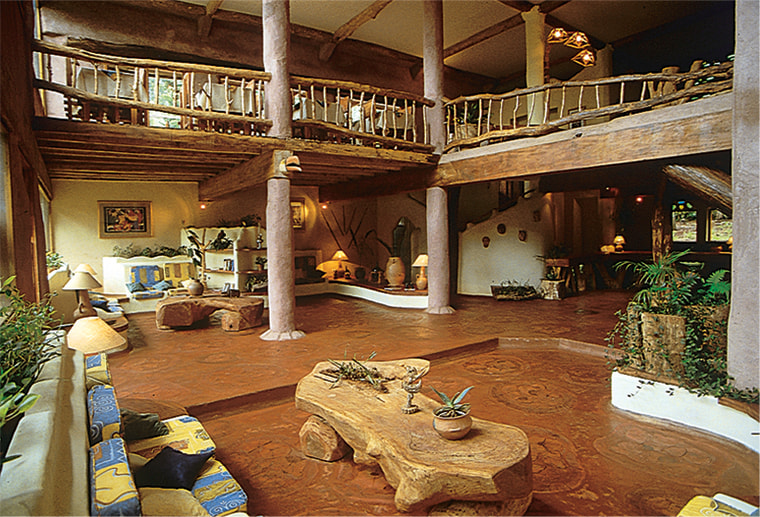 Enter Kapawi Ecolodge on the Pastaza River in Ecuador. While most lodges sit within an hour or two by boat from a major airport, here you must fly in a 12-seat Cessna to their personal landing strip. There are no roads to Kapawi, and the nearest village is a ten-day walk. In this well-preserved part of the Amazon, you'll find a cluster of solar powered bungalows set above a small lagoon. The once notorious Achuar tribe, members of which have been employed at the hotel since it opened, will assume full control of it by 2011.
Refugio Ecological Caiman was once a sprawling cattle ranch that has been turned into a wildlife refuge. Three lodges, each with their own pools, restaurants and bars, are scattered around the property. While they still maintain a ranch, they have managed to make it self-sustainable, setting an example for the rest of Brazil's Pantanal, a region of savannahs and wetlands that makes up roughly ten percent of the country.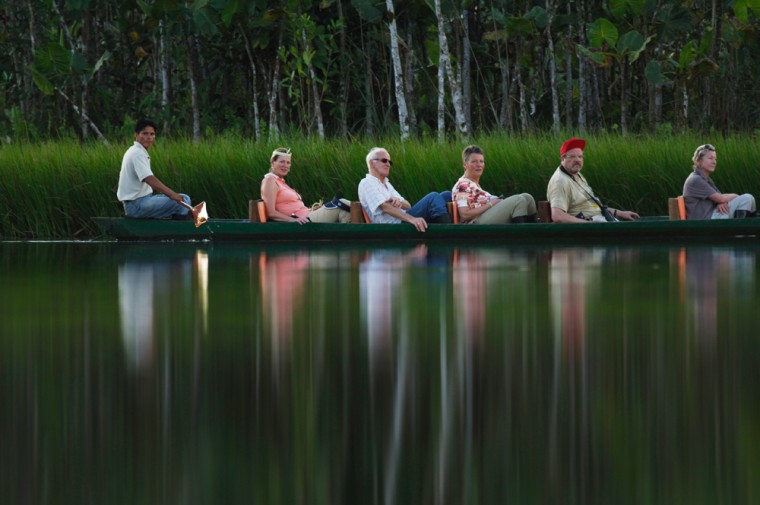 One of the challenges of a lodge is that wildlife tends to shy away from environments that humans frequent, which is where a floating lodge comes in handy. Not that there haven't been Amazon cruise ships before. But never like this. On the M/V Aqua, comfort and style is considered as important as the environment. How? The ship was designed by a world-renowned Peruvian architect (Jordi Puig); the menu was designed by one of Peru's top chefs (Pedro Miguel Schiaffino), and the rooftop observation deck bears closer resemblance to a penthouse at a W hotel than the SS Minnow.
One of the most difficult parts of ecotourism is not destroying and disrupting the natural world most come to see. Argentina's Yacutinga lodge east of Parque Nacional Iguazú uses salvaged materials like fallen trees and found stones; they also rely on the locally grown, organic produce rather than having it shipped in from Buenos Aires. And, they employ local guides who share first-hand knowledge that's been passed down through the generations. How's that for recycling?