/ Source: Sherman's Travel
Whether you're looking for an enlightening intermission from all the 2008 Beijing Olympic Games action in August or planning to visit long after the Olympic flame dies down (and the crowds peter out), our Best Beijing Experiences, selected by ShermansTravel.com editors, promise to leave you with lasting impressions of the Chinese capital. Stay in a design hotel with private access to the Great Wall of China, visit cutting-edge galleries and nightclubs, make the rounds at can't-miss historical sites like the massive Forbidden City, and discover the best place to try Peking roast duck, a Beijing specialty.
Beijing Da Dong Roast Duck Restaurant
This bustling diner serves home-style Beijing dishes, including a sizzling version of the capital specialty: Peking roast duck.
Chaoyang; Building 3; Tuanjiehu Beikou; Dongsanhuan Lu, southeast corner of Changhong Qiao; 011-8610-6582-2892
Commune by the Great Wall
Located 37 miles outside Beijing at the foot of the Great Wall of China, this unique design hotel comprising several über-chic villas offers private access to the Wall, butler service, and interior furnishings by designers such as Philippe Starck and Karim Rashid.
Great Wall of China; Great Wall Exit, Badaling Highway; 011-8610-8118-1888; www.commune.com.cn
Dashanzi, 798 Art District
This renovated industrial complex in north Beijing is the hub of China's white-hot contemporary arts scene. Hip cafes and restaurants complement the labyrinth of galleries, art stores, and artists' studios.
Chaoyang; 4 Jiuxianqiao Lu; 011-8610-6437-6248; www.798space.com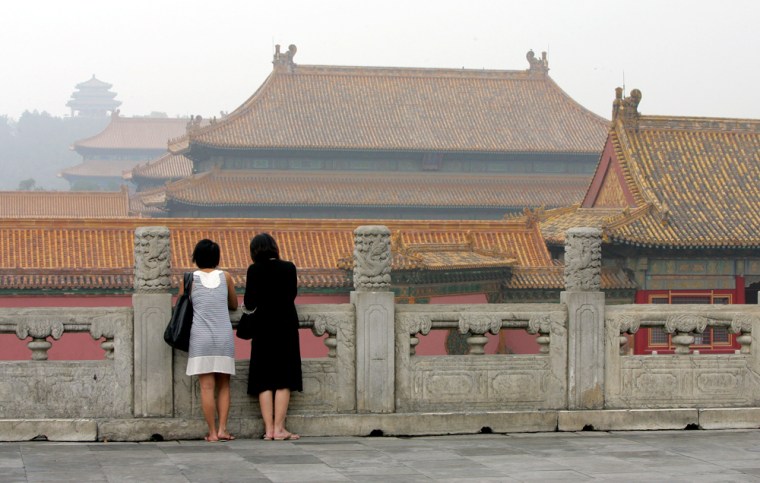 Dongcheng; Dongchang'an Dajie; www.dpm.org.cn
Haggle at a market
Bargaining at one of Beijing's crowded markets — whether for silks, sunglasses, or spices — is an essential experience. Always offer 20 percent of the first quoted price; if the stall-holder refuses to budge, walk away — you'll be surprised how effective this can be.
Houhai
Created seven centuries ago, the ponds of Houhai are lined with teahouses, trendy shops, and lantern-lit pubs — an idyllic Old Beijing backdrop for sunset cocktails, rickshaw rides, and sauntering with the locals.
Between QianHai and XiHai, just north of QianHai; www.kinabaloo.com/houhai.html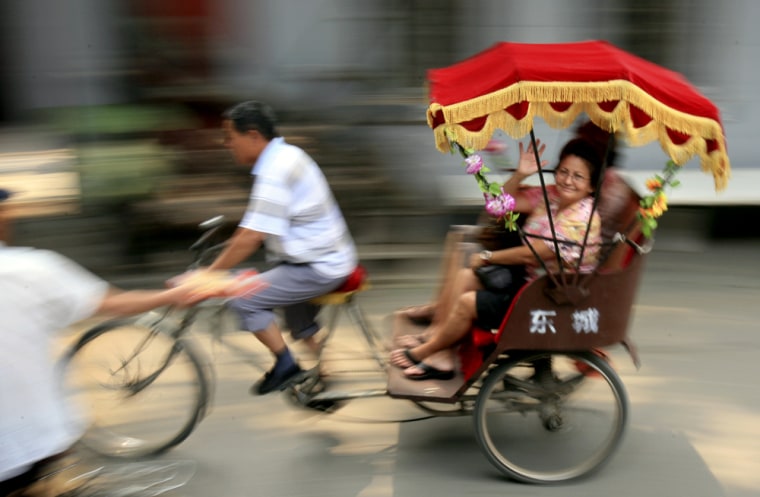 Dongcheng, Chaoyang; Rickshaw Beijing; 011-8610-6716-0201 x1006; www.tour-beijing.com/hutong
LAN
Beijing entrepreneur Zhang Lan hired Philippe Starck to design this 1.5-acre space, which comprises a restaurant, bar, and club. The result is eclectic — Mongolian yurts star in the dining room, while upside-down Regency-style portraits, '50s Chinese memorabilia, and Starck's eagle-winged thrones decorate the lounge.
Chaoyang; 4/F Twin Tower; B12 Jianguomen Waidajie; 011-8610-5109-6012; www.lanbeijing.com
Nanluo Guxiang
Unfairly dubbed the "Disney Hutong," this renovated half-mile chunk of old Beijing real estate avoided the bulldozers to become a tourism hotspot. Its 700-year-old lanes have morphed into a happening district of bars, restaurants, cafes, stores, and small hotels.
Dongcheng; Nanluo Guxiang, near Di'anmen on Ping'an Dajie
Torana Galleries
Tibet enthusiast Chris Buckley sells exquisite handwoven Tibetan carpets, rugs, and antique furniture sourced in Lhasa, the Tibetan capital. The gallery-style store is located in the Kempinski Hotel.
Chao Yang District; 50 Liang Ma He Qiao Lu; 011-8610-6465-3388; www.toranahouse.com
is a guide to top travel deals and destinations. which features the best editor-screened deals from hundreds of travel providers and is delivered to over 2.5 million subscribers, free, each week. ShermansTravel also publishes to inspire, guide, and go.