/ Source: Forbes Traveler.com
Picture yourself tooling along a hedge-lined driveway in an Aston Martin, silk scarf billowing behind you. A grand, moss-covered mansion comes into view, where a uniformed butler awaits. In moments—you're sitting brandy in-hand beside a cheerful log fire in a hall where aristocratic faces peer down from oak-paneled walls. Dogs wag their tails; birds trill. This is not a fantasy. This is the great English country house escape.
Within two hours of London are a tempting range of posh estates where you can drop in for a taste of legendary country living. Not born to the manor? Not a problem. You can still enter this rarefied world of snooker and shooting parties for a top-drawer holiday.
Great country estates were once homes for the minor gentry and the weekend haunts of patrician party people. They sprang out of the English soil as soon as it was safe for the ruling class to set up housekeeping without relying on moats to keep out the riffraff. The new, unfortified mansions appeared in a variety of styles—Gothic, Italianate, Neoclassical, Baroque—sometimes all of these mishmashed together. After WWII, many were torn down, while others became schools, hospitals or prisons. A lucky few have survived as luxury hotels.
For a proper country retreat, you want a suitably ancient pile that was, preferably, once owned by someone listed in Debrett's Peerage. No longer are such houses swathed in rose chintz and plagued by ancient plumbing. In response to prominent Anglophiles such as Madonna and Fatboy Slim—who have made known their enthusiasm for country house hotel breaks—lush parklands, sumptuous spas and cutting-edge cuisine are increasingly common. You may even find expert massages and—gasp!—Wi-Fi.
There are two distinct breeds of country house hotel: Old School and New School. If you lean towards traditional settings and classic dishes, you can't go wrong with an Old School gem like Chewton Glen, opened as a hotel in 1966. Like many of the finest examples in its class, Chewton Glen blossomed under the loving care of a single owner-proprietor. In this case, Martin Skan has cultivated this civilized sanctuary over a 40-year tenure. Skan retired in 2006, but the new private owner—once a regular guest—retains his dedication to uncompromising quality.
Once the home of the well-heeled Astor family, Berkshire's Cliveden House wins points for its pristine parks and scandalous past. The amorous Duke of Buckingham established the house in the 17th century to entertain his mistress; later, the 1960s saw a famous blowup involving a high-ranking government official and his own disreputable lady. Our Old School favorites often seem to leap from the pages of history, like Hartwell House, once owned by the illegitimate son of William the Conqueror, and Fawsley Hall, favored as a getaway by Queen Elizabeth I.
These hotels offer fascinating stories and venerable architecture, but they aren't stuck in the past. "Proprietors work hard to keep up all the history associated with them," says Andrew Weir of VisitBritain, "but they also offer modern amenities. You don't have to compromise on comfort and convenience while enjoying these national treasures."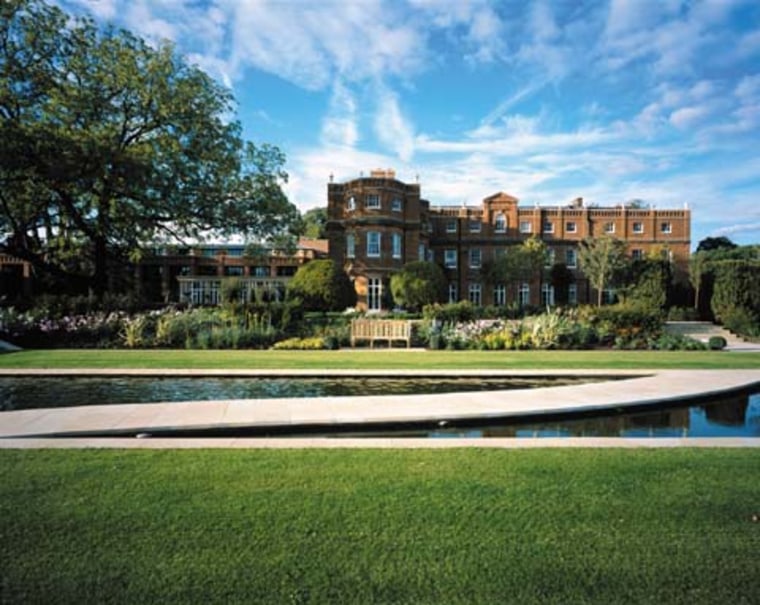 Some of the best Old School houses, like Stapleford Parkin Leicestershire, excel in providing traditional field sporting experiences. If you've ever fancied getting up-close-and-personal with an enormous bird of prey, falconry lessons at this friendly retreat fit the bill. You can join a game shooting expedition, or, if you prefer, take a crack at clay pigeons. Off-roading, horseback riding, and archery are all here for the adventurous.
So much activity makes a body hungry; we recommend taking advantage of the rage in England for organic and locally grown food. The gold standard for country dining is Manoir aux Quat' Saisons in Oxfordshire, which lures foodies with a two-Michelin starred restaurant and a cooking school. Le Manoir is one of England's priciest restaurants, but gastronomes seldom balk when they sample the French-inspired cuisine of chef-proprietor Raymond Blanc. Besides palate-pleasing menus, Manoir aux Quat' Saisons offers a stunning location among the water meadows of the Thames Valley. Bonus: Harry Potter fans can explore nearby Blenheim Palace and Oxford University, which served as key locations for the films.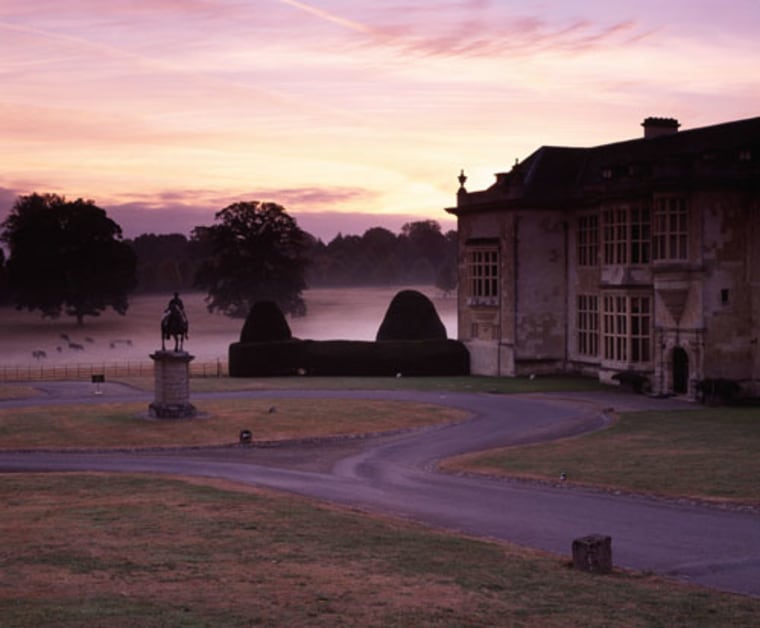 The country spa tradition actually dates back to Roman times, when ancient inhabitants took the healing waters of Bath and Buxton. Modern English destination spas merge traditional luxury with the latest techniques and facilities. The focus is on a complete sensory experience that relaxes and rejuvenates. Alexander House, once the home of the poet Percy Bysshe Shelley, offers traditional Old School ambiance with its Gothic architectural elements and tasteful antiques. But the Utopia Spa celebrates the 21st-century focus on wellness, offering subterranean plunge pools and a yoga studio. Just nine miles from Gatwick airport, this healing retreat is perfect for a stopover.
The New School breed of manor-turned-hotels has transformed frilly into funky and grand into groovy. The newbies are epitomized by Nick Jones' Babington House, opened in 1998 in Somerset. The new style taps into the idea of the fashionable house party, attracting a smart set that prefers a hipster vibe. Babington House, The Grove in Hertfordshire and Cowley Manor in Gloucestershireare favored by footballers' wives and celebs like Gwyneth Paltrow and Elizabeth Hurly.
Just like their Old School counterparts, New School country house hotels boast picture-perfect rolling hills, quiet country lanes and buckets of rain at the most inopportune time. But this is England—and you packed your wellies, didn't you?