/ Source: The Associated Press
To the Olympic ideals of higher, faster and stronger, here's another worthy pursuit: healthier.
Just ask gymnast Paul Hamm. Or sprinter Tyson Gay.
Or even Hossein Rezazadeh, the weightlifter better known as "Iranian Hercules."
A few weeks ago, each was a headliner, someone the rest of the competition respected and possibly feared. Now, Hamm and Rezazadeh are out because of injuries, while Gay heads to Beijing focused more on his trainer than rivals Usain Bolt and Asafa Powell.
For Hamm, a broken hand and a bum shoulder are to blame. For Rezazadeh, it's a knee he hurt in a car wreck. For Gay, it's a strained hamstring.
Their aches and pains are a reminder that while Olympians may seem superhuman, they are very much as human as the weekend warrior who shows up to work Monday morning on crutches.
With the opening ceremony rapidly approaching, The Associated Press cobbled together an informal Olympic disabled list filtered into two categories:
—Those like Hamm and Rezazadeh who can't go;
—Those like Gay who are hurt but going anyway.
The list is further broken down by U.S. athletes and international foes, with an emphasis on high-profile performers.
Male or female, big sports or small, the causes range from basic (the show jumper who fell off a horse and broke a leg) to bizarre (the guy who lost a finger on a metal fence).
Tennis has had enough injury-related withdrawals to fill an extra bracket, with more stars iffy. The dropouts include two women who've been No. 1 in the world — Russia's Maria Sharapova (shoulder); and France's Mary Pierce (knee), who was trying to come back from a two-year layoff — and Cyprus' Marcos Baghdatis (wrist), the 2006 Australian Open runner-up.
Also worth flagging is the women's 400-meter hurdles, an event that should be held as close to the medical tent as possible. Injuries already have claimed the top two finishers at last year's world championships, and the best U.S. hope failed to qualify a year after giving birth to twins — not an injury, of course, but still too much physical trauma for her to overcome.
Disappointing? Of course. But the anguish of these ruined dreams can be tempered by the tale of Hungarian canoeist Gyorgy Kolonics.
A winner of two gold medals and two bronze over the last three Olympics, Kolonics was training when he dropped dead in his canoe on July 15. Only 36, heart failure was to blame.
Abby Wambach certainly gets it. The leading scorer for the reigning Olympic champions, she's sidelined by a broken leg. It's the first serious injury of her career, and she's handling it like a champion.
"This is very bad timing, but this is what my life has shown me and these are the cards that I've been dealt," she said. "With those hard times it's when your character really shines through."
Hurt, Not Going - U.S. edition
Hamm, gymnastics: The reigning all-around gold medalist, he ran out of time in recovering from a broken right hand sustained two months ago. While trying to speed his recovery, he also strained his left rotator cuff.
"We were so close," said Dr. Lawrence Lubbers, the hand specialist who operated on Hamm. "Without the shoulder, we probably would have made it. But the two were just too much."
Wambach, soccer: She broke the two major bones in her lower left leg during the team's final pre-Olympics tuneup. The next day, she had a titanium rod inserted. She's hoping to return next spring, in time to be part of the new Women's Professional Soccer league.
Allen Johnson, hurdles: The 1996 gold medalist at 110 meters, and a seven-time national champion, he lost his chance for a fourth straight Olympics when he aggravated a leg injury during a preliminary heat at the trials. He'll be 41 the next time the Olympics come around, so this likely was his last shot.
Ericka Lorenz, water polo: Part of the team that won silver in Sydney (when women's water polo became a medal sport), and bronze in Athens, she wasn't able to join two teammates as three-time Olympians because of a back injury suffered last year.
Colby Rasmus, baseball: A former Little League World Series star, the St. Louis Cardinals outfield prospect recently sprained his knee and won't be Beijing-bound.
Nathan Sturgis, soccer: A hamstring injury that's cost him playing time for MLS club Real Salt Lake also cost him his Olympics roster spot.
Hurt, not going - International edition
Rezazadeh, Iran, weightlifting: The super heavyweight won gold in 2000 and '04, but is likely giving up his career because of a knee injury suffered when the vehicle taking him to a training camp was driving in heavy fog and hit a mountainside. Doctors have told him to stay home to avoid "heavy and stressful activity."
Jana Rawlinson, Australia, hurdles: The former Jana Pittman, perhaps also remembered as "Drama Jana," is the reigning world champion at 400 meters, but a toe injury and related problems kept her off the track for nine months. She returned in early July, posted her slowest time in eight years, then couldn't even run a straight line a few days later.
"I haven't been able to train for more than two days straight over the past 26 weeks, so I'm not arrogant enough to think that on that basis I'd be able to compete at the Olympics," she said upon withdrawing.
Yulia Pechonkina, Russia, hurdles: The world record-holder at 400 meters and the runner-up to Rawlinson at last year's worlds, she's battling heart problems thought to have started with a cold she caught while training in Portugal.
Christian Olsson, Sweden, triple jump: Often injured since winning in Athens, he wasn't able to recover from his latest setback, a hamstring injury during his first competition after a long layoff. He's also had problems with a foot and thigh. Only 28, he's frustrated enough to be talking retirement.
Perdita Felicien, Canada, hurdles: A former star at the University of Illinois, Felicien was the 100-meter world champion in 2003, then endured the agony of hitting the first hurdle at the '04 Olympics. Now coming off a silver medal at last year's worlds, she's been sidelined since February by a broken bone in her left foot.
"I just feel at peace knowing that it's come to this," she said during a conference call announcing her decision.
Franka Dietzsch, Germany, discus: A winner of three world championships, including last year's title, the 40-year-old Dietzsch bailed on Beijing because of a variety of health issues, including blood pressure that got so high it was considered life-threatening.
"I won't wait for a miracle," she told a German magazine. "The Olympics in China will take place without me."
Ivan Cupic, Croatia, team handball: A new addition to the reigning Olympic champions, the 22-year-old had most of a finger amputated following an accident during training camp. Cupic tripped and snagged his wedding ring on a wire fence, shredding the finger.
Nathan Deakes, Australia, walk: The world champion in the 50-kilometer walk, Deakes tore his hamstring while training in Switzerland a few weeks ago.
"I'm still in a bit of shock," he said. "I'm sure it will sink in in the middle of August when I'm watching the Games."
Robinho, Brazil, soccer: A striker and star for Real Madrid whose groin injury will prevent him from helping his country — winner of a record five World Cups — from trying again for its first Olympic gold.
Albert Zoer, The Netherlands, equestrian: Days after winning an individual Grand Prix at a prestigious show jumping competition in Germany early this month, the medal favorite fell while training a young horse and broke a leg in two places.
Hurt, going — U.S. edition
Gay, track: Five days after running a wind-aided 100 meters that was the fastest ever clocked, a hamstring injury dropped him to the track in pain during a 200 preliminary heat. He dropped out of a tuneup meet last week — just being safe, he said — although it raised questions about his readiness.
Breaux Greer, javelin: Pink highlights in his hair, black polish on his fingernails and coming off the set of "American Gladiator, where he plays the role of Hurricane, Greer showed up at the Olympic trials with a shoulder still damaged from a throw at last year's world championships. The eight-time national champion finished 17th, but made the team anyway through a loophole. Only two Americans met the Olympic minimum, leaving a spot open. Plus, there's a rule allowing an injured thrower to take an open slot.
"Will he be ready for the games? I don't know. His agent and his doctor seem to think so," said John Chaplin, the chair of U.S. men's track and field.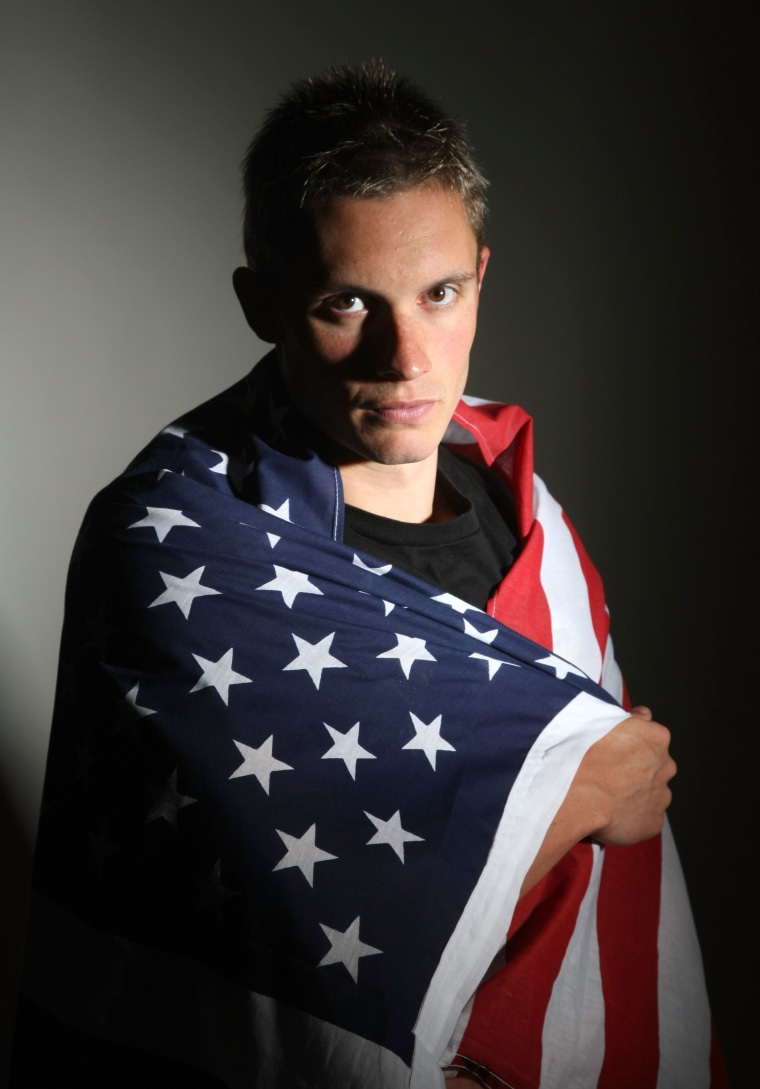 Eric Shanteau, swimming: A week before the Olympic trials, he was diagnosed with testicular cancer. He's putting off surgery until after competing in the 200-meter breaststroke, although doctors are closely monitoring him. He promises to bail out at the first sign that his cancer is spreading.
"By no means am I being stupid about this," he said.
Gary Russell Jr., boxing: A 5-foot-3, 119-pounder with the punching power of someone much bigger, his blows are even more impressive considering this two-time national champion has a torn tendon in his right shoulder that will require surgery after the Olympics.
"I know that when I punch, I'm going to knock a lot of people out. I actually have more knockouts than a lot of people have fights."
Venus Williams, Serena Williams, Lindsay Davenport, tennis: Like the NBA guys, the tennis pros are accustomed to frequent injuries because of their long, lucrative seasons. Serena withdrew from a recent tournament because of an inflamed joint in her knee. Venus and Davenport missed the same event with knee problems, too. The Williams sisters won doubles gold in 2000.
Emily Silver, swimming: Rushing to the finish line in a 50-meter race at the Olympic trials, she slammed into the wall so hard she broke her right hand — just like she's done twice before. She's already had surgery and is practicing again, but may not be able to compete.
Hurt, going — International edition
Paula Radcliffe, Great Britain, track: The world record-holder in the women's marathon won the New York City Marathon in November, but hasn't raced since because of a hairline fracture in her left thigh.
Manu Ginobili, Argentina, basketball: Nicknamed "El Contusion" because of all his bruises, he had a gimpy ankle during the NBA playoffs and the San Antonio Spurs would've loved for him to take the summer off. Perhaps with that in mind, Argentina chose him to carry the nation's flag in the opening ceremony, and he's back on the roster for Beijing.
Juliana, Brazil, beach volleyball: She and partner Larissa were the top team from powerhouse Brazil and ranked third in the world before Juliana hurt a knee ligament during an event in Paris last month. She opted against surgery for the chance to play in the Olympics, albeit with a brace.
Viktor Horvath, Hungary, modern pentathlon: The 2007 world champion tore a muscle in his right calf during the 2008 world championships in June, but he's still considered the man to beat.
Taufik Hidayat, Indonesia, badminton: The reigning Olympic champion and '05 world champion recently was hospitalized for several days while facing a high fever.