/ Source: msnbc.com staff and news service reports
A storm front that ripped roofs from buildings, cut power to more than a million people, and forced others to seek shelter at a Major League Baseball game as well as O'Hare Airport was heading east on Tuesday. At least two people died from falling trees.
The National Weather Service said tornadoes touched down in the Chicago suburbs of Bloomingdale and Bolingbrook, where about 24 homes were damaged, and at Griffith, Ind., where roofs were torn off several homes and businesses. More than 4 inches of rain fell in parts of Indiana.
By Tuesday afternoon, showers and thunderstorms were scattered from central Illinois into West Virginia.
The wild front was moving east, with damaging winds and small hail possible in western New York and central Pennsylvania, and tornadoes possible in southern Pennsylvania and West Virginia.
The system should reach New York City, Washington, D.C., and other parts of the Northeast by late Tuesday or early Wednesday.
Late Monday, the storms set off tornado warnings for downtown Chicago, flooded streets and even sparked lightning fires. A Chicago man was killed by a falling tree.
Fans were evacuated from the stands at Chicago's Wrigley Field, interrupting the Cubs-Astros game, and travelers were evacuated from the upper levels of terminals and planes at O'Hare International Airport.
'Like a war zone'
The storm also tore roofs and siding from homes at the northern Indiana town of Griffith, and Town Council President Rick Ryfa said officials declared a disaster area in the town.
"It looks like a war zone," Ryfa said.
Near Michigan City, Ind., a tree fell on a car and killed the 23-year-old driver.
Falling trees and other debris downed power lines across the Midwest.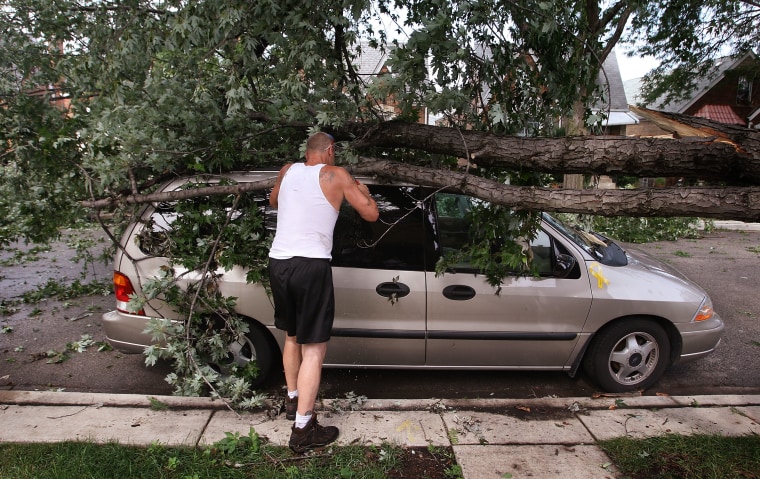 In Illinois, Commonwealth Edison still had some 219,000 customers in the dark Tuesday morning, down from about 427,000 customers initially affected. Utilities count a customer as a home or business, so the actual number of people that have lost power is two or three times the customer figure.
"Damage to ComEd's system is so severe that many customers are likely to be out of service for multiple days," the utility said in a statement. "Before power can be restored, crews must clear trees from wires, replace poles and transformers and string miles of new wire. Downed trees, flooding and traffic problems also are impeding crews' access to electrical equipment."
On top of that, the area could see another storm system move in later Tuesday.
In southern Illinois, Ameren reported 27,000 customers without power Tuesday morning.
In Indiana, Northern Indiana Public Service reported about 52,000 customers without power.
O'Hare disruptions
At O'Hare International Airport late Monday, travelers were evacuated into the lower levels of the complex's buildings. All flights were temporarily halted, and travelers who had already boarded airplanes were taken off and also were sent to the lower levels as a precaution.
"It was pretty cramped down there, the whole terminal was down there," said George Wickens, of London, who was trying to travel to Florida with his family.
The storms did not cause any damage or injuries at O'Hare or Midway Airport, said Department of Aviation spokesman Gregg Cunningham. However, more than 350 flights were canceled at O'Hare overnight.
Another 100 flights were canceled Monday morning.
Security guards at Chicago's Ogilvie Train Station, just off the Chicago River, ushered people away from large glass windows and into the middle of the building.
"The lightning between the buildings was looking ominous," said Michaela Nelson, 58-year-old singer from Barrington. "And then it just poured."