The cops don't carry guns here, and neither do the squads of green-shirted paramilitary soldiers who look no more threatening than troops of Boy Scouts.
I'm four days into my Olympic stay, and, while I've seen too many police and security officers to count, I have yet to see a gun in this sprawling city. I've seen helicopters and miles of fences enclosing Olympic facilities. I had to put my bag through an x-ray machine to enter Tiananmen Square. Surveillance cameras decorate lampposts around the city. And everywhere you see private citizens wearing red arm bands that identify them as community watchdogs whose job it is to report anything or anyone who looks suspicious to the police.
China has built an unprecedented security force around the Olympics that includes batteries of surface-to-air missiles and 110,000 people. Hotels have admitted that the government has asked them to track the Web sites their guests visit. Dissidents have been rounded up, foreigners shipped out of the country and travel curtailed and sometimes prohibited within the country, especially in the western region of Xinjiang, where two men alleged to be separatist Uighur terrorists killed 16 police officers on Monday.
Human rights organizations have accused the government of being oppressive in its desire to insure that the games go off without incident. The government has made no apologies, justifying whatever it has done by stressing the importance of keeping the Games safe from attack.
That has become China's overriding concern, and it's reduced the number of people coming for the Games. According to published reports, some Beijing hotels are actually seeing a decrease in business during the Olympics and the city as a whole expects no more tourists this August than visited the city in August 2007.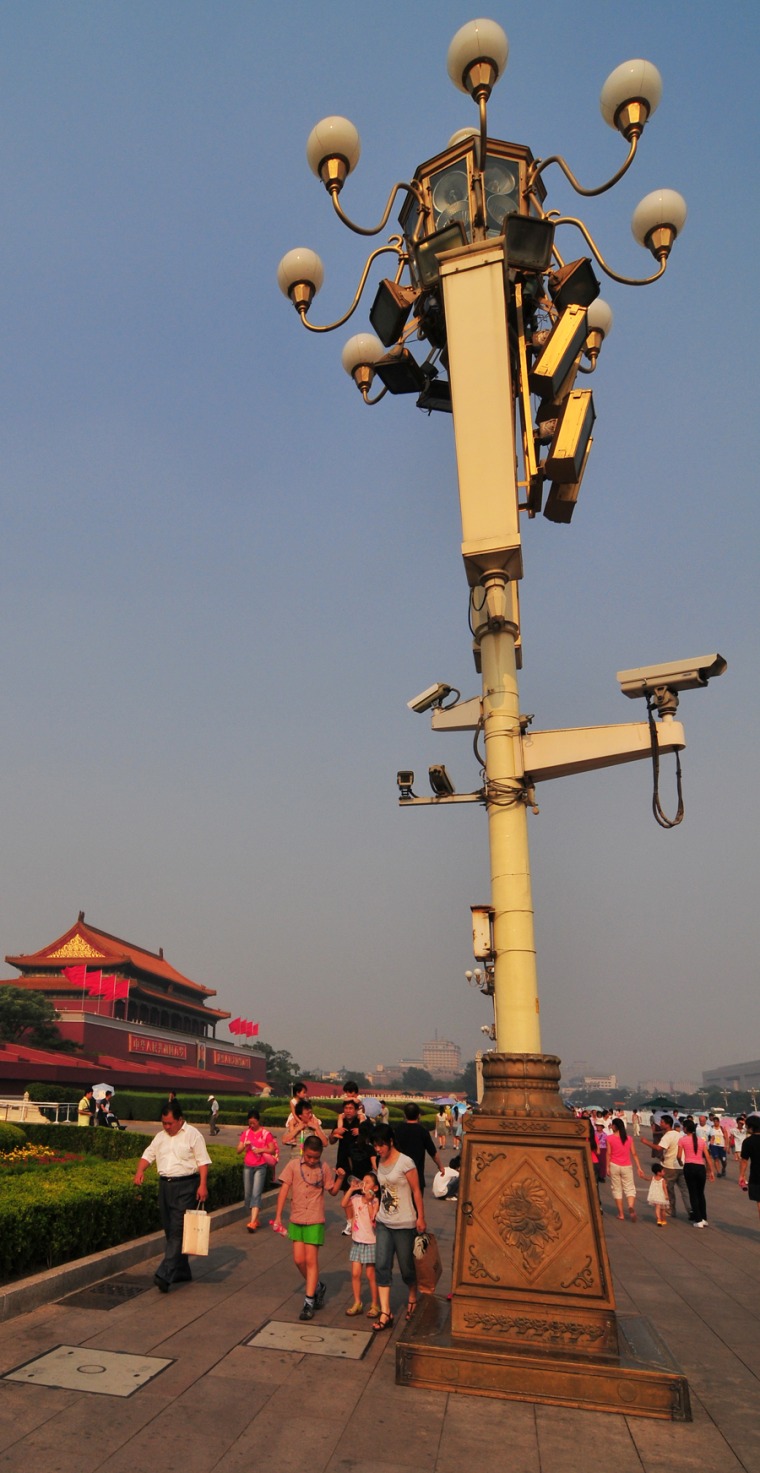 China doesn't seem to care. The Games are being broadcast to the world, but they're being presented to 1.3 billion Chinese, the vast majority of whom have enormous national pride in the undertaking. The level of interest is evidenced by the fact that China has become the first country to sell every ticket to every event. And most of them have been purchased by Chinese citizens.
For a visitor, as massive as the security effort is, you don't feel it because you don't see soldiers with assault rifles and cops with tasers, batons and guns hanging from their belts.
It feels somewhat weird. We've come to expect heavy police presence at athletic events in general and the Olympics in particular. At the Super Bowl, especially, all the artillery around you is impossible to ignore.
I've been to every Summer Olympics since Los Angeles, and there were always guns. In Athens, soldiers carrying assault rifles decorated the city. But not here.
Maybe we'll see them at the venues once the Games begin. And maybe the guys packing heat will just stay out of sight until — and if — the situation demands their presence. That remains to be seen. At the moment, what we've got are a lot of unarmed people directing traffic.
Sun Weide, a government spokesman, said at a press conference today, that every eventuality has been planned for. "Currently all security measures relating to the Olympic Games have been implemented in a comprehensive manner, and we are prepared to respond to all kinds of security threats," he said.
I'm not the only one who's noticed that there's not that much to notice. Simon Clegg, the head of the British Olympic delegation who has been to 11 Olympics, said much the same thing at a press conference on Monday. "I have been here for two weeks," he said. "The security is no tighter than what we have seen in other Games. The level of security is decided by local government, but I see no difference in the security here to anything I have experienced before."
I've no doubt they're somewhere close at hand, and you want them to be. Ever since 1972 and the massacre of the Israeli athletes, figuring out how to keep the bad guys out has been the first assignment of every Olympic organizing committee.
The Chinese seem to be doing that by keeping them from getting into Beijing or anywhere near the games. Do that, and you don't need soldiers at the gates. And terrorism experts have said that if anything happens during the Games, it will be somewhere other than where the competition is taking place.
Getting close enough to anything important enough to attack is unbelievably difficult. The venues for the games are surrounded by multiple fences and security zones and various kinds of barriers. If there's one annoying aspect to the security, it's the need the take a 20-minute circuitous bus ride to get to a site that's less than a mile away in a straight line. But that is standard for the Olympics: you can't ever seem to get there from here. Some things never change.