/ Source: The Associated Press
Confronted by problems at every turn — rising unemployment, shaky growth, credit troubles and creeping inflation — the Federal Reserve left an important interest rate unchanged, taking a gamble that for now the best move was no move at all.
The next direction for rates probably is up but that's not likely until next year.
Fed Chairman Ben Bernanke and all but one of his central bank colleagues agreed Tuesday to leave its key rate alone at 2 percent for the second straight meeting.
In turn, the prime lending rate for millions of consumers and businesses remained at 5 percent. The prime rate applies to certain credit cards, home equity lines of credit and other lines.
"Although downside risks to growth remain, the upside risks to inflation are also of significant concern," the Fed said. Policymakers are faced with dueling problems: weak economic growth and advancing inflation. To treat one, risks aggravating the other. The Fed indicated Tuesday that each problem poses about equal risks to the economy.
It was welcome news to Wall Street, however, where stocks put in their best showing in months on relief that the Fed's assessment of the economy and inflation wasn't worse. The Dow Jones industrials closed up 331.62 points at 11,615.77, its biggest one-day point gain since April 1, when it kicked off the second quarter with a nearly 400 point rally.
Many economists believe the Fed will leave rates where they are at its next meeting on Sept. 16 and through the rest of this year. This would give the fragile economy and crippled housing market more time to heal.
The Fed may start boosting rates, now at four-year lows, early next year, economists predict. Some Wall Street investors, though, haven't ruled out a rate increase later this year to fend off inflation. Either way, most agree the Fed's next move will be up. Keeping rates at low levels for too long could worsen inflation.
"The inflation fight probably will have to wait until 2009," said Lynn Reaser, chief economist at Bank of America's Investment Strategies Group. "Conditions at this point do not seem to dictate an immediate tightening."
Heightened concerns about inflation forced the Fed in June to halt a nearly yearlong series of rate reductions to shore up the wobbly economy. The campaign, which started last September, was one of the most aggressive in decades. The Fed slashed its key rate by 3.25 percentage points with the hope that lower rates would spur people and businesses to buy and invest more, energizing the economy.
A number of forces have blunted the Fed's bracing rate reductions, however. People are finding it harder to get credit to finance big-ticket purchases as banks have tightened up standards.
American consumers — even armed with the government's tax rebates of up to $600 a person — have turned more cautious. Falling home values and stock prices have eroded their net worth. On top of all that, high energy and food prices are whittling away at Americans' buying power.
To help, Democrats want a second stimulus package; the Bush administration, though, has been cool to what's been floated.
Bernanke's predecessor, Alan Greenspan called the current credit crisis a "once or twice a century event." Given the severity of the financial problems, the surprise is not that economic growth is slowing but that there is any growth at all, Greenspan wrote in an opinion piece in the Financial Times.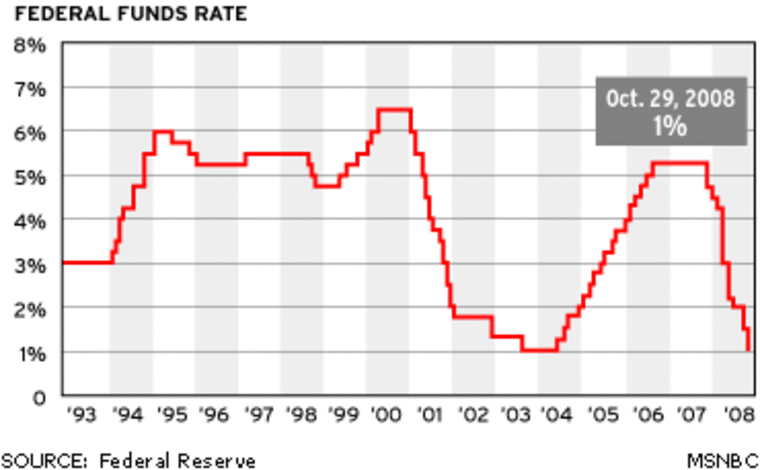 The Fed has taken a number of extraordinary steps to ease credit problems so that banks, investment houses and others will keep on lending.
Over time, those steps, along with the rate cuts, "should help promote moderate economic growth." Fed policymakers said.
But for now, the economy — pounded by many negative forces — is likely to be sluggish at best.
"Labor markets have softened further and financial markets remain under considerable stress. Tight credit conditions, the ongoing housing contraction and elevated energy prices are likely to weigh on economic growth over the next few quarters," the Fed warned.
The economy grew at a subpar 1.9 percent pace this spring — even with the tax rebate checks. It shrank late last year.
And, the unemployment rate climbed to a four-year high of 5.7 percent in July as businesses clamped down on hiring. Nearly half a million jobs have disappeared so far this year. More losses are expected. The jobless rate could hit 6.5 percent by the middle of next year.
With employment deteriorating, hopes for a second-half rebound have largely fizzled.
"The Fed has got its hands full," said Stuart Hoffman, chief economist at PNC Financial Services Group.
On the inflation front, Fed policymakers said they expected improvements later this year and next year, but they acknowledged the outlook was difficult to predict.
Energy prices, which marched to a record high above $147 a barrel last month, have calmed down recently, giving the Fed more leeway to hold rates steady. Oil prices sank as low as $118 a barrel Tuesday.
"Inflation has been high," the Fed said. Consumer prices in June rose at the second-fastest pace in a quarter century. Those high prices are a double-edged sword: They can put another damper on growth as people have less money to spend on other things and they can force companies to raise prices for many other goods and services, spreading inflation.
One Fed member — Richard Fisher, president of the Federal Reserve Bank of Dallas, wanted to raise rates Tuesday. Fisher, who has a reputation for being extra vigilant on inflation, was the sole opposition vote. It was the fifth time this year that he dissented.
New Fed board member Elizabeth Duke, who was just sworn in Tuesday before the meeting, voted with the majority.
Full text of the Fed's statement announcing its decision not to change rates is below.
The Federal Open Market Committee decided today to keep its target for the federal funds rate at 2 percent.
Economic activity expanded in the second quarter, partly reflecting growth in consumer spending and exports. However, labor markets have softened further and financial markets remain under considerable stress. Tight credit conditions, the ongoing housing contraction, and elevated energy prices are likely to weigh on economic growth over the next few quarters. Over time, the substantial easing of monetary policy, combined with ongoing measures to foster market liquidity, should help to promote moderate economic growth.
Inflation has been high, spurred by the earlier increases in the prices of energy and some other commodities, and some indicators of inflation expectations have been elevated. The Committee expects inflation to moderate later this year and next year, but the inflation outlook remains highly uncertain.
Although downside risks to growth remain, the upside risks to inflation are also of significant concern to the Committee. The Committee will continue to monitor economic and financial developments and will act as needed to promote sustainable economic growth and price stability.
Voting for the FOMC monetary policy action were: Ben S. Bernanke, Chairman; Timothy F. Geithner, Vice Chairman; Elizabeth A. Duke; Donald L. Kohn; Randall S. Kroszner; Frederic S. Mishkin; Sandra Pianalto; Charles I. Plosser; Gary H. Stern; and Kevin M. Warsh. Voting against was Richard W. Fisher, who preferred an increase in the target for the federal funds rate at this meeting.