/ Source: Forbes Traveler.com
David Beckham knows what's in fashion. For wife Victoria's 34th birthday earlier this year, the British soccer star tapped into the celebrity zeitgeist and bought his 'Posh'-er half the latest in trendy lifestyle accessories: her own vineyard in California's Napa Valley.
The Beckhams aren't alone in owning a literal piece of the 'Hollywood and Vine.' Thanks to the increased marketing potential of celebrities and their ever-increasing paydays, winemaking has become the chic hobby of choice for the world's rich and famous. Whether actually buying a vineyard or simply partnering with a well-known vinter, bold-face names, running the gamut from rock stars (Santana, Bob Dylan, Motley Crue's Vince Neil) to MVP-winning sports heroes (Joe Montana) to Speakers of the House (Nancy Pelosi), have all soiled up and put down grape-stomping roots both in the United States and abroad.
Most celebrities run wineries "because they're wine connoisseurs—or think they are," says Robert Smiley, director of wine education at the University of California, Davis, management school. "Fame brings them wealth and they can afford to invest in it. ... Although I don't think any of them do it purely as an investment."
While a select few choose to keep their vintages private (we're looking at you, Sting), most celebrities make their wines available for purchase and keep their estates open for tastings and tours. Unsurprisingly, the public's response has been overwhelmingly positive. According to statistics from Nielsen research, celebrity wines, based on 2007 grocery store sales, are up almost 19 percent from the previous year—a figure that represents almost one percent—or $42 million—of the U.S.'s total wine sales.
Visitor attendance at celebrity vineyards has been surging as well. The Rubicon Estate, the recently renamed winery bought by director Francis Ford Coppola in 1975, has seen such an increase of visitors that it has been forced to institute a $25 a head parking fee to control the traffic.
"If your vineyard is in a prime location, and you're advertising a name that people know, you're going to be deluged," says Smiley. "At Rubicon, which was formerly the Niebaum Coppola Estate, they were getting buried with too many people who just wanted to see [Coppola's] Oscar, and not enough people who wanted to buy the wine."
Since it was featured in Alexander Payne's 2004 film "Sideways", Fess Parker's winery has also seen a marked increase in attendance. Known best for his on-screen portrayals of Davy Crockett and Daniel Boone in the 1950s and 1960s, Parker bought his land in the Santa Ynez Valley in 1987 and continues to expand his brand; in 1998, the actor boosted his winery portfolio with the Fess Parker Wine Country Inn in Los Olivos, where every Thursday, he joins visitors for a glass or two of his own syrah or pinot noir.
The convergence of wine and celebrity is hardly a new phenomenon. For actors who live in the proximity of Napa and other California green spots, buying and running wineries has long been a favored second career. In addition to Coppola, Pixar guru John Lasseter owns a winery in Glen Ellen, Sonoma County, as does Tommy Smothers, the proud owner of Remick Ridge Vineyards and Smothers Winery in nearby Kenwood, Calif. Internationally, Sam Neill of "Jurassic Park" fame has been producing ecologically friendly pinot noirs in New Zealand's Central Otago region at his Two Paddocks vineyard since 1993. And Gerard Depardieu has been tending to his vineyards in Bordeaux, Languedoc, in the south of France, as well as in Spain, Morocco and Argentina since the '80s.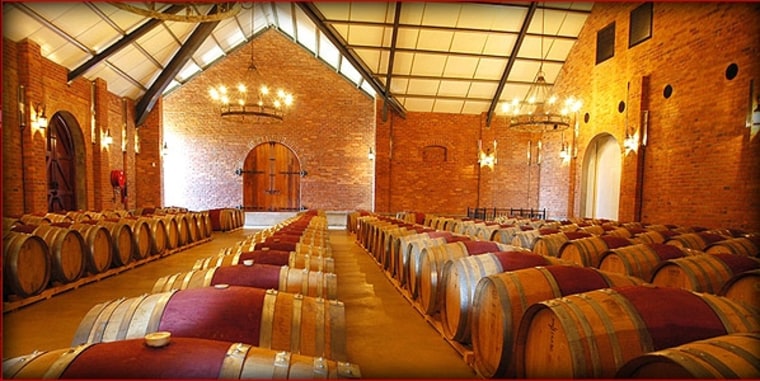 Wine franchises have even been extended to deceased celebrities. Signature Wines produces Graceland Cellars, a line that features a spry Elvis Presley on its labels. Other actors have seen their brands passed down by family members. When actor Fred MacMurray, star of Disney's "The Shaggy Dog" and "The Absent-Minded Professor", bought a homestead for his family in Sonoma Country's Russian River Valley in 1941, he had little idea his modest California ranch would eventually grow into a bustling winery under the Gallo winemaking family five years after his death.
Not that buying and running wineries is purely for the Hollywood scene. Race car driver Mario Andretti founded his own winery in 1996 with friend (and ex-Kmart CEO) Joe Antonini. The Indy 500 champion's 42-acre estate is dedicated to celebrating the Italian lifestyle and is seeded with pinot grigios, chardonnays and merlots—and boasts a Wine Club membership that exceeds 4,000 members.
"The common denominator is money," says Smiley. "You have to have financial resources to make the investment, which is currently $200,000 to $300,000 an acre in Napa Valley. Plus, [celebrities] have more opportunities to take partners. If, say, Joe Montana suggests a business relationship with a renowned vintner, he would have no problem finding minority investors who are willing to use his name and take partners."
Having a celebrity name attached to a winery can actually be a hindrance. In the past, Tommy Smothers has explained how he was forced to change his winery's name from Smothers Brothers to Remick Ridge "because when people heard Smothers Brothers wine, they thought something like 'Milton Berle Fine Wine' or 'Larry, Curly and Mo Vineyards.'" And with so many celebrity winemakers jostling for attention, it becomes difficult for the more passionate and devoted producers to stand out from those merely trying to make a quick dollar. Depardieu, in particular, feels strongly about the issue and has previously criticized his fellow vintner-actors, noting that some were definitely more interested in making money than wine: "This is not an industry. It's about speaking to the land."
Love it or loathe it, celebrity wineries are here to stay and courting an ever increasing stratosphere of stars. Even Brad Pitt and Angelina Jolie are getting into the grape game. Though the duo have not committed to producing a wine, the gossip magnets did sign a rental agreement for the Chateau Miraval, a beautiful and secluded wine estate in Provence, for three years. Could a Brangelina Sauvignon Blanc be far behind?