/ Source: The Associated Press
Marc des Bouillons lounged in a beach chair with a book, surrounded by women in bikinis, ice cream stands, a DJ spinning summer tunes and kids running amok.
Sounds like vacation but it was just an evening after work at a makeshift beach on the banks of the Seine — a pale substitute for a real beach holiday but the best many Parisians can do in these troubled economic times.
The European summer vacation just isn't what it used to be. With economies stagnating and inflation in the euro zone at about 4 percent, people are cutting the length of their holiday stay, vacationing close by, and in some cases, just staying home.
Des Bouillons, a 43-year-old accountant, is forgoing one of France's sacrosanct rituals: The great August lull in which the country shuts down for the entire month, turning cities into ghost towns as the masses hit the beaches or country retreats.
Not only is des Bouillons staying in Paris, he intends to (quelle horreur!) work through August so he can go away off-season — once prices drop. "I have to be careful about my budget," des Bouillons said.
Across the continent, Europeans are sharing des Bouillons' pain.
The deepening economic malaise has made many wary of splurging on expensive breaks. And would-be travelers have been hit by soaring costs in Europe for food, road trips and air travel — in short, just about everything needed for a successful holiday.
In Italy, even gelato, the typical holiday treat, is taking a hit. Rome vendor Giuseppe De Angelis says many customers have asked for smaller servings or family discounts since he was forced to raise prices up to euro1 ($1.50) a cone because of soaring milk and fruit costs.
In Spain, another country that traditionally shuts down in August, travel agency Marsans has been luring customers by giving away flat-screen TVs with travel packages costing more than euro1,500 ($2,320).
Some European leaders have shown restraint so as not to shock their countrymen with scenes of living it up during the economic downturn.
British Prime Minister Gordon Brown opted for a quiet holiday in the countryside. French President Nicolas Sarkozy, nicknamed the "bling-bling president" for his penchant for borrowing private jets and yachts, took an ordinary airline flight to his wife Carla's Mediterranean villa.
France's main hospitality and catering union said in a report last week that hotel occupancy was holding steady. But it said there was a 20-30 percent drop in customers at cafes and restaurants as people cut costs.
Another survey indicated more French people were skipping vacations altogether.
A poll by the IFOP agency for L'Humanite newspaper said 42 percent of French people planned to stay home this summer, three points higher than last year, and 10 points more than in 2005 — suggesting that the decline this year may be part of a longer-term trend.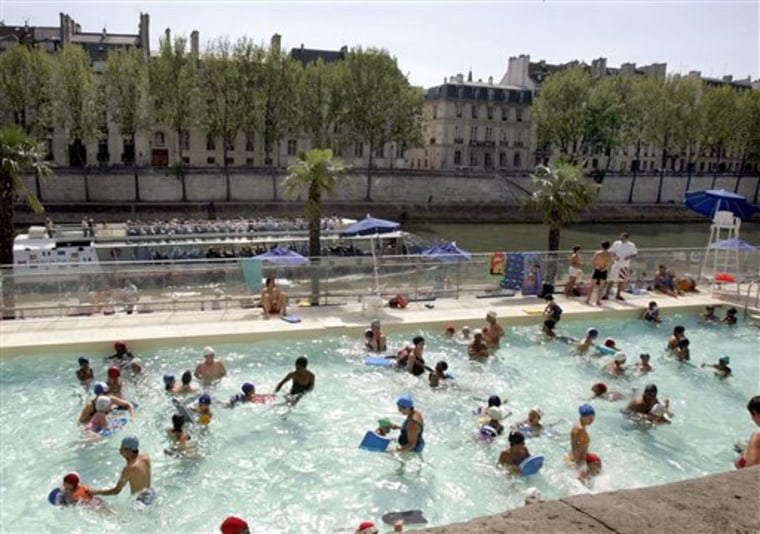 Britons are also altering their habits. A survey for the Times of London reported 58 percent of Britons were changing their vacation plans because of the economic downturn. Just under 19 percent said they were canceling their plans completely, while 34 percent of the respondents said they canceled plans to travel abroad in favor of a cheaper trip within Britain.
"We have found that more customers than ever before want to jump in a car with the family and avoid the hassle and increased costs of an overseas break," said Richard Carrick, chief executive of Hoseasons, a British travel company.
Germany seems to be an exception, with the tourism industry remaining stable, although experts are keeping an eye on the international economy. German plane travel, tour operations and hotel reservations continued in an upward trend in the early summer months, according to industry reports.
Meanwhile, some European travelers — those who can afford it — have taken advantage of the weak dollar and headed to the United States.
In the Netherlands as of early July, trips within Europe and Asia were slightly down, but bookings to the United States were up 49 percent from a year ago, said AVNR, a travel agencies industry group. The theory is that, even if plane tickets are more expensive, people can stock up on cheap consumer goods once they arrive in the U.S.
While the economic downturn has put a crimp in Europeans' style, continental holidays are even tougher on visitors from North America.
Kayla Bowman, a 23-year-old from Vancouver, Canada, in Germany on the last leg of her round-the-world trip, says her journey has become increasingly tough as her currency weakened.
"It's pretty much doubling the cost of everything," said Bowman, who was saving money by couch-surfing, buying food at grocery stores and looking for work at bars or restaurants — though her dad bailed her out financially a few times, too.