/ Source: The Associated Press
With two GEO Trackers, a Lexus and a pickup truck, retired coal miner Bob Woll has many ways to zip around his southern Illinois town to visit friends, the fairgrounds or the frozen custard stand. These days, he prefers his electric golf cart.
"There's no noise, no checking the oil or how much gas you've got. You just get on and go," said Woll, a 67-year-old alderman in Sesser, Ill., who helped pass an ordinance permitting golf carts to ride on the streets.
Sesser is among dozens of communities across the country responding to $4-a-gallon gasoline by allowing vehicles best known to country-club duffers to roam the streets as a cheaper, cleaner alternative to cars and trucks. The 20-year-old cart Woll bought for $300 gets 20 miles on a 10-hour charge.
One factor that could limit the vehicle's prevalence off the golf course is safety: Studies have shown that roughly half of golf cart injuries occur on streets or residential property, and injury rates are on the rise — to the tune of 12,000 annually.
Experts who have studied the accident rates say helmets, seat belts and driver education programs would mitigate the problem, though these measures rarely are mandated by state or local ordinances.
Twenty-six states, from Maine to Oregon and Wisconsin to Georgia, allow the use of low-speed electric vehicles on local streets, or give towns the power to make that decision, according to Jim Reed of the National Conference of State Legislatures.
While there are no estimates of just how many golf carts on the nation's roads, communities increasingly are signing off on them:
Circleville, Ohio, officials voted last month to allow carts on city streets with posted speed limits of 35 mph or less, with the stipulation that they're titled, insured and modified to be street-legal.
At least 40 Wisconsin communities, including Milwaukee, Madison and Racine, permit the carts on their roads, and more are considering it.
And in Illinois, three communities in Iroquois County, bordering Indiana, allow residents to drive carts.
Fuel efficiency isn't the only reason golf carts are being touted by municipalities.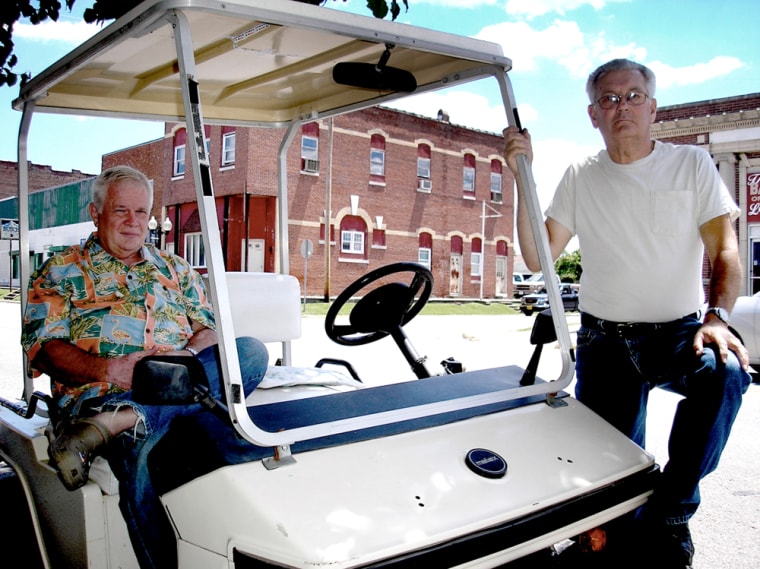 In Bremen, Ohio, sheriff's deputies say they make it easier for officers to interact with the 1,200 locals. And in the St. Louis suburb of Pine Lawn, Mo., the police chief said 15 mph golf carts are less intimidating to the public.
At Augusta, Ga.-based E-Z-GO, which makes electric vehicles that look like fancy golf carts, consumer orders are up nearly 30 percent over this time last year, company president Kevin Holleran said. New carts with headlights, tail lights, turn signals and what Holleran calls "more of those creature comforts" cost about $8,000.
Electric models, which can cover 40 miles on each charge, have proven more popular than gas-powered models, which get about 30 miles to the gallon, Holleran said.
At her Critters Golf Carts store in Woodstock, Ill., northwest of Chicago, Shirley Forman says her sales have been supercharged. She normally sells 60 or 70 carts a year, but has sold at least 128 already this year. "It's really turned around," she says.
In most towns, carts allowed for street use are required to have a sign denoting them as slow-moving vehicles or tall orange flags that easily can be seen by motorists. They're generally not allowed on sidewalks. In Sesser, residential golf cart users must have liability insurance and pay a $35 fee.
Many states require a golf cart's operator to have a valid driver's license. And while South Carolina requires that the carts have a state permit, most other states don't require registration for street-use carts, said Nick Farber, a research analyst at the National Conference of State Legislatures.
A study released in June by the Center for Injury Research and Policy at Nationwide Children's Hospital in Columbus, Ohio, found that annual injury rates for golf carts rose 130 percent over the 16 years ending in 2006.
Another recent study, by the University of Alabama at Birmingham, said about 1,000 Americans are hurt on golf carts each month, with males ages 10 to 19 and people over 80 with the highest injury rates. About half of the injuries occurred on golf courses or in other sports venues, including football stadiums.
Fatal golf cart accidents are rare, but they draw attention.
In Minnesota last month, a 41-year-old man died when he fell from a golf cart and hit his head on the pavement. In June, an 87-year-old man was killed in Indiana when the golf cart was hit by a car on a rural highway.
"A lot of people perceive golf carts as little more than toys, but our findings suggest they can be quite dangerous, especially when used on public roads," researcher Gerald McGwin said in unveiling the UAB study in June.
Woll said he wouldn't mind tightening Sesser's ordinance to add a requirement that residential golf carts have a warning that sounds when they back up — a feature he's added to his cart, intent on setting a good example.
But the town is already sold on the carts' fuel economy benefits: Sesser is looking to buy a used golf cart for the water department, figuring it'd be more convenient for meter reading than constantly jumping in and out of the pickup truck.
"This maybe would save us about $600 to $700 a year in fuel just for the water department," Woll said.
He figures the carts are be especially sensible in Sesser, a hardscrabble town that fell on tough times in recent decades as nearby coal mines closed. And with so many townspeople reluctant to drive because of high fuel prices, the carts could help get them out of the house.
"Now, everybody's just staying at home, not going nowhere," said Woll. "This will at least let them ride around town."