If you could put karma in the bank, Stan and Christine Penton would have a nice savings account.
As owners of one of the Denver area's last remaining suburban equestrian stables for the past 13 years, the Pentons have offered programs for disabled riders, rescued wild mustangs and subsidized lessons and horses for the less fortunate among their generally well-to-do clientele. Leaders in their community and their church, they adopted two young children from Russia.
And good karma is mostly what they have to show for it. That and the $7,400 they can count as profit so far this year from the hundreds of thousands in revenue they have collected at their Normandy Farm and Stables.
Steep increases in operating costs, coupled with a whopping property tax bill, have left the Pentons unable to earn a living from their 4-acre spread in unincorporated Jefferson County, tucked neatly amid $500,000 tract homes and million-dollar McMansions.
"This doesn't even support us and we work all the time," says Christine, 48. "Enough is enough."
The situation has the couple clamoring for a shift in the way their local, state and federal elected officials do business.
"Politics has got to change," says the 49-year-old Stan. "I'm just looking for a level playing field, but politics has been going on as usual while Rome burns."
In a battleground county in a battleground state in a presidential election that could come down to a handful of electoral votes, Stan and Christine Penton are the embodiment of voters that both parties are trying desperately to woo: unhappy about where they see their country going but uncertain that either candidate will make much difference. And like many other voters, they find that the shrill claims and counterclaims about Barack Obama and John McCain's experience, age, temperament, friends and flip-flops make it hard to drill down to the substance on issues like the war, immigration, energy or health care, or even know which matters most.
But here in the well-heeled and pristine suburbs south of metropolitan Denver, the city where Democrats will convene on Monday to crown Obama as their standard-bearer, in the immortal words of longtime party operative James Carville, it's the economy, stupid.
Little obvious turmoil
On the surface, it is hard to sense much economic angst in this area near Littleton, the seat of neighboring Arapahoe County. The town of 45,000 gained worldwide infamy in 1999 after a shooting rampage claimed 15 lives at Columbine High School, a mile from the Pentons' place, but life has since returned to what passes for normal in these quiet, affluent suburbs. Wide thoroughfares curve gracefully through neighborhoods filled with handsome homes and well-landscaped yards. Open space seems almost as ubiquitous as the strip malls, their parking lots packed with SUVs and minivans. Parks, ball fields and golf courses are too plentiful to count.
With an economy fueled by an expanding high-tech sector and strong retail base, U.S. Census data pegs the median family income of the Littleton area in the high $70,000 range, about $20,000 above the national average. Median home prices are in the $250,000 range, roughly 25 percent higher than the national average. And, like Colorado as a whole, Denver and its suburbs have escaped much of the economic suffering visited upon other U.S. regions. Unemployment has edged up from below 4 percent last year to just over 5 percent, half a point below the national rate. And home prices have fallen only slightly compared with the plunges seen in Florida, California and elsewhere.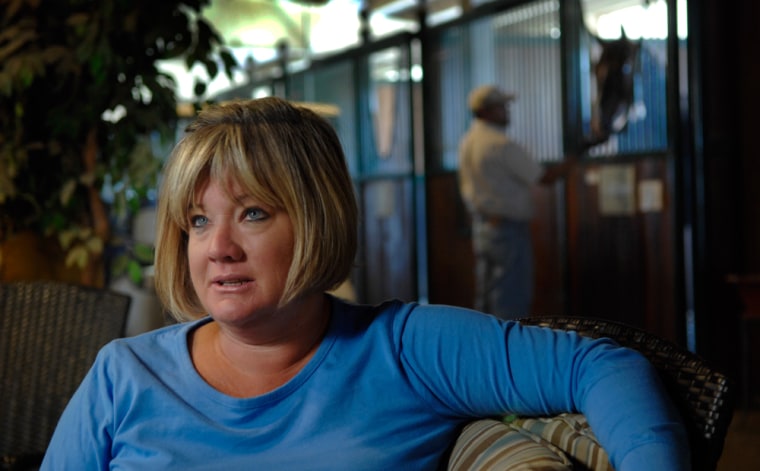 Don't be fooled, Stan and Christine Penton say. Regardless of income, everyone has been hammered by the surge in gas, energy and food prices. They have friends with six-figure incomes whose power has been shut off over late payments. While the state as a whole appears to have turned the corner on home foreclosures — the late-ripening fruit of the nationwide mortgage-lending scandal — they are setting new records in Jefferson County.
Even some of the Pentons' high-end clients, who own dressage and hunter-jumper horses worth more than $50,000, are downsizing their hobby, skipping riding competitions more than two hours away and looking for stables closer to their homes to save on gas.
That's helping the Pentons keep their 51-stall barn busy at monthly rates of $625 to $725 per horse for "full care," which includes twice-daily feedings, stall-cleaning and bedding. The resulting $325,000-plus in annual revenue might sound like a handsome return on the property with its 16,000-square-foot covered arena, small family home and other outbuildings, which the Pentons bought for $400,000 in 1995 after fleeing the smog and congestion of Southern California with eldest son, McKenzie, now 16.
'A break-even deal'
But the family, which now includes another son, Spencer, 11, daughter Ana, 9, two cats, a dog, a pair of goats, a pony and an old blind cow, finds itself in a perfect storm of skyrocketing prices on almost everything needed to run business and home. At best, "this is just a break-even deal," Stan says, and it always has been.
The Consumer Price Index may be rising at less than a 5 percent annual clip nationally, but that's of little consolation to Stan as he ticks off the increases that Normandy Farm and Stables has faced recently on key operating costs: manure disposal up 17 percent; feed and grain up 27 percent; utilities up 46 percent. They have no regular employees, but their contract for cleaning and feeding services has gone up 18 percent.
"This junk here, which is already recycled, has gone up 50 percent in the last year," says Stan, kicking a bale of paper stall-bedding made from shredded phone books.
The crowning blow to the operation's bottom line has been a property tax increase that came after the Pentons razed their old stables and built a new arena and stall complex in 2000. Stan says the stable was reclassified, because assessors likened the covered arena to a warehouse, and their bill leaped from about $5,000 to $32,265 last year. They have been appealing ever since, recently retaining an attorney. Stan points out that nearby homes with the same valuation of about $1 million pay less than one-fourth the taxes.
"This is just a big patch of dirt covered with a roof, so stop it with the taxation," Stan pleads.
Christine points out that the tax hike is especially hard to understand because nothing changed in the zoning of the property to allow them keep more horses than the 50 they were already permitted to have. "They didn't increase our ability to make a profit to counter the taxes," she says. In fact, requirements for a drainage pond took a good chunk of their land out of any use. "Think about it. If someone came to you and said they needed $30,000 more, what would you do?"
Forced to take a second job
Stan went to work at a full-time day job, as assistant manager of a health club in Denver. He spends days off from that job — Tuesdays and Wednesdays — and most of the rest of his waking hours handling billing, chores and maintenance at the stables along with his wife.
The Pentons' finances suffered another blow a few years ago when they rented out their house on the stable property and bought a tract home a few miles away, hoping to create more of a sense of neighborhood for their kids, especially the two younger ones, whom they had recently adopted from Russia. But the plan failed to pencil out, both socially and financially, and by the time they moved back to the farm, Stan figures the foray had cost them $40,000.
While Stan's job at the health club has kept the family above water, in recent months the rising price of gas has doubled the cost of his 28-mile round-trip commute, even though he ditched his big ranch truck for a midsize SUV about 18 months ago. He plans to look for something that gets better than 17 mpg when the lease expires soon.
Meanwhile, the family lives off Stan's salary from the health club and cuts corners wherever it can. Stan and Christine both chuckle at the notion that their impressive compound with its hunter-green-on-white buildings and clients' BMWs and Porsches in the parking area bespeaks a life of wealth and leisure.
"Everything we get is Goodwill, Wal-Mart," Christine says. "Our kids love to go to thrift stores. … We're struggling a lot. I ride the bike, I drive the golf cart, I walk, I consolidate trips." Other than a couple of the mustangs she has rescued and trained, Christine hasn't even been able to afford to keep a horse of her own. She has given up going to the hairdresser. The family rarely even goes to first-run movies and has taken just a couple of driving vacations in recent years. McKenzie does attend an expensive boarding school, but only because the tuition is a gift from his grandmother.
"It's more and more difficult every day," Stan says, adding that a big part of their vision over the years has been "doing it for the community" by offering programs for the disabled and subsidizing some riders. "It's a nice lifestyle but you want someday to be able to look at the fruits of your labor and say, 'We can make a couple bucks.'"
'You just get worn out'
Adds Christine, "We were so gung-ho when we started, but you just get worn out. We've done some nice things and we own a pretty facility, but if we're not able to have an adjustment in our taxes, we'll need to sell or I'll have to get a job."
The couple sees clear lines between government policy decisions and the financial straits that they and many other Americans currently find themselves in. Take energy, Stan says, maintaining that the lack of a comprehensive, forward-looking policy is responsible for rising gas prices and ineffective efforts to develop alternative sources. "You have to scratch your head about ethanol; that's why feed prices here are a lot higher," he says, pointing out that in addition to a drought currently affecting the state, much of the land formerly used to grow hay is now sprouting corn to make the grain alcohol. And his generally sunny disposition darkens dramatically at the mention of bailouts for subprime lenders and borrowers: "They should just let them all burn!"
With the family paying $10,000 a year for bare-bones health coverage, Christine wonders why the government hasn't done more on this issue and has had trouble finding the information that would help her figure out whether Obama's or McCain's plan would be better for them.
Both Stan and Christine voted for President Bush in 2004, but their views are diverging on what they consider the most important political decision of their lives, with Stan planning to vote for McCain and Christine for Obama. Though neither is really happy with their choice, they spar with each other and with McKenzie, who while still too young to vote says he agrees with Obama more than McCain. These conversations are living proof of the electoral volatility that both sides hope to harness in towns like Littleton and states like Colorado.
Stan, a die-hard Republican, believes his party has failed to live up to its ideals in recent years but will stick with the GOP because "the alternative is worse." He fears an Obama presidency would bring higher taxes and more government interference. "I am pretty much of a firm believer in self-reliance," he says. "Get out of my life; get out of my way."
Although no more enthusiastic than Stan, Christine is ready to give the Democrats a try. While she finds policy differences between the candidates "very confusing," she believes that an African-American president could energize and revitalize the country in a number of ways.
Both Stan and Christine are keenly aware how agonizingly slow the pace of change can be once Congress and the federal bureaucracy are factored in.
"If people really think that all of a sudden things are going to change just because of a change in administration, I think they're mistaken," Stan says. "I don't see a lot of happy days ahead."