Five scientists studying shorebirds in northern Alaska had to themselves take flight after a polar bear showed up at a time of year it should have been out on ice floes hunting seals.
The New York-based Wildlife Conservation Society said Thursday that it chartered a plane to fly the experts out early "because of a new and unusual threat: a polar bear stuck on land due to climate change."
Polar bears would normally be out on sea ice in spring and summer, the group said in a statement, "but with recent warming the ice is miles from shore and bears are becoming increasingly trapped on land well away from their usual seal prey."
The experts were surveying birds feeding on the shorelines north of Teshekpuk Lake on the Beaufort Sea prior to their southward migrations.
"The shorelines have experienced dramatic erosion because of the warming climate," the society stated, and the study aims "to understand how such erosion was affecting the ability of millions of shorebirds attempting to gain enough food energy to fuel their southward migrations to Asia, South America, and many other distant sites."
"It is ironic that our efforts to understand how climate change is affecting wildlife were disrupted by the top Arctic predator displaced by climate," Steve Zack, one of the evacuated experts, said in the statement.
The society said that while the experts had had bear safety training, "the uncertainty of how dangerous this or other polar bears in the region might be led to the decision to charter a bush pilot to get the crew out before a major storm made such a rescue unlikely for days."
"We saw the polar bear on our first clear day after several days of poor weather," said Joe Liebezeit, a WCS conservation scientist.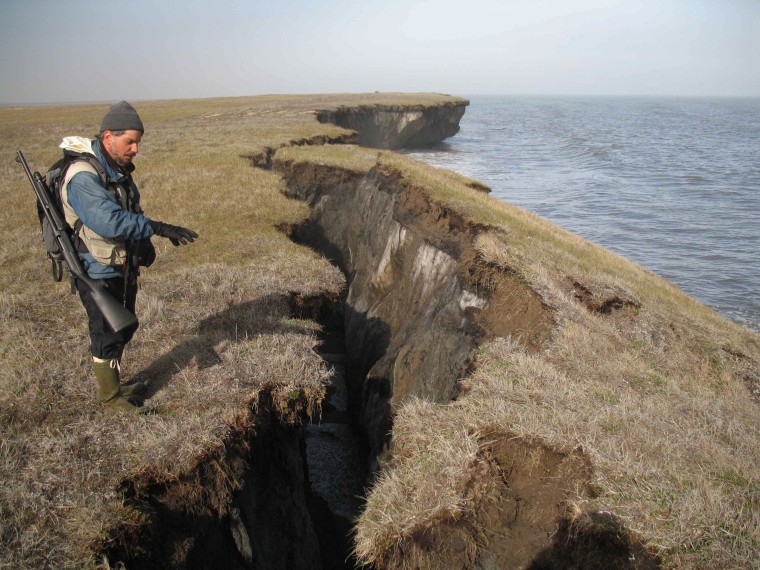 "The bear didn't come near us," he added, "but the prospect of maintaining a round-the-clock vigil while trying to do our surveys had us concerned."
The bear was sighted on Tuesday, and the team was flown out the next day.
"Polar bears have been trapped on land in Arctic Alaska all spring and summer unable to swim out to sea ice and pursue seals," the society said. "Their condition and how dangerous they might be is unknown."
The Bush administration earlier this year listed the polar bear as  threatened under the Endangered Species Act due to the loss of its sea-ice habitat in spring and summer.