/ Source: msnbc.com contributor
Elaine Schoch once loved nothing more than spending her Sunday mornings flipping through the "mind-numbing" celebrity-filled pages of Us Weekly.
Then something happened: her daughter Samantha, born Feb. 4, 2008.
"I decided to subscribe right before I had my baby so I could still read the gossip every weekend," says Schoch, a 31-year-old public relations maven from Denver. "But then I just got depressed. They'd have all these beautiful pictures of Christina Aguilera and Nicole Richie and they'd be talking about how they lost all their baby weight. It made me feel bad about myself. So I canceled my subscription."
Schoch isn't the only one who has come down with the celebrity baby body blues. A survey by the San Francisco-based Web site Babycenter.com on the impact of "teeny and toned new celebrity moms" found 31 percent of moms felt angry about the "extra pressure on regular moms to look that way" and 24 percent simply felt depressed.
And truly, who can blame them? Celebrity moms are not only dropping their baby weight quickly, they seem to be engaged in some sort of Postpartum Weight Loss Olympics. One week, the tabloids will be abuzz with the news that Marcia Cross has lost her baby weight (from twins!) in three months' time; the next, a svelte Halle Berry will be rocking the red carpet just six short weeks after delivery. In the most recent case of celebrity shrinkdown, Nicole Kidman's post-baby body was declared "Already Hot After 2 Weeks!" by the New York Post Chronicle.
But the lightning fast weight loss is only part of the picture. Hollywood moms are also stripping down in order to rub their perfectly restored bodies in our dimpled, dumbfounded faces.
From pregnant to Playboy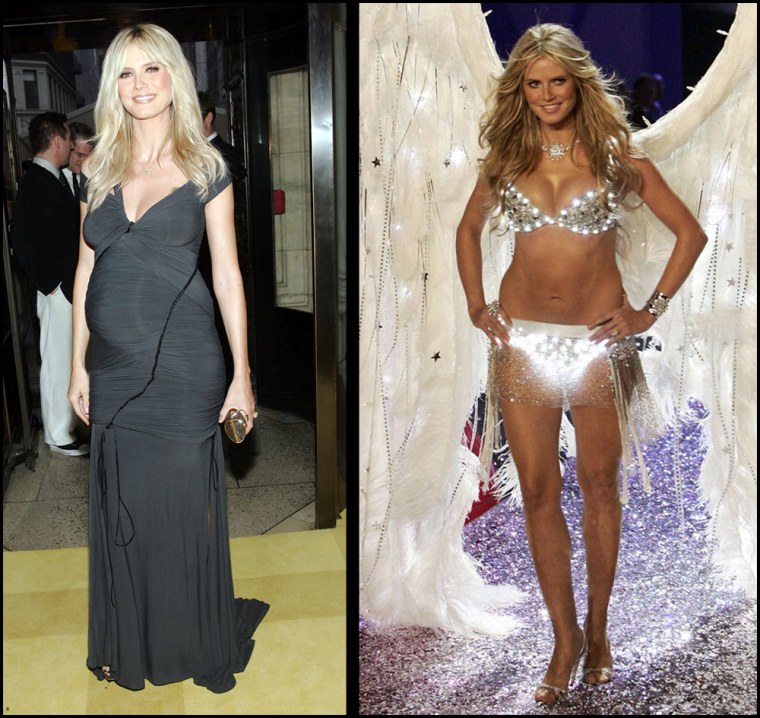 Former Bond girl Denise Richards, who gained 30 pounds while carrying her first daughter Sam took it all off (the weight and her clothes) for Playboy magazine just five months after she delivered. Not to be outdone, supermodel Heidi Klum hit the Victoria's Secret catwalk — in an electric bra and thong, no less — just eight weeks after giving birth to son, Henry.
Is it any wonder that normal everyday moms are baring something, as well? Namely their claws.
"Thanks to celeb moms who show up on the red carpet svelte and perfect weeks after giving birth, regular women are faced with a ridiculous standard to meet," one commenter posted on Jezebel.com.
"So now we're supposed to look like anorexic teenagers as soon as we squeeze Junior out?" added another.
Kristyn Wilson, a 30-year-old media relations specialist from Columbus, Ohio, who gave birth to son, Jack, 10 months ago, says she's had it up to here with stars and their instantaneously streamlined bodies.
"Pushing women to lose so much weight and lose it so quickly when you're just trying to figure out how to be a mom and balance your life is mean and unfair," says Wilson. "It puts undue pressure on women and promotes an unfair image to husbands who think 'If Christina Aguilera can get her body back so quickly, why can't my wife?'"
Experts, meanwhile, warn that the raising of this beauty bar can be unhealthy for mom and baby, no matter how famous they are.
Most doctors don't advise extreme dieting or vigorous workouts immediately after giving birth. The La Leche League International, a breast-feeding support organization, recommends mothers not deliberately try to lose weight the first two months after having a baby to establish a good milk supply and let their bodies recover from childbirth.
Women who want to lose weight still need between 1,500 and 1,800 calories a day to maintain good milk production, the organization says. On the flip side, nursing burns up to 500 calories a day so Junior can help you in your quest to shed pounds.
No fair!
Perhaps the most painful part about the new celebumom standard is that it's managed to infiltrate the last bastion of the female experience. Years ago, moms got a pass — even moms with movie deals. Now even motherhood — the great equalizer — has gotten a brutally hot makeover.
Wilson says standards have become so distorted that a "normal" mom body is now viewed as "unattractive."
"The tabloids and TV make it seem like it's not normal that your body looks different after you've had a baby," she says. "It's like there's something wrong with you physically — or you're lazy — if you're not able to get back to the exact same shape and size that you were prior to conceiving a child. And that's impossible."
Impossible, that is, if you don't happen to have a personal trainer, personal chef, nutritionist, nanny, night nurse, and three or four full-time assistants.
"Celebs have 24-hour 'round the clock care," says Suzanne Schlosberg, mother to 13-month-old twin boys and co-author of "The Active Woman's Pregnancy Log: A Day-to-Day Diary and Guide to a Fit and Healthy Pregnancy." "They've got somebody to take care of baby while they do their workouts with their $250-an-hour trainer. They've got a fancy personal chef creating their perfect 200-calorie meals. It's not an even playing field. They have all these advantages that real people don't have."
They even sleep better in Hollywood
One simple, and perhaps underrated, advantage is the fact that 'round the clock care means celebs can get their beauty sleep, which according to a recent study in the American Journal of Epidemiology, makes a big difference when it comes to postpartum weight.
Researchers at Harvard looked at 940 women and found that moms who slept five hours or less per day when their babies were 6 months old were three times as likely to still be carrying extra weight six months later than moms who slept seven hours a day.
But even with all the sleeping, pampering and personal training, stars can't exactly hire people to lose the weight for them, says Galina Espinoza, senior editor at People magazine.
"Granted, they're not getting up in the middle of the night to feed their babies. They're not sleep deprived and exhausted. But they still have to go to the gym every day. They still have to do the work."
Work that pays off with amazing results, which Espinoza says inspires many of the magazine's readers.
"There's always a little bit of schadenfreude when they struggle to lose weight, but celebs can also be motivating and inspiring," she says. "They can encourage women that it's possible to get their figure back even after having kids."
Catherine Lang-Cline, who gave birth to daughter, Audrey, four months ago, says the Christina Aguilera carrot works for her.
"I don't feel any pressure to keep up with celebrities because it's their job to look good," says Lang-Cline, 42, the co-owner of a creative staffing agency in Columbus, Ohio. "Otherwise they'll end up with their cellulite on Page One. But I do find it inspiring that I don't have to stay the flabby lump of goo that I feel I am now. Celebrities show that it's possible to look good after having a baby. Granted, they'll probably do it in half the time, but at least it's possible."
But new mother Elaine Schoch, who has shed nearly all of her baby weight since giving birth five months ago, isn't quite feeling it.
"Maybe some women are inspired, but I'm not," she says. "If they gave you real tips — real meal plans, real workout times that you could do — then it might be more inspiring. But the stars are, like, 'I work out five days a week for four hours a day.' That's one of their tips. Great."
Hollywood's rail-thin baby brigade hasn't done much for the thousands of women psychologist Shoshana Bennett of San Ramon, California, has counseled over the years, either.
"There's a loud argument going on in the minds of everyday moms," says Bennett, founder of Postpartum Assistance for Mothers and author of "Postpartum Depression for Dummies." "Even though intellectually they know that these celebs have a team of image professionals working with them, on an emotional level it still has an impact. There's a constant comparison going on. They know better, but they still put themselves down,"
And though the celebrity yardstick by which we've come to measure ourselves is usually just a pain in the (flabby) behind, for some, it can be much more problematic.
"Having unrealistic expectations can certainly feed into a postpartum depression or anxiety," says Bennett. "I don't think it would be the only factor, but it could make it worse. You bet."
Mommy makeover
Of course, many moms don't get mad or sad, they get even — or at least try to even the playing field — by embracing plastic surgery's latest nip-and-tuck trend, the "mommy makeover." According to the American Society of Plastic Surgeons, "mommy makeover" procedures such as tummy tucks, breast augmentations and breast lifts rose 6 percent in 20- to 39-year-old women in 2007 (in 2006, they went up by 11 percent).
But the magic bullet approach isn't necessary, says Dr. Laura E. Riley, director of labor and delivery at Massachusetts General Hospital and author of "You and Your Baby: Pregnancy." A realistic amount of time — coupled with healthy eating and exercise — will still do the trick.
"It probably takes on average four to six months to lose a normal amount of baby weight gain," she says. "It took you nine months to put it on. It's not going to come off in nine weeks."
If it does, there may be something else going on.
"I suspect a fair number of celebrities do calorie restriction while pregnant so that their weight isn't so high," she says. "If you only gain 15 pounds during pregnancy, you have a lot less to lose than someone who gains the recommended 25 to 30 pounds. I think it's a celebrity thing, but it's caught on in a lot of places, like New York. I'm not so sure that's a good thing. The mom's nutritional fat during pregnancy is incredibly important."
The tendency to cut calories and over-exercise in order to stay thin even while pregnant —dubbed "pregorexia" — is just one explanation for instantly-skinny celeb moms (and their die-hard devotees). Not surprisingly, there are dozens of other theories bandied about on blogs and pregnancy sites as to how celebs have managed to pull the wool — and the baby blanket — over Mother Nature's eyes. They're not breast-feeding; no, they're breast-feeding too much. They've had Thermage to eradicate all their stretch marks. Or they're wearing special "belly wraps" to tighten up after birth (indeed, reality TV host, hottie and 36-year-old mother of four Brooke Burke has developed her own post-baby girdle called Taut).
The mythic C-tuck
One of the more persistent rumors is that of the mythic C-tuck, a combination tummy tuck/Caesarean section said to be used by certain stars to consolidate their childbirth experience with a quick cosmetic cover-up. Plastic surgeons pooh-pooh the rumor and the American Society of Plastic Surgeons says tummy tucks should happen no sooner than six months after delivery, yet the procedure is whispered about on mommy forums like a delivery room Holy Grail.
For many women, though, it's not surgical sleight-of-hand or stick-thin celebs and their immaculate brand of motherhood that provides inspiration. It's their friends and fellow moms.
Two years ago, the blog Theshapeofamother.com began posting photos of moms of all ages, shapes, and sizes "so we can finally see what women really look like sans airbrushes and plastic surgery." Thousands of stories and starkly honest images later, reader comments refer to restored self-esteem and newfound confidence.
According to Kristyn Wilson, mother of Jack, that same kind of support is available offline, as well.
"Last week, my friends and I had a pool party and none of us cared about each others' stretch marks, pregnancy lines or dimples," says Wilson. "My one girlfriend, with a 20-month-old, showed up in a bikini. She still had that line on her belly from being pregnant, the linea nigra. She hadn't just put on weight, you could see the physical aftermath of having a child. But god bless her, she looked so cute. I went ahead a put a bikini on, too."
Diane Mapes is a Seattle freelance writer and author of the recently released "."