/ Source: The Associated Press
Behind the hostilities in South Ossetia are two nations that have long been spoiling for a fight, with Russia eager to show it's boss in the region and U.S.-backed Georgia determined to prove it can stand up to its huge neighbor.
With Vladimir Putin in Beijing for the Olympic opening ceremony and the world's attention fixed on China, Georgia may have been betting it could pounce on an opportunity to quickly wrest control of its breakaway province.
But the gamble may backfire: Washington hasn't endorsed Georgia's power play, and Moscow's counteroffensive has brought the two sides into a fight it will be hard for Georgia, a former Soviet state, to win.
Strategic importance
The conflict has great strategic importance because it pits one of Washington's staunchest allies in the war against terrorism against Russia, a re-emerging superpower with vast energy reserves that is showing growing eagerness to assert its will on the international stage.
Georgia has about 2,000 troops in Iraq, making it the third-largest contributor to coalition forces after the United States and Britain.
It is aggressively lobbying to join NATO, a campaign that has infuriated a Kremlin loath to see its former vassal state slip further away from the former Soviet sphere of influence.
Action linked to NATO bid?
One analyst suggested Georgia's unexpected assault may have been rooted as much in a sense that its NATO bid was faltering as in antagonism with Russia.
Earlier this year, NATO quashed Georgia's drive to get a so-called road map for alliance membership amid alarm that President Mikhail Saakashvili was backtracking on democracy with his violent suppression last year of opposition rallies.
Georgia got assurances that it could eventually join, but "this pushed Georgia into a philosophy of self-reliance — the idea that Georgia will be able to regain breakaway entities only by its own means," said Nicu Popescu of the European Council on Foreign Relations.
"The elephant in the room behind this whole story is Georgia's NATO prospects," he said.
He also speculated the timing of the attack, hours before the opening ceremony in Beijing, could be a signal from the Georgian government. The Russian resort region of Sochi, just miles from the border of Georgia's other separatist region of Abkhazia, will host the 2014 Winter Games.
"It might be a signal to the Russians saying that the Sochi Olympics will not go the way Russia wants if there is no progress on the settlement in Abkhazia," Popescu said.
Besides being important to Georgia as a matter of national pride, Abkhazia also includes more than half of Georgia's Black Sea coast and is believed to have significant oil reserves.
Soaring tensions
South Ossetia tensions soared on Aug. 1 with the outbreak of shooting and erupted into full-fledged combat early Friday. Russia responded by sending in columns of tanks.
Georgia's withering artillery barrage came hours after Saakashvili declared a unilateral cease-fire ahead of negotiations set for the next day — and the separatists reportedly agreed to follow suit.
If Georgia violated its own cease-fire, it could be a crushing blow to its drive to integrate with the West.
Although the United States and other NATO members have sent substantial aid to build up Georgia's once-shabby military, diplomats have often shown clear discomfort with Saakashvili's headstrong ways.
But if South Ossetia wrecked the brief truce — perhaps seeing Saakashvili's cease-fire offer as weakness — the separatists, and more particularly their patrons in Moscow, could lose big.
The West, already deeply concerned about Russia's rising military assertiveness, is likely to see Russia's involvement as naked aggression and its frequent calls for peace as disingenuous.
'Frozen conflict' no longer
South Ossetia was trouble waiting to happen for years — a "frozen conflict" with tensions building just below the surface.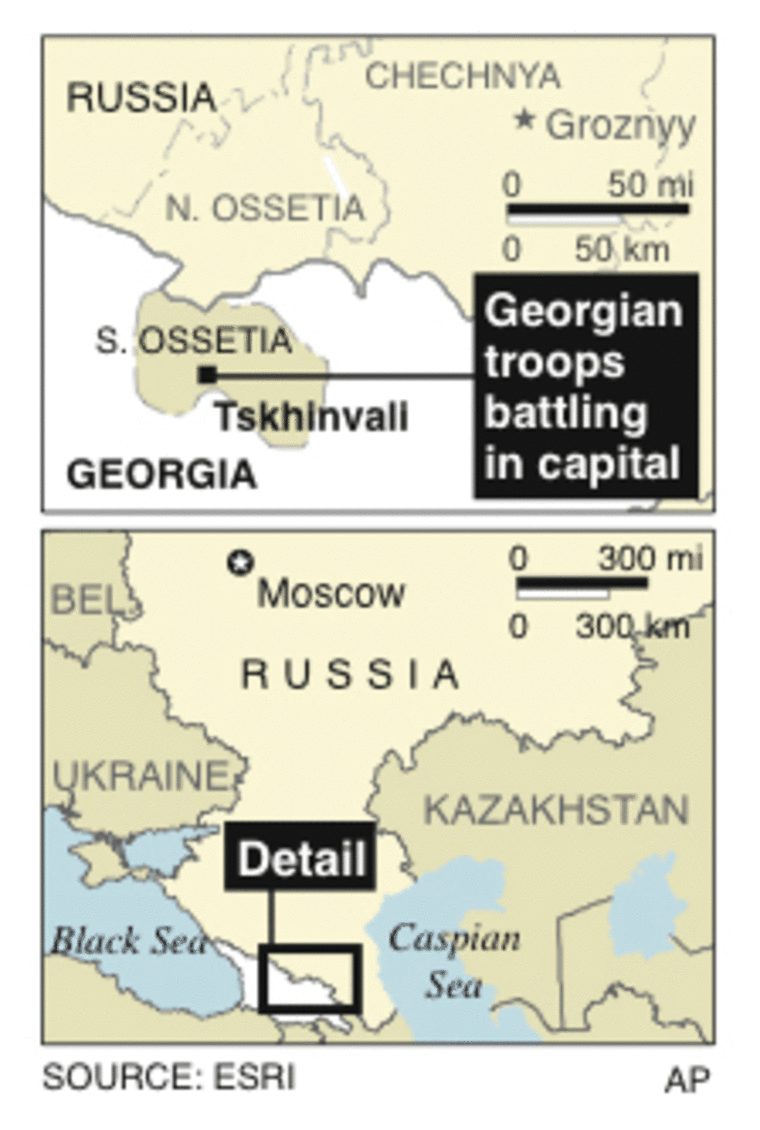 Georgia's thunderous assault may have been a go-for-broke move by a country that felt it was out of options amid Russia's growing dominance in the region. Or South Ossetia's separatists may have provoked Georgia once too often.
A grudging cease-fire that ended a separatist war in 1992 left the region mostly under control of an internationally unrecognized government, but dappled with areas held by Georgian forces.
South Ossetia longed to be incorporated into Russia, whose province of North Ossetia contains their ethnic brethren. Georgia firmly rejected the prospect: Ceding the territory would bring Russia within 50 miles of the Georgian capital.
Negotiations were sporadic, often foundering on who should participate. Clashes broke out, especially near the South Ossetian capital of Tskhinvali, which is in a pocket nearly surrounded by Georgian-held territory.
Tensions rose markedly this year after South Ossetia basked in Kosovo's declaration of independence from Serbia, calling it an international precedent that legitimized its own refusal to remain part of Georgia.
Moscow boosted ties with the separatist government — and with a similar regime in Georgia's other separatist region, Abkhazia — and repeatedly denounced Saakashvili's push to join NATO.
None of the previous clashes this month had been anywhere close to the magnitude of the explosions that shook Tskhinvali throughout the night.