/ Source: The Associated Press
Halfway around the world, President Bush managed to cap his Olympic experience at a place he calls home: a baseball field.
Bush listens to baseball games like background music at the White House, a sound that puts him at ease. And so here in Beijing, comfortably keeping an eye on a baseball game, Bush reflected on an Olympics experience that was extraordinary even by presidential standards.
"It's exceeded my expectations," Bush told The Associated Press in an interview Monday before returning to Washington. He meant the whole deal: the venues, the people, the pride.
Never before had a U.S. president taken part in an Olympics on foreign land. Bush came and soaked it in for four days.
He managed to do what he promised he would — take in a whole lot of sports — while dealing with Russia's violent crackdown on Georgia and carefully confronting China's repression of human freedoms.
At the Olympic baseball stadium, Bush was in the mood to talk sports, not policy. He had just spent time mingling with the Chinese and U.S. baseball teams, and now they were lacing line drives across one of Beijing's pristine Olympic venues.
In his element
The president was in his element.
"I think the highlight was getting my picture taken with the teams," Bush said, referring to a moment he had with the whole U.S. Olympic contingent.
The comment was surprising and telling. Bush gets his photo taken so often with so many groups that it would hardly seem to be a defining moment. Consider, for example, that he also got to see the stunning opening ceremony and an exhilarating victory by U.S. swimmers.
But for Bush, those seemingly routine photo opportunities with athletes are a joy. Anyone close to him knows he likes sports for what they are, but also for what they represent: competition, grit, work. It doesn't hurt that the athletes are thrilled to see him.
"They were so gracious, and grateful, and excited," Bush said. "It's just a very energetic feeling. You know, they represent the best of U.S. athletics. And they were really excited about their events, and they're full of hope. It was just a very uplifting experience."
And he was everywhere.
Bush went to a practice of the U.S. softball team, as well as the baseball practice game, as a sign of support for the two sports. Both were cut from the Olympic program in 2012.
The president got sandy practicing with the beach volleyball duo of Misty May-Treanor and her partner Kerri Walsh. A photo showing Walsh's show of spirit — she prodded the president to give her a playful smack on her lower back, and he went along — caused something of a buzz.
Bush said he saw no reason why.
"I didn't take it very seriously," he said. "I guess everything the president does is interesting."
Pumping up the basketball team
Before the big U.S.-China basketball game, Bush met the players, huddled up, and led them in a one-two-three-USA cheer. He laughed in describing the moment, how high he had to look up to see their faces.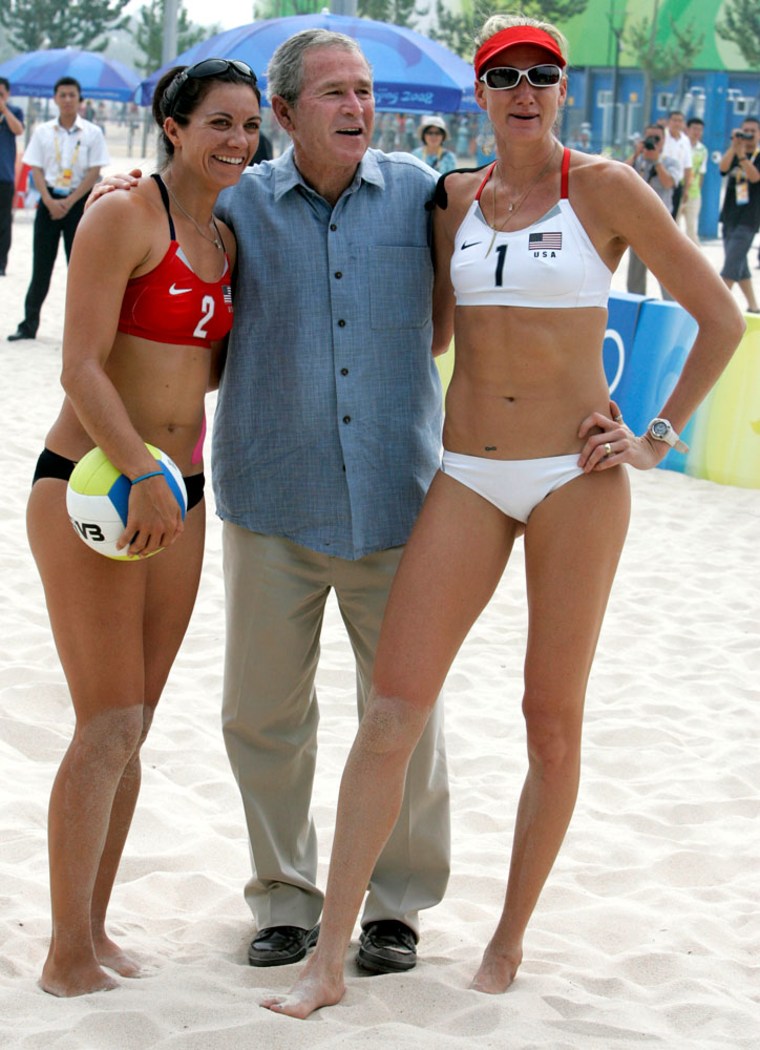 Bush figured the crowd at the game would be raucous, and didn't know why it wasn't.
"And then it dawned on me that they're neutral," Bush said. "It's an international games. There are people from all over the world watching and not cheering madly."
He did, though.
In a fine bit of timing, the last official competition the president caught was so good that within minutes it was being described as one of the greatest comebacks in Olympic history.
'The whole thing is genuine'
In the 400 freestyle swimming relay, the American team won when Jason Lezak, blasting his way through the water, overtook a French swimmer at the last possible second. Watching from the deck, the team's superstar, Michael Phelps, burst into a picture of exuberance that will long be remembered.
"I was watching Michael Phelps after the anchor leg touched," Bush said. "The whole thing is genuine. That's the good thing about the Olympics."
Bush said the athletes tend to ask him for the same thing — an autograph and a picture — and that each one sends a message.
"They're genuinely pleased that the president came to support them," Bush said. "And I really believe that it helps them realize the country is supporting them. A lot of people are pulling for them."
One of them was last seen in China watching baseball, getting all he wanted and more.