"There's so much out there you don't know about."
"It's not going to kill you."
"You don't know what you're missing."
Yes, I've heard them all.
And still, I'm a picky eater.
I know what I like, so why should I try something I might not like?
"Because you might like it," says my wife, Shannon, every time she wants me to try something new.
Logic doesn't work when you're as picky of an eater as I am.
I don't like chocolate cake.
I'm not into strawberries.
And forget about anything that once lived in water.
So when I found out I was being assigned to Beijing to cover the Olympics for KSL, my wife got worried for me right away.
Not because China is a tightly controlled communist country, or because there is bad air, or even because there have been terrorist threats.
She thought I was going to starve to death.
So did I.
Friends who know my taste in food (or lack of taste in food, depending on your point of view) started sending me e-mails of dog brain soup. Deep fried starfish. Snake. Crispy scorpions. Beetles on a stick. Every e-mail ended with Good Luck!
However, once in Beijing, I can laugh back at them. All of them.
There's a McDonald's. A KFC. A Subway. Pizza Hut. Domino's. TGIF. And best of all, they're within two blocks of the hotel I'm staying in.
Shoot, I just might gain weight (KSL's tab, by the way) while I'm here!
The crew did take me to an authentic Chinese restaurant for dinner the first week we were here.
At first, we sat off to the side. Then, a manager moved us to a table near the front window. I just think he wanted foreigners walking by to see us, so they would think, "Hey, a bunch of Americans are eating there. It must be OK."
I ate the noodles.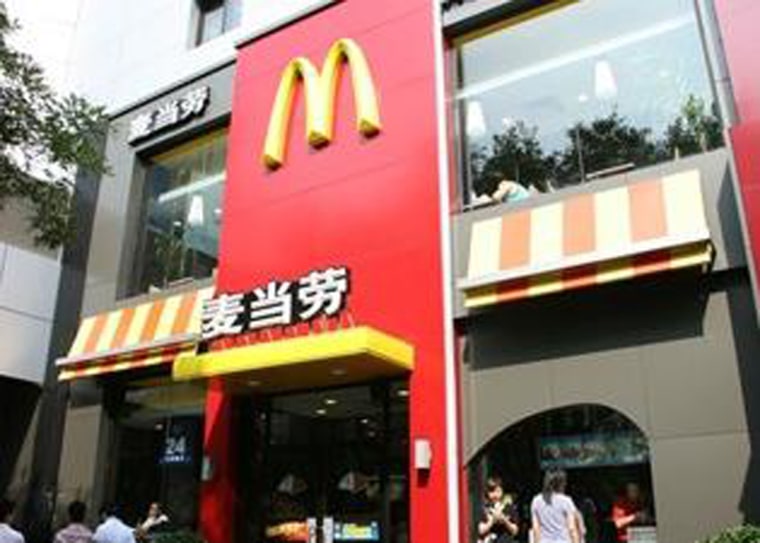 I touched the beef (I think) with my finger, and then licked it.
I didn't touch whatever that pink thing was on the plate next to me.
Thank goodness they served Coca-Cola. Yes, you can get full on it. Trust me.
We left the restaurant saying how good it was.
We walked back to our hotel agreeing we should try more foreign restaurants in town.
We then went into our individual hotel rooms saying, "Good night."
I waited 10 minutes, snuck out and went and got a Chinese Big Mac (no pickles, no onions).
They don't know what they're missing.