Their names — Loopt, Whrrl, Brightkite, GyPSii, Buddy Beacon — allude to their mission, letting friends know where other friends are geographically using cell phones.
The social networking programs represent some of the location-based services that are starting to take hold as mobile users move more of their day-to-day lives onto their phones.
"It's just the logical continuation of the always-being-connected generation we have now, where everybody is tied to a wireless umbilical cord — and knows exactly where everybody is who is close and dear to their hearts," said Roger Enter of IAG Research.
Even as fun as the services sound, there are privacy issues to consider. And because the notion is relatively new, with most services having started in the past couple years, there isn't major momentum yet.
"I don't have any friends that would have …(the desire) to use this app or service," wrote one person on a blog about Loopt. "Without other people who you know added to the app, it's a pretty lonely interface."
But interest in networking programs is high, especially from cell carriers which reap the benefit of extra revenue from data and text messaging charges that apply when such programs are used.
By 2013, revenues from "location-based, mobile social networking" is estimated to reach $3.3 billion, ABI Research said in a recent report.
At least one phone manufacturer is getting directly in the action. Earlier this summer, Nokia said it will acquire Plazes, a Berlin-based company whose Web and mobile programs let users plan, record and share their activities and where they are at any given time, according to the wireless phone maker.
iPhone spurs interest
And while social networking location-based services are available for a variety of makes of phones, there's no question that the new iPhone and Apple's online App Store, which makes such programs available, has spurred activity.
Many Web sites already offer the ability to locate friends using the Internet. Yahoo just announced its own service, Fire Eagle, which works either via computer or cell phone.
"Mobile social networking sites allow avid networkers to constantly remain connected with their members and receive updates on the spot, weakening their tether to the PC," according to a Current Analysis research report by wireless data analyst Deepa Karthikeyan.
Most programs "are primarily targeted at young adults and teens," said Karthikeyan said in an e-mail interview.
Entner, who has tracked wireless trends for many years, agreed, but said, "It's going to be similar to text messaging. It caught on (first with younger people), and now it's propagating through the age segments."
"It's without question a growth category," said Joseph Farren of CTIA-The Wireless Association, the cell phone industry trade group.
Loopt, one of the most prominent services, shows users where their friends are on a map, and if their friends want to, they can send a message and photos back along with their location. It can be a way to get your buddies to come join you, or simply to let them know what you're up to.
There are also "journals," where users can leave comments about places they've been that other Loopt users can read. Loopt works with the iPhone, several models of BlackBerrys, and dozens of other brands of phones.
GPS receiver not required
Even if you don't have a GPS receiver in your phone — as the new iPhone and many other new phones do — you can still take advantage of many location-based services, such as social networking using your mobile.
Federal law requires that all cell phones have E911, or "Enhanced" 911, which allows emergency personnel to find your location.
"The E911 obligation allowed carriers to choose one of two solutions," said Farren of CTIA. "One solution involves having a GPS chip in the phone; the other is network-based, which is triangulating the three closest cell towers to a call to provide the longitude and latitude."
Verizon Wireless, Sprint and Alltel use a GPS chip in their phones, he said; AT&T Wireless and T-Mobile rely on triangulation.
If you're considering trying a mobile networking program, be sure to read the company's privacy policy, which most programs discuss or link to prominently on their Web sites.
Even Loopt, based in Mountain View, Calif., and highly regarded, had a privacy blooper last month when it launched its program for the iPhone.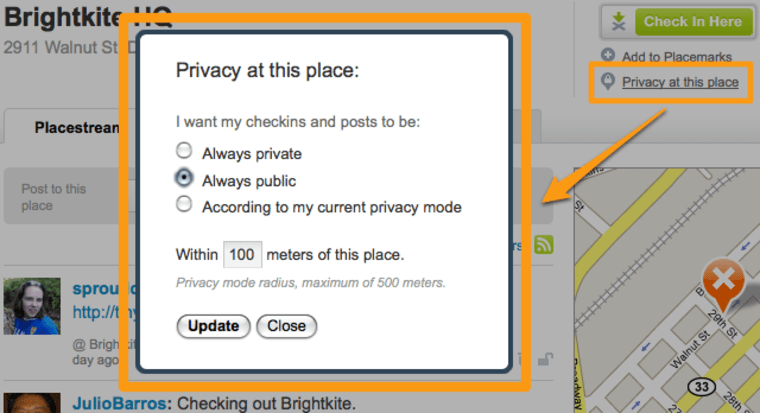 Some iPhone users who downloaded the free program said Loopt sent text message invitations to contacts listed in their iPhone address book, which created a lot of unwelcome messaging, as well as cost.
Company president Sam Altman, in an interview with Information Week, said the glitch may have happened because the user interface was confusing.
Loopt explained the goof and apologized to users in a blog posting on the company's site.
"If a user clicked the 'Who's on Loopt button,' we checked his or her phone book for other Loopt users. The mistake we made was automatically selecting them, so if the user then hit Send, they might inadvertently send more invites than they meant to. We immediately disabled that feature. We don't store your contact list, and it should go without saying we would never sell it or share it with a third party."
Within days, Loopt asked users to download a fix to its software.
Whrrl, owned by Seattle-based Pelago, Inc., shows users not only where their friends are at the moment, but also where they have been, and their thoughts about those places. The company notes on its blog, "Whrrl will only update and share your location upon request ... Location updates are only broadcast to people in your People Who Can See My Location list, which you control at all times."
Brightkite, makers of a similar program, recently received some requests from users for options to be able to go off the radar at specific locations. The company changed its software so that users can mark locations as "Always Private" or "Always Public."
The ability to make these kinds of decisions is important when considering using such a program.
Subscribers "should look for the option to hide their location details and only disclose it at their desire, and also make sure that they have the ability to opt out any time they feel their privacy is being compromised," wrote Karthikeyan in the Current Analysis report.