With the slumping economy and daily life stresses, wouldn't it be nice to afford a beach vacation? Good news — the price to become a temporary castaway needn't break the bank. In fact, some of the planet's finest beach-lounging locales are pretty darn affordable. (And you better use up those miles before the airlines expire 'em all.) So join us with a piña colada and paperback—oh, what the hell: With all the money you're saving, spring for a hardcover!
1. Yelapa, Mexico
Many of the world's great hippie hangouts have veered into yuppie yuck: places where people drink $12 appletinis and slumber in four-figure bungalows. Not so Yelapa, where lime-kissed cervezas are still around $2 and coconut pies, sold by strolling locals on the butter-colored beach, are the same price. This fishing village, on the Pacific coast 20 miles southwest of Puerto Vallarta, was once a hideout for Bob Dylan. Today, the roadless landscape—think mountains and waterfalls—preserves the artsy, condo-free vibe. Sleep in crisp white sheets under a thatched roof at Hotel Lagunita, a 32-room resort where even the creature comforts—like an hour-long sea-salt scrub for $55—have hippie pricing.
Fly buy: Check Aeromexico's FareSavers for discounts on last-minute flights from several U.S. cities, including New York, Chicago, and Los Angeles (800-237-6639; www.aeromexico.com).
Hotel Lagunita
Tel: 52 322 209 5055
Double rooms from $70
2. St. John, U.S. Virgin Islands
Splurge on a pedicure—you'll be mostly barefoot on St. John. Cove after perfect cove look as if they were carved by an ice-cream scoop, and the underwater snorkeling trails are as plentiful as the footpaths among crumbling sugar plantations. If the beaches seem familiar, it's because they're among the most photographed in the world, thanks to the condo-free shores and the sailboats bobbing in baby-blue waters. In the town of Coral Bay, buy bikinis from the "store" inside a VW bus, order cheeseburgers off an old windsurfing board, and fall asleep to crashing waves in a breezy beach cottage for as little as $70. (Another plus: These days St. John is one of the only Caribbean islands you can get to sans passport.) And while St. John may be best known for ritzy resorts such as Caneel Bay, it's also home to Cinnamon Bay Campground, part of Virgin Islands National Park, which protects two thirds of the island. No tents required: You can rent one of the 40 14-by-16-foot cottages, each with four twin beds, a fan, picnic table, and grill.
Fly buy: Check for flight specials to St. Thomas on Spirit Air (800-772-7117; www.spiritair.com) or even US Airways (800-428-4322; www.usairways.com). Reach St. John by ferry—roundtrip is a mere $10 per person.
Cinnamon Bay Campground
Tel: 340 776 6330
$30 per night for a bare site; up to $155 per night for a beachfront cottage
(high season Dec 15-Apr 30; May 1-Dec 14 rates range from $30 for a bare site to $100 for a beachfront cottage)
3. Florida Keys
When you hit Mile Marker 37 on the Overseas Highway, the sugar-soft sand and swaying silver palms might trick you into believing you've cruise-controlled all the way to the Caribbean. No, this is still Florida, specifically Bahia Honda Key, a 524-acre state park with a pristine stretch of coastline. In fact, it's pretty much the best beach in the Keys—and its state-owned status means the cost to stay here is a fraction of what you'll spend elsewhere along the island chain. Book one of the park's six quiet Bayside Cabins: Each bungalow on stilts sleeps you and five friends, and has air-conditioning, heat (as if!), a kitchen and living room, plus a grill on a deck overlooking the lagoon. For those who need more action than just watching the waves, kayaks rentals are $10, and snorkeling trips inside the Looe Key National Marine Sanctuary run less than $30 for three hours. Of the park's three beaches, two-mile-long Sandspur is the longest and it's ideal for swimming, with a gentle drop-off into the turquoise Caribbean, er, Atlantic Ocean.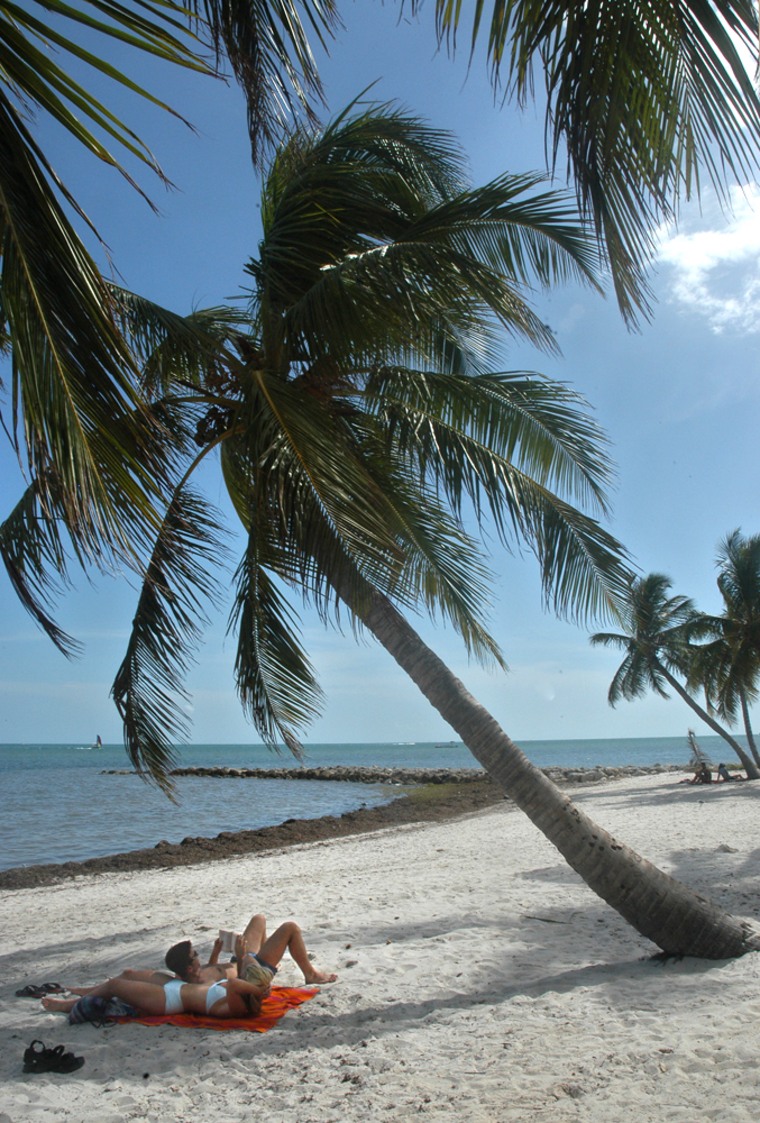 Fly buy: Fly into Fort Lauderdale, which is often cheaper than Miami, and drive down—it's about three and a half hours to Bahia Honda. Thrifty car rental rates are as low as $30 per day (800-847-4389; www.thrifty.com).
Bahia Honda Key Bayside Cabins
Tel: 305 872 2353
Two-bedroom cabins for six, $136
4. Georgia's Sea Islands
There is Sea Island—the one with the Cloister resort and suites that can run $5,000 a night—and then there are the rest of the sea islands, nuzzled against the Georgia coast and swaddled in soft, windswept beaches. On Tybee Island, just east of Savannah, three miles of sand and dunes see 70-plus-degree days from March through October, and the Crab Shack charges just $6.95 for crab stew and shrimp lunch specials. And who needs the Cloister's full butler service when you can drink in the sunset over the sea from Tybee's Georgianne Inn, a beach house with free bikes and body boards. The seven comfy rooms and suites have wrought-iron headboards, wicker nightstands, and thick quilts; rooms 2 and 3 have the best views of the ocean—a view, incidentally, you can't get from the Cloister.
Fly buy: AirTran offers round-trip fares from the Northeast into Savannah, Georgia, for less than $200 (800-247-8726; www.airtran.com). From there, it's just 20 minutes to Tybee Island.
Georgianne Inn
Tel: 912 786 8710
Double rooms from $75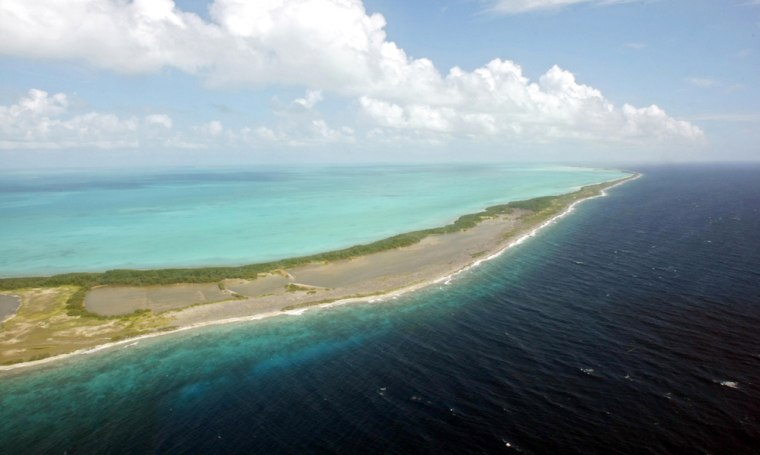 Fly buy: Venezuela is mostly a business destination, so a Saturday stay-over helps to keep airfare prices down. Try the Colombian airline, Avianca, for good deals (800-284-2622; www.avianca.com). The 45-minute flight from Caracas, Venezuela, to Los Roques costs about $160 roundtrip; arrange it through Venezuelan Explore Partners (58-212-287-0517; www.explorepartners.com).
Posada El Botuto
Tel: 58 416 621 0381
Double rooms, including breakfast and boat trip from $180
6. Cat Island,
On most tropical islands, "rake and scrape" is what you do in the bottom of your purse after you get hit by hotel surcharges and overpriced rum drinks. On Cat Island, it's a type of Bahamian music you'll hear among the beach bars, as accessible as the coral-colored sands that fringe the island. Among the few accommodations on 46-mile long, fishhook-shaped Cat is Sammy T's resort, where seven redwood villas each have one or two bedrooms, air-conditioning, and a kitchenette. It sits on a pale pink beach known for its own distinct Bahamian sound: the pop of icy Kalik beers at noon.
Fly buy: Check JetBlue for cheap flights to Nassau (800-538-2583; www.jetblue.com). Fly from Nassau to one of Cat Island's two airports for as little as $156 roundtrip on Bahamasair (242-377-5505; www.bahamasair.com).
Sammy T's Beach Resort
Tel: 242 354 6009
One-bedroom villas for two from $145
7. Samaná Peninsula, Dominican Republic
Air carriers such as JetBlue are making the Dominican Republic a hot zone with so many cheap flights. But we suggest flying into Santiago and then taking the short flight (or a three-hour drive) to the Samaná Peninsula. From January to March, it is prime whale-watching territory. Smart guests unpack in one of the 23 garden villas at Las Palmas and begin toasting themselves at the eight-mile-long Las Terrenas beach across the street. After relaxing, they have the chance to explore the rest of the 500-square-mile waterfall- and sand-strewn Samaná Peninsula. Skip the $85 guided trip to Cayo Levantado—too touristy—and instead cough up $10 for the boat ride from the nearby town of Las Galeras to Playa Rincón. The eight-mile talcum-powder-soft beach belongs only to the coconut trees and the fish shacks, where two bucks buys you a fried seafood lunch.
Fly buy: Fare still too high to Santiago? Check JetBlue's Travel Deals for even cheaper flights to the D.R. (800-538-2583; www.jetblue.com/traveldeals). To fly to the Samaná Peninsula from Santiago, try Air Santo Domingo, for $80 each way (809-683-8020).
Las Palmas
Tel: 809 240 6436
Two-bedroom villas for four from $36
8. Anegada, British Virgin Islands
More than 300 shipwrecks surround pancake-flat Anegada, but there's no need to dive for their booty when staying on this nine-mile-long British Virgin Island. That's because rooms at Neptune's Treasure have rock-bottom rates of $95 in the low season (April to December) and a whopping $15 more in the winter months. The nine color-splashed rooms are just 150 feet from the beach—one of many that attract sailors and BVI aficionados to this island, along with beaches named Loblolly Bay, Cow Wreck Bay, and Flash of Beauty. While you're busy visiting those, or snapping photos of the flamingos on a nearby pond, or just soaking in the sun, Neptune's staff is out catching fresh fish for dinner served—where else?—on the beach.
Fly buy: It's awful pretty here, but not so easy to get to: We suggest Anegada for longer trips, as you'll have to fly from San Juan, Puerto Rico, to Tortola (flight fares start at $190 on Air Sunshine; 800-327-8900; www.airsunshine.com), and then catch the ferry to Anegada. It takes one hour and is $55 round-trip (340-775-7292; www.smithsferry.com).
Neptune's Treasure
Tel: 284 495 9439
Double rooms from $95
9. Ko Phi Phi, Thailand
True, Southwest doesn't fly to Thailand—yet. But if you find a reasonable fare across the Pacific to Thailand, head to the Phi Phi islands: It's kind of like shopping at a dollar store and finding it stocked with Gucci. Clear green seas lap against golden shores where a massage, a cocktail, a plate of spicy noodles, and just about everything seems to only cost a few bucks. The hotels and restaurants are on Phi Phi Don island, whose two mountains are connected by a curving, palm-studded strip of sand. A sleek beachfront room at the island's Paradise Resort starts at $42!—you'll look out over Phi Phi Leh, site of "The Beach" and still uninhabited and unspoiled. A wooden long-tail boat will ferry you across for a few dollars; a good tip will probably even lead you to your own secret beach, but you'll have to bring your own Leo or Virginie Ledoyen.
Fly buy: Through Thai Air's Discover Thailand fare, you can fly to three different cities for just $169 above the international fare—including Krabi or Phuket, gateways to the Phi Phi islands (800-426-5204; www.thaiairways.com).
Paradise Resort
Tel: 66 1968 3989
Double rooms from $42
10. Kauai, Hawaii
Those Hawaiian surfing fantasies? They can come true without having to live on Spam during your time on the islands. Kauai is much less developed than Maui or Oahu, and its laid-back vibe extends to beach bum–friendly prices. Many surfers make for the southern shore and the prime summer breaks at Poipu Beach Park. Soft boards (best for beginners) rent for just $5 an hour, while a fiberglass board goes for a mere $80 a week. You'll find them at Nukumoi Surf Company, which also offers $75 lessons. Stay at Poipu Plantation, which has garden suites with air-conditioning and cheery tropical decor, for as low as $115 a night for two, including a breakfast of macadamia nut pancakes and guava French toast—and not a speck of Spam.
Fly buy: Spring travel specials on Aloha Airlines include flights from Orange County to Kauai for $199 each way (800-367-5250; www.alohaairlines.com).
Poipu Plantation
Tel: 800 634 0263
Double rooms, including breakfast from $125
Nukumoi Surf Company
Tel: 808 742 8019
11. St. Barths
When late spring arrives and the fabulous people fly back to the Hamptons, the Vineyard, and Nantucket, St. Barths' 22 spectacular beaches stay right where they are. And those equally fabulous hotel prices plummet back to the reach of mere mortals. Meantime, the locals let loose with parties: April is the Caribbean Film Festival; July brings Bastille Day and volleyball contests; Boubou's Music Festival (run by the larger-than-life owner of celeb-studded restaurant Do Brazil) is in August. At Lorient Beach, on the island's north side, a coral reef protects aqua swimming waters; just off the sand lie the seven pretty blue-and-white bungalows of Hotel Les Mouettes. All of them have terraces—kitchenettes, too, but we dare you to resist the fresh chocolate croissants from the bakery next door.
Fly buy: St. Barth's tiny airstrip is not for the squeamish; save some money, and your lunch, by taking the $56 Voyager ferry from St. Martin (590-87-10-68; www.voyager-st-barths.com/us/index.php).
Hotel Les Mouettes
Tel: 590 27 77 91
One-bedroom bungalows for two from $141
12. Mozambique
A beach that stretches a couple of miles? Oh, please. Mozambique boasts 1,500 miles of sun-drenched, untouched coastline along the Indian Ocean. A few pricey lodges have staked a claim in the southern part of the country's coast, but the budget-minded know to book at Barra Lodge, a string of thatched huts between the ocean and an estuary in the province of Inhambane. Choose from the twin-bed casitas or three-bedroom cottages, which have fully outfitted kitchens to grill up the fish you can buy from locals. Horseback rides along the beach, arranged through the lodge, are just $25, while the pool, beach bar, and restaurant have the feel of a much pricier place. But, the real luxury is all that beach to yourself.
Fly buy: Getting yourself to Johannesburg, South Africa, isn't always easy or cheap (monitor fares at www.itasoftware.com), but once you're there, Barra Resorts will arrange the $430 round-trip to Inhambane, near the lodge (27-11-314-3355; www.barraresorts.com).
Barra Lodge
Tel: 258 293 20 561
One-bedroom casitas with two twin beds from $89
13. Costa Rica
Pura vida ain't so pura when you're paying through the nose for digs in a country once known for its down-to-earth vibe and prices. Happily, Costa Rica still has its rugged and relaxed corners, like the surf town of Santa Teresa on the Nicoya Peninsula. The best Pacific swells are during the rainy season, from May to December, when you'll also find discounts around town. Luz de Vida resort offers 10 to 15 percent off its already affordable rates. Built of wood to blend into the surrounding jungle, the property's beach bungalows are just steps away from the sand and the pool.
Fly buy: Nature Air offers round-trip flights as low as $42 between San José and Tambor; then it's an hour drive to Santa Teresa (506-299-6000 or 800-235-9272; www.natureair.com).
Luz de Vida Resort
Tel: 506 640 0320
Bungalows for two from $95