/ Source: The Associated Press
It was a claim that could have provoked a dangerous Kremlin response: The United States is readying to take over airports and ports in the former Soviet republic of Georgia.
The claim by U.S.-backed Georgia President Mikhail Saakashvili on Wednesday was swiftly shot down by officials in Washington, who denied any such designs on Georgian soil.
Yet, it was the latest in a string of overstated pronouncements by the American-educated Georgian leader that are further fueling tensions with Moscow.
His comments — along with a stream of biased, conflicting and often false information coming from both Russian and Georgian officials — have made it hard to figure out what is really happening in the world's latest hotspot.
Scrambling for a solution
Fighting between the Russian and Georgian armies raged for days, leaving hundreds dead and some 100,000 forced from their homes. The U.S. government and world diplomats are scrambling for a way to cool the tensions.
Warfare erupted when Georgia sought to retake control over the breakaway province of South Ossetia last Thursday and Russia responded with overwhelming military force.
Saakashvili has been conducting daily interviews in his fluent English on international television networks and making frequent televised speeches at home.
On Wednesday, he said in an interview on CNN that Russian troops were "closing on the capital, circling," and planning to install their own government in Tbilisi.
Associated Press reporters in the area saw no sign of an impending coup. An AP reporter saw dozens of Russian trucks and armored vehicles heading south from the central city of Gori in the direction of Tbilisi, but they later turned away.
Saakashvili said Russian troops moving deeper into Georgia "even steal toilet seats."
He later said on Georgian national television that the U.S. arrival of a military cargo plane with humanitarian aid "means that Georgia's ports and airports will be taken under the control of the U.S. Defense Department."
Pentagon spokesman Geoff Morrell responded, "We have no need, nor do we intend to take over any Georgian air or seaport to deliver humanitarian aid. ... We have no designs on taking control of any Georgian facility."
Saakashvili has repeatedly compared the Russian incursions to Hitler's invasion of Poland in 1939, to the Soviet crackdown in Prague in 1968 and the Soviet invasion of Afghanistan in 1979.
In his Wednesday TV address, he said, "Russia has lost more airplanes than in any conflict of this scale since 1939." While such figures are not publicly available, the calculation seemed unlikely given how brief the fighting has been and how uneven the two countries' forces are.
He also cited rumors that Russia was planning to bomb a rally in Tbilisi on Tuesday. The rally ended peacefully.
Saakashvili insists he's not overstating anything, and lamented Wednesday that the West ignored his warnings that Russia was planning a military operation in Georgia as "exaggerations."
"Now look what they're doing. This has already exceeded my worst expectations."
Saakashvili, who graduated from Columbia University Law School, has always been blunt, and his bold language and flamboyant manner helped drive the Rose Revolution that brought him to power after disputed elections in 2003.
He has long been derided in Russia, where he is seen as a vassal of the United States as it seeks to expand its influence in Moscow's backyard. The conflict has made that worse. Russian President Dmitry Medvedev indirectly referred to his Georgian counterpart as a "lunatic" on Tuesday.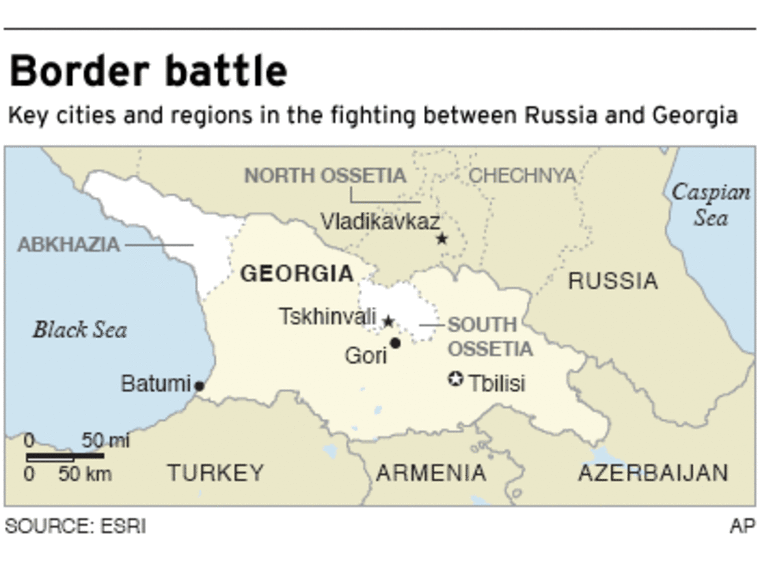 Claims from Moscow also erroneous
Russia's leadership has been fierce — and often wrong — in its claims about the conflict, too.
Deputy Prime Minister Sergei Ivanov said in a BBC interview Wednesday, "There were many reports that Russian tanks are inside Georgia which later proved out to be totally untrue."
AP reporters saw a Russian convoy in the area of Gori on Wednesday, including support vehicles, ambulances, heavy cannons and about 100 combat troops.