/ Source: The Associated Press
As soaring home prices set the stage for America's great housing meltdown, a critical step in making sure those home sales were a fair deal — the real estate appraisal — was undermined from within.
After the nation's last major banking disaster, Congress set up a system to catch rogue appraisers. Their game: inflating the value of homes at the direction of equally unscrupulous real estate agents and mortgage brokers, whose commissions are determined by the size of the deals.
But a six-month Associated Press investigation found that the system is crippled by both the bumbling of its policemen and their inability to effectively punish those caught committing fraud.
And despite ample evidence appraisers are pressured into inflating home values — sometimes to prices in support of loans that are more than buyers can afford — the federal regulators charged with protecting consumers have thus far made a conscious choice not to act.
"The system is completely broken," Marc Weinberg, the former acting director at the federal agency charged with monitoring the appraisal industry, told the AP before he retired earlier this year. "It's amazing that the system ever worked at all."
The AP conducted dozens of interviews and reviewed thousands of state and federal documents, and found:
Since 2005, at the height of the housing boom, more than two dozen states and U.S. territories have violated federal rules by failing to investigate and resolve complaints about appraisers within a year. Some complaints sat uninvestigated for as long as four years. As a result, hundreds of appraisers accused of wrongdoing remained in business.
The only tool federal regulators have to force states into compliance is so draconian — it would effectively halt all mortgage lending in a state — that it has never been used.
Both state appraisal boards and the federal agency tasked with their oversight are chronically understaffed, many with only one full-time investigator to handle the hundreds of complaints that arrive each year. Some don't even have an investigator.
"The appraisal reforms of the late 1980s were good reforms," said Susan Wachter, a real estate professor at the University of Pennsylvania's Wharton School of Business. "But they were not sufficient to prevent what we have seen ... because regulation without teeth is not regulation."
To be sure, there are many causes of the housing crisis — lenders who allowed people with spotty credit to buy homes with little or no money down, mortgage brokers who focused on selling loans without regard to the borrowers' ability to repay and investment bankers who bought and sold risky mortgage-backed securities. A few of the worst offenders — appraisers included — have been put behind bars.
But experts and industry insiders, including appraisers who feel betrayed by colleagues who don't follow the rules, believe the failure to effectively monitor the real estate appraisal industry contributed to housing's collapse.
This is the way the system is supposed to work: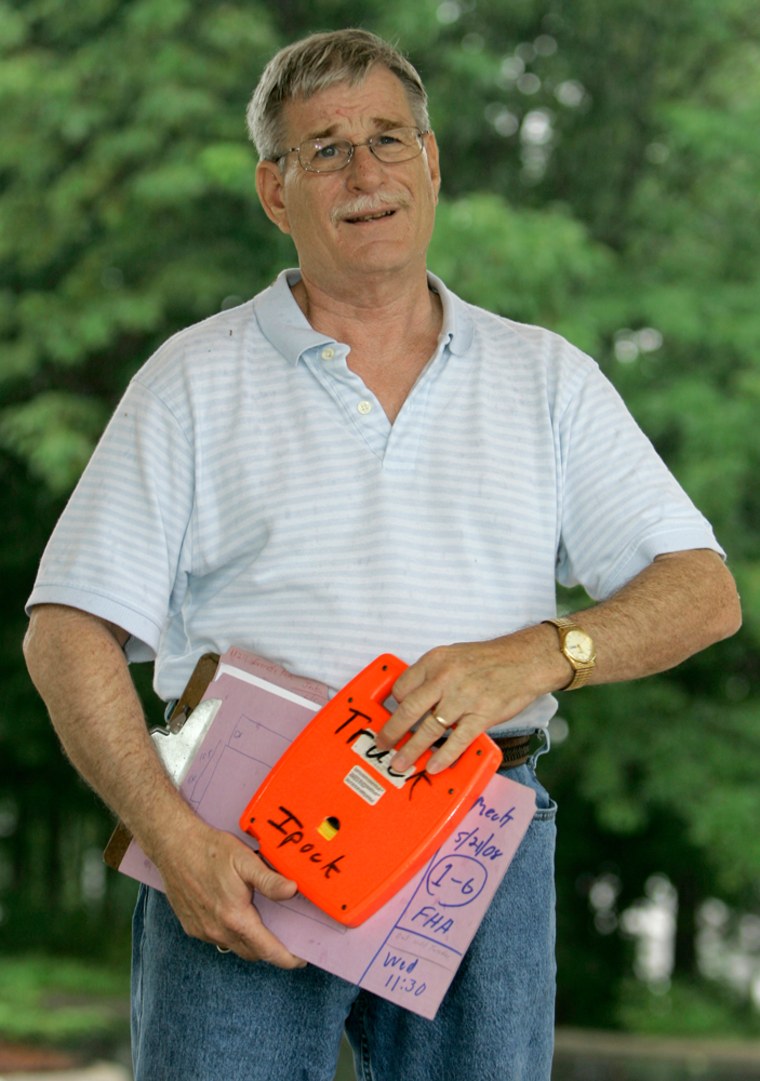 Typically, an appraiser receives an order from a real estate agent, lender or mortgage broker to inspect a property. Based on a physical inspection of the home and comparable sales in the area, they develop an estimated value for the property. That figure is used by banks to set the home's value as collateral for the mortgage loan.
Appraisers are supposed to come up with a value free of any outside pressure. But more than three dozen appraisers nationwide interviewed by the AP said they often felt pushed by a real estate agent or mortgage broker to fraudulently inflate a property's value. They supplied the AP with documents from lenders asking them to "hit a number."
Documents obtained by the AP also show that hundreds of appraisers complained to federal and state agencies about such fraudulent inflation of property values.
The appraisal system has broken down before. In 1989, Congress concluded that "faulty and fraudulent appraisals were an important contributor to the losses that the federal government suffered during the saving and loan crisis." And it passed the Financial Institutions Reform, Recovery and Enforcement Act.
Under the law's reforms, a private group known as the Appraisal Foundation wrote the rules governing appraisers. The law also recommended that states begin licensing appraisers and disciplining those who break the rules.
A federal agency called the Appraisal Subcommittee, an independent federal agency that answers to Congress, would conduct field reviews and audits, and maintain a national registry of appraisers — including dossiers on those who break the rules.
But problems plagued the system from the start. It took years for some states to set up the independent review boards to supervise appraisers or hire personnel to investigate complaints. Even today, eight states still do not require appraisers to obtain a license or certification.
"We got to this point by a lack of enforcement. ... The public has the right to expect the appraisal boards are taking care of that problem," said Bob Ipock, an appraiser from Gastonia, N.C., who is a critic of the current system. "And they are not. They're looking the other way."
The Appraisal Subcommittee is supposed to help states remove from the system those appraisers who agree to "hit a number." But it has only four employees to conduct field reviews and audits of 50 states and four U.S. territories, and hasn't even had a permanent director since the agency's former chief retired at the end of last year.
Following Weinberg's subsequent departure in February as acting director, none of the agency's current employees — including interim director Vicki Ledbetter — returned more than a dozen messages left by the AP over a period of several months seeking comment.
When the agency does find a state failing to follow the law, the only tool available to force compliance is a death sentence known as "non-recognition" — a penalty that would ban all appraisers in that state from handling deals involving a federal agency.
"Do you know what that would have meant? The net effect is it would have effectively shut down mortgage lending in that state," former subcommittee director Ben Henson, who retired in December, told the AP. "To take that action would have been an unbelievable disruption to the economy. I wasn't going to do that."
When field reviews began in the 1990s, states were repeatedly warned that they were failing to comply with the law — warnings that continue to this day. But without the ability to issue fines or impose a less destructive punishment, the Appraisal Subcommittee is powerless. It has never taken any action against a state for not obeying the law.
And so, the violations stack up year after year, largely without consequence. In the last three years alone — when the nation's housing market went from boom to bust — 27 states or territories failed to investigate and resolve complaints within a year. In Washington D.C., the agency found last August that 32 of the district's 35 pending cases were older than two years. In Florida, almost 50 percent of 169 cases older than a year concerned appraisers involved in "fraud and flipping."
Faced with such backlogs, some states just give up. In New Hampshire, the state appraisal board decided in July 2006 to close all outstanding files dating to 2002 — some of which included allegation of fraud — because they "were too old to investigate."
The failings of the appraisal regulatory system and its impact on the nation's housing market led Andrew Cuomo, the New York attorney general, to reach a deal in March with Fannie Mae and Freddie Mac, which purchase mortgages from other financial institutions.
The agreement, which will take effect in 2009, will create a watchdog to monitor the appraisal business: Fannie Mae and Freddie Mac will spend $24 million to create the Independent Valuation Protection Institute, which will accept complaints from consumers and appraisers. It will also monitor the enforcement and report to Cuomo's office.
But such a system duplicates the regulations already in place, including the same lack of enforcement tools that led the existing system to failure. Cuomo didn't return repeated requests for comment. But Gary Taylor, an appraiser from New York who sits on the Appraisal Foundation board that writes qualification guidelines, doesn't see much hope for his success.
"There has to be effective enforcement of some sort. There has to be reality to it," Taylor said. "What are you going to do if there is pressure on appraisers? How are you going to penalize someone who puts that pressure on appraisers? Who's going to do it? Who's going to enforce it? They need to have that or it won't work."