/ Source: The Associated Press
Russia took the first steps toward a troop pullback from Georgia on Tuesday but at the same time paraded blindfolded and bound Georgian prisoners on armored vehicles and seized four U.S. Humvees.
The mixed signals came as NATO allies met in emergency session in Belgium and demanded Russia fulfill its promise to withdraw its forces from the small former Soviet republic.
A small Russian column including three tanks, three trucks, five armored personnel carriers and a rocket-launcher left Gori, the central city that straddles a vital east-west highway. A Russian officer said they were headed for South Ossetia, the disputed province at the heart of the conflict, then home to Russia.
The move toward withdrawal came on the same day as a powerful image of Russia's grip over Georgia: Russian trucks and armored vehicles carrying about 20 Georgian men, blindfolded, handcuffed and held at gunpoint.
Prisoners taken in blindfolds
They were taken from the western city of Poti to the nearby, Russian-controlled military base in Senaki, according to Poti's mayor, who said he had been told they would be released on Wednesday.
Mayor Vano Taginadze said the men, Georgian military and police troops, had been taken captive because the Georgians refused to let Russian armored vehicles into the port of Poti, along Georgia's Black Sea coast.
A Georgian defense spokeswoman said eight servicemen detained while trying to guard the port were among those held.
Also in Poti, Russian soldiers commandeered four Humvees that had been used in U.S.-Georgian military exercises and were destined to be shipped back to the United States.
The Pentagon said it was looking into the theft. Georgian Deputy Defense Minister Batu Kutelia said Russian forces seized the vehicles.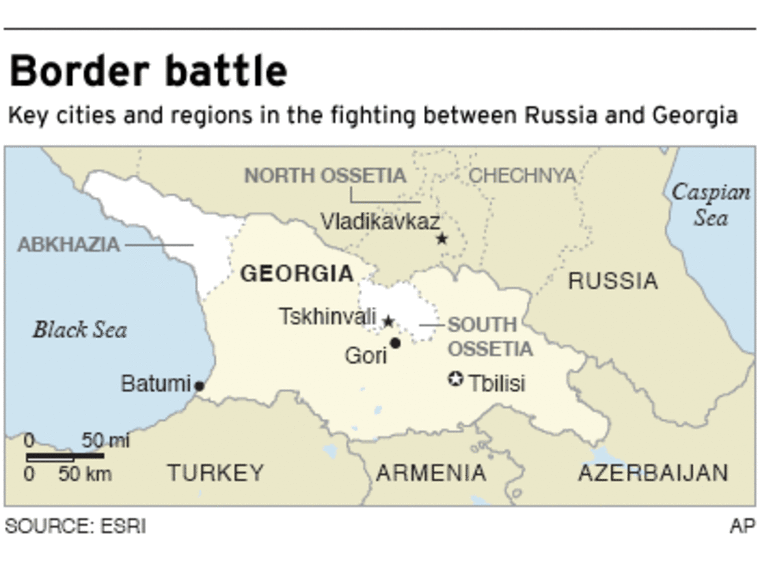 Russian forces in Poti also blocked access to the city's naval and commercial ports on Tuesday morning and towed the missile boat Dioskuria, one of the navy's most sophisticated vessels, out of sight of observers. A loud explosion was heard minutes later, and a Georgian interior spokesman said the Russians had blown up the boat.
The acts of force demonstrated anew that Russia, days after agreeing to a cease-fire with Georgia, remained in control in much of the country, and that the state of the Georgian military was far from stable.
Georgian President Mikhail Saakashvili said Russia was not only flouting its withdrawal commitment but that its forces were "not losing time" in damaging Georgia by destroying infrastructure.
"Right now there are Russian soldiers and tanks at Poti," Georgian Finance Minister Nika Gilavri said. "They want to open every single container" and inspect them.
Georgian television showed footage of a tense standoff at a military training base in northwestern Georgia, where Russian troops tried to enter but were turned away by Georgia police. There was no violence, but the report said the Russians threatened to return and destroy the base if they were not allowed in.
The two nations did exchange 20 prisoners of war — 15 Georgians and five Russians, according to the head of Georgia's Security Council — in an effort to reduce tensions.
On the diplomatic front, NATO foreign ministers suspended their formal contacts with Russia as punishment. Secretary-General Jaap de Hoop Scheffer said "there can be no business as usual with Russia under present circumstances."
But the NATO allies, bowing to pressure from European nations that depend heavily on Russia for energy, stopped short of more severe penalties being pushed by the United States.
Russia dismisses meeting
The Russian Ambassador to NATO, Dmitry Rogozin, dismissed the impact of the emergency meeting in Brussels, Belgium: "The mountain gave birth to a mouse."
Russian Foreign Minister Sergey Lavrov said NATO was trying to make a victim of Georgia's "criminal regime." Georgia's desire for NATO membership is strongly opposed by Russia.
Lavrov also said it was Georgian troops who needed to pull back to their permanent bases first. The U.N. Security Council also was holding emergency consultations on the conflict.
The White House made clear it expected Russia to move faster. "It didn't take them really three or four days to get into Georgia, and it really shouldn't take them three or four days to get out," spokesman Gordon Johndroe said.
The hostilities began earlier this month. Georgia cracked down on South Ossetia, which is internationally recognized as within Georgian borders but tilts toward Moscow and has expressed its independence, and Russia answered by sending its troops and tanks across the Georgian border.
Cease-fire calls for Russian pull-back
A cease-fire signed by Russian President Dmitry Medvedev and Georgian President Mikhail Saakashvili calls for Russian forces to pull back to the positions they held before Aug. 7.
The Kremlin said Medvedev told French President Nicolas Sarkozy by phone Tuesday that Russian troops would withdraw from most of Georgia by Friday — some to Russia, others to South Ossetia and a surrounding "security zone" set in 1999.
More American C-130 transport planes brought in tons of relief supplies for the tens of thousands displaced by the conflict, and the U.S. said it would help for as long as needed.
U.S. Army Brig. Gen. Jon Miller said he was told food is the major issue for people west of the capital, Tbilisi, because only sporadic convoys carrying rations had been able to get through.
Georgian government officials said Russian checkpoints had made it difficult to get supplies into some areas, including Poti.
Tensions also flared between Russia and another former Soviet republic seeking NATO membership, Ukraine. The two countries sparred over Russia's use of a naval base in the port of Sevastopol, which it is renting from Ukraine. The Kremlin wants the Russian ships to remain in Sevastopol even when the current lease expires in 2017.
Ukraine's pro-Western President, Viktor Yushchenko, sided with Georgia in its conflict with Russia and moved to restrict the movement of Russian ships in the port. Ukraine's foreign minister later said Ukraine would not physically prevent Russian ships from entering and leaving the base.