As cell phones move into younger hands, various GPS locator services are being used by parents to follow those hands as children go from home to school, or to friends' houses or after-class programs.
Several wireless carriers have such locator programs, generally for a fee of about $10 a month. And if you're not ready to give your child a mobile, there are other devices that provide tracking, but monthly costs are generally higher than for similar cell phone services.
A growing number of children between ages 8 and 12 "now have a cell phone, so for a relatively small, additional cost, you can know where your child is," said David Aylward, director of COMCARE Emergency Response Alliance, a national, nonprofit emergency communications advocacy group. "I don't see a downside to that, especially for a younger child."
Daniel Neal, CEO and founder of Kajeet, a pay-as-you-go cell-phone service geared to children, started offering its $9.99-a-month GPS Phone Locator program last year, and offers parents a free, three-month trial.
Kajeet's GPS program has had "some very rapid adoption, particularly for children in the age range of 10 to 13," he said.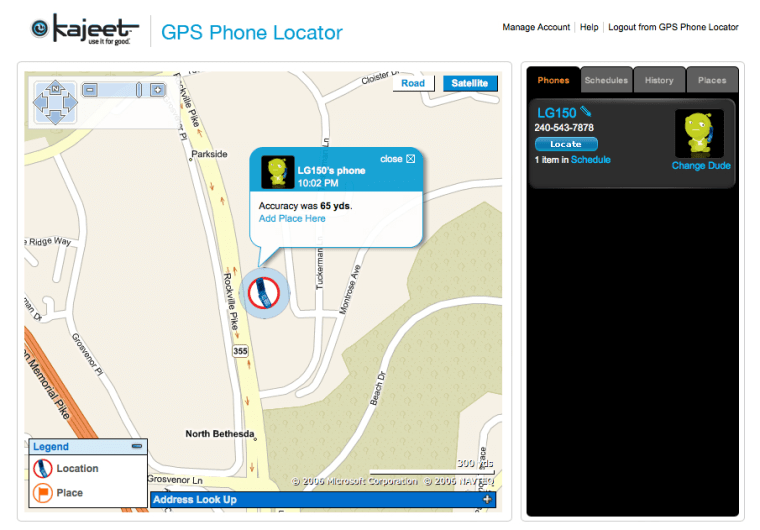 "What we see are a very large number of single parents we serve, who are off trying to be the breadwinners, and the child is either likely to be home alone, or with another adult," he said. A phone, in combination with a location program, acts as a "modern latchkey."
About 41 percent of 8- to 12-year-old children in the United States have cell phones, according to the Yankee Group technology researching and consulting firm.
A number of wireless carriers are adding parental control features to ease parents' minds about how, how much and when their children's cell phones are used.
Locator services add another level of oversight, although Neal, a parent, said, "The reason we call it GPS Phone Locator is that it's intended to locate the phone, not necessarily a person.
"It's an important distinction because these are useful tools, but we don't believe they substitute for really being in touch with your child and other things that we should do for the safety of our children."
For GPS to work on a phone, the phone has to be turned on, something that can be easy to forget — whether on purpose or not.
"These services — ours and everyone else's — only work if the phone is turned on. There's no bypassing that," said Neal.
Tracking parents, siblings
While parents keeping track of their kids' whereabouts is the main use of such GPS programs, it's not the only one.
"We're seeing adults using it with their elderly parents, just to make sure mom or dad didn't get lost when they were driving to their doctor's appointment, that kind of thing," said Emmy Anderson of Sprint, which offers Sprint Family Locator.
"We're also seeing siblings using it, for example, if both of them are away at different colleges, and they just want to make sure the other is safe on a date."
Sprint, Verizon Wireless and Alltel have family locator plans for a monthly charge of $9.99. AT&T and T-Mobile do not have such programs.
Verizon Wireless' Chaperone 2.0 location service works in conjunction with VZ Navigator, the company's GPS program, on up to four phones.
"Once you locate your child on a mobile device, you can press a button and get turn-by-turn directions to that location," said Jack McArtney, the company's associate director of advertising and content standards.
Parents can also use the "Child Zone" feature, which lets them set up geographical boundaries around locations, such as a friend's house or a ball field, and receive a text message alert when their child arrives or leaves that "zone."
Sprint's Family Locator and Alltel's Family Finders programs are similar to Verizon Wireless.
Sprint also offers Family Watchdog Mobile, in conjunction with the Family Watchdog Web site.
Family Watchdog sends a text message to parents, in either English or Spanish, if a registered sex offender "moves into your neighborhood, or next door to the babysitter, for example," said Anderson of Sprint.
The service is free, but text messaging charges apply.
Other ways to tether
With the interest and increase in GPS devices, a cell phone isn't the only way to "tether" your child, although it certainly makes sense.
There are other options, but they are generally more costly with higher monthly service fees.
The $500 WorldTracker GPRS can send a location report every 15 seconds, as well as an alert "if the target moves from a pre-defined area," according to the company that makes it, Tracking the World. Location reports are viewed on a Web page.
The device, sized to fit in the palm of a hand, requires a monthly service plan. Among the choices is a $59.95-a-month unlimited use plan.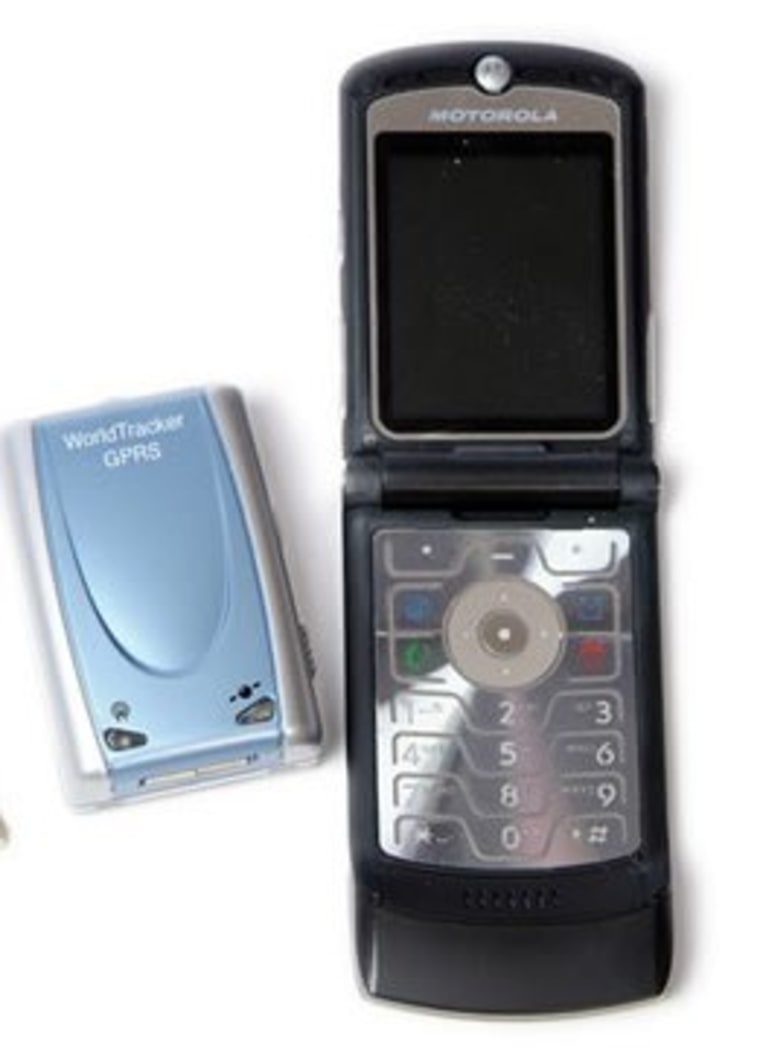 The Amber Alert GPS ($229 and $249) works in conjunction with cell phones. A parent uses his or her cell phone to call a number to check the location of the child, and a text message is sent back from the GPS unit with the exact location.
If the parent has Web browsing on the cell phone, it can show a Yahoo map with the location of the child. Coordinates can also be entered on a computer directly to Yahoo or Google maps, according to the company.
Subscription rates range from $14.99 to $49.99 a month for one- and two-year plans.
The Wherifone GPS Locator phone by Wherify Wireless is designed for younger children, and comes in colors like lilac, pink and blue. The phone, available at places like Toys R Us and Amazon.com, costs between $50 and $100. Monthly service plans start at $19.95 a month.
The phone has a prominently marked emergency "SOS" button for 911 calls and a three other buttons that parents can program for one-touch speed dialing.
A resource, not a panacea
No matter how you choose to use GPS to locate your children, in a phone or a separate device, experts want you to know that a Global Positioning System is a resource, not a panacea.
And, companies that provide GPS services are very clear in stating that location information is not always on the money.
Verizon Wireless, for example, says on its Web site that location information can be "delayed, inaccurate, interrupted or disrupted due to many factors such as atmospheric, environmental and geographic conditions, satellite location or other factors associated with use of satellites and satellite data, cell site location and information or other network conditions."
"All services rely on this broader technology, the satellites up in the air, and you do have to watch out for things like really, really bad weather, which can affect the accuracy of those readings," said Neal of Kajeet.
"You also need to be mindful of where the phone with GPS is. If it's in a deep, dark basement somewhere, you're not going to get a good reading, no matter whose phone it is. It has to see the satellite or the cell tower."
Aylward, of COMCARE, suggests parents also preprogram their children's cell phones with important numbers of family members, and put the letters "I-C-E" (for "In Case of Emergency") next to those names.
"That way a child can call mom or dad, or uncle or aunt, really easily, as well as 911, or, if there's an emergency, and a responder arrives on the scene and a child can't explain who he is or where he is, with the letters ICE on the child's phone, a responder can make that call to the right person."