More home users, and a growing number in the small business sphere, are opting to move to Apple's computers, their interest driven by positive experiences with Apple's other products, as well as disenchantment with the Windows world.
Analysts say the appeal of Macs is in part due to a "halo effect," created mainly by Apple's iPod, which has 71 percent of the digital music player market in the United States, as well as from the iPhone.
"The popularity of other Apple products, particularly the iPod, has drawn more users to the Apple platform," said Charles Smulders, Gartner's managing vice president, client computing. "As a result, you see this halo effect of people buying Apple computers in addition to their iPods. Quantifying the halo effect is difficult, but we certainly believe that effect exists."
What is quantified is Apple's growth in the last two years in the home and small business areas, with sales of its iMac desktop computers, and MacBook and MacBook Pro laptops.
"If you look at just the U.S. home market, Apple had a 10.4 percent share at the end of the first quarter of this year, compared to 7.5 percent for the first quarter of 2007, and 5.4 percent for the first quarter of 2006," Smulders said.
Among small businesses, defined as having 100 or fewer employees, Apple has been "gaining some ground, too," he said.
The company had a 4.4 percent share of the small business market in the United States at the end of the first quarter this year, compared to 2.4 percent in 2007, and 2.1 percent two years ago, according to Gartner.
Years of disdain
For years, Apple's computers were disdained by many because they cost more than their PC counterparts, and because of the elitism some associated with enthusiasts' mania for the brand's ease of use and design.
The effort to win new Mac users has been paying off the last few years, although the positive Apple sentiment began building in 2001. That was the year the iPod came out, although it really began to flourish in 2003, when Apple started the online iTunes Store for purchasing music.
2001 was also significant because it was the year the first Apple retail store opened — crisp, bright, modern, and with plenty of knowledgeable staff on hand. There are more than 180 stores now around the country.
"Do you notice the difference between people buying computers in an Apple Store and a store that sells Windows machines? It really is a different experience," said Michael Cherry, analyst for Directions on Microsoft, an independent research group, and a former Microsoft program manager for Windows. (Msnbc.com is a joint venture of Microsoft and NBC Universal.)
"The main thing is the level of the assistance you get in those stores is phenomenal," he said.
"The one time I had a problem with my Mac, the ability to just head over to the store, with my machine under my arm, and leave after talking to somebody who really knows what they're talking about – that's really neat."
Intel processor, Windows Vista roles
Perhaps the two biggest factors that convinced some users to switch happened in the past two years. In 2006, Apple started putting Intel processor chips — previously a PC staple — in its Macs.
That meant that users who also wanted to use the Windows operating system could do so by partitioning the computer's hard drive and using Apple's "Boot Camp" software to run Windows on one part of the drive, and Apple's on another. There are also virtualization software programs that let users work in both operating systems at the same time.
Apple furthered its own success by using the Intel processor, but it was given a gift in early 2007 when Microsoft released its newest version of the Windows operating system, Windows Vista.
Vista has met with a lukewarm reception by many Windows users because of its slower speed and hefty hardware demands.
"The reaction to Vista wasn't that great," said Mikako Kitagawa, lead PC analyst for Gartner. "Vista looks nice, but the reaction from the market was 'So what?' With Apple's Intel-based computers, you can run both the Mac OS and the Windows OS at the same time. That has opened up more opportunities for Apple in the business market."
"Not using Windows anymore'
Stewart Alsop, former editor-in-chief of technology publication InfoWorld, a technology publication, said he used Macs exclusively for 12 years, from 1984 to 1996. When he switched careers and became a venture capitalist, he used Windows for the next 10 years.
"Then I had a very bad experience with Windows, where I lost a critical document," he said. "It just disappeared and I don't know what happened to it. And I thought to myself, a Mac has never stolen any of my documents, and a Windows machine did. Literally, the next day I abandoned Windows. It may have been my fault, but I don't care. I'm not using Windows anymore."
Cherry, who uses both PCs and Macs, said. "A lot of people who aren't using Macs haven't tried them in a long time. They think people who use Macs are weird, and that the software they want to use won't be available on the Mac. I have only one application that I can't run that I need to run that takes me back to Windows. It's Visio, the diagramming tool that's part of Office. Microsoft didn't include that in their Office version for the Mac."
A designing difference
Design plays a key role in everything Apple does, and it's becoming more important to consumers, said Smulders of Gartner.
"As the PC market has become mature, people have been looking beyond just simply the performance of the product; they're also looking for industrial design, or appealing designs —and clearly, Apple has led the market in that thinking," he said.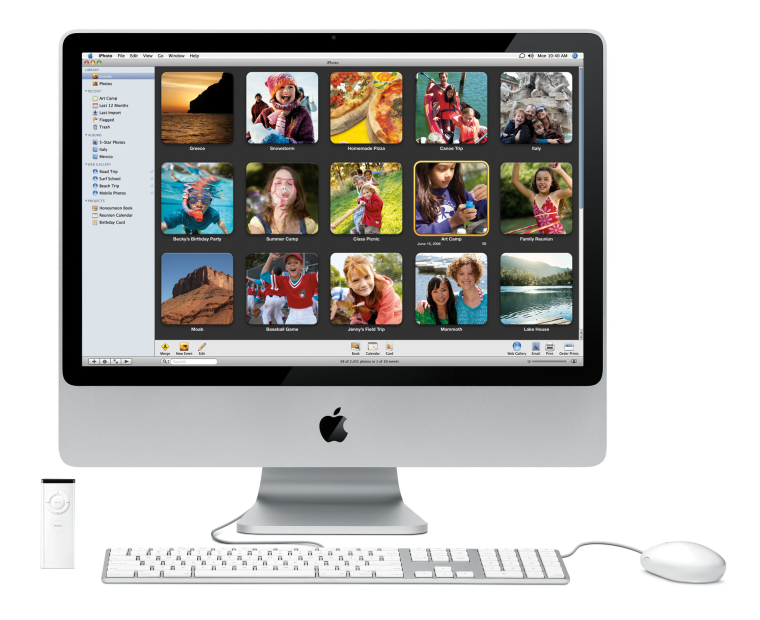 PC manufacturers certainly aren't standing still. A number of them, including HP, Dell, Acer, Sony and Lenovo, have been coming out with more personalized and colorful laptops and desktops than ever before.
Apple's all-in-one desktop iMac has proven to be an inspiration for similar PCs by Sony and HP.
The MacBook Air, released earlier this year, billed by Apple as "the world's thinnest notebook," at less than one-inch thick, isn't for everyone.
But its design has captured the fancy of many road warriors who have found great pleasure in slipping the laptop inside a manila envelope, just as Apple's ads have shown.
The three-pound laptop with a 13.3-inch screen retails for $1,799 with an 80-gigabyte hard drive, and $2,598 for a model that has a flash memory-based, 64-gigabyte solid-state drive. The computer also has a trackpad that uses the same multi-touch technology as Apple's iPhone.
This past spring, the company also updated its MacBook Pro line of laptops with the same trackpad.
A desk at corporate?
While Apple is very much pursuing the corporate market with the iPhone, having added Microsoft Exchange Active Sync with the iPhone's 2.0 software upgrade in July, it's not necessarily looking to go there with its computers, Smulders said.
For one thing, it may be a daunting task, with the enterprise market overwhelmingly Windows-based.
"There's a lot of resistance within the IT departments for that because it brings greater complexity and cost for those IT departments because they have to manage those extra products," said Smulders. "Secondly, Apple is generally not in a position to support large accounts. It doesn't have the infrastructure."
Still, earlier this summer, the Yankee Group surveyed 700 global IT administrators and C-level executives, and found that 80 percent of the companies have installed Macs on their networks.
"Apple's strong marks in security, features, performance, usability and reliability are indicative of the qualities customers' value when purchasing hardware and operating system software," wrote Laura DiDio, Yankee Group research fellow, in the report.