It would be an exaggeration to say that a great president is by definition a well-traveled one—Abraham Lincoln never left the United States—yet for most, leaving Washington now and then was both edifying and expedient. Rutherford B. Hayes, the first president to see the Pacific, vanished so often that he was dubbed "Rutherford the Rover." William Howard Taft may have been our heaviest president, but he lumbered around the nation at a rapid clip, logging an average of 30,000 miles a year on trains. But if a president spends too much time away from the office, he runs the risk of being dubbed a "Vacation President," as a certain brush-clearing resident of Crawford, Texas, has found after spending 469 days at his ranch to date. Well before the advent of Air Force One, which can whisk presidents across the nation and back in a single day, nearly all of our presidents could have been called frequent fliers. We single out a few and preview some of the travel habits of the two contenders hoping to move into the White House next January. For more fun tracking the candidate's travels this campaign season, visit our sister site Jaunted.com.
For a complete slideshow of Presidents as Travelers, click here.
1. Theodore Roosevelt
Where the eagle landed: Brazil, Congo, Cuba, Kenya, Panama, Sudan
Home and abroad: It was fitting that Theodore Roosevelt was the first president to leave U.S. soil while in office, for travel was a lifelong diversion. As a child, he was brought to Europe and the Middle East on family tours, and when, at 26, his world was shattered by the death of his wife and mother on the same day, he recuperated with a long stay in North Dakota, where he learned some of the cowboy skills that would come in handy later as a Rough Rider in Cuba. Roosevelt had two presidential yachts, the Mayflower and the Sylph, but for his trip to Panama in 1906 he traveled a bit more safely, in a naval convoy. Roosevelt did not slow down a whit after leaving office in 1909. He went on a safari from 1909 to 1910 in Africa, visiting remote sites in what are now Kenya, Sudan, and the Congo River Basin, and bagging a staggering total of 11,397 animals (you can see many of them, in stuffed form, in museums across the United States). In 1913 he went deep into the jungles of Brazil to explore the ominously named River of Doubt. The expedition was murderous in every sense (one of his party killed another), and at one point Roosevelt, ill and exhausted, contemplated suicide. Yet he survived, damaged but intact, and to this day a long stretch of the river is known as the Rio Roosevelt.
2. Ronald Reagan
Where the eagle landed: China, France, Germany, Iceland, Soviet Union, United Kingdom
Home and abroad: Ronald Reagan did not pay a great deal of attention to the world as a young man in Illinois, or even as a Hollywood actor. As president, he clearly loved his vacations at his California ranch, where he spent 335 days of his two-term presidency, and Camp David, where he spent 517 days over 186 visits, the most of any president. But Reagan still showed a surprising capacity for growth as president, and when the cause was just, he was never above hitting the road. Despite his age (at 69, the oldest candidate ever elected), he traveled extensively and gave some of his most memorable speeches on foreign soil, including the famous crowd-pleasing speech in Berlin when he demanded that Mikhail Gorbachev "tear down this wall." During a six-day visit to China, Reagan compared his height to one of the famous terra cotta warriors, and joked, "You're dismissed", as he turned to leave. Not all of the trips were easy—Reagan stirred intense controversy when he placed a wreath at a cemetery of Nazi soldiers in Germany—but he generally impressed audiences with his earnestly stated views. And despite the occasional joke about obliterating the Soviet Union, he pursued an aggressive diplomacy with his counterpart, Mikhail Gorbachev, including a dramatic summit in Reykjavik, Iceland, that nearly resulted in the abolition of both nations' nuclear arsenals.
3. Thomas Jefferson
Where the eagle landed: France, Germany, Italy, the Netherlands, United Kingdom
Home and abroad: Thomas Jefferson traveled widely as Minister to France from 1784 to 1789, also taking in England, Italy, the Netherlands, and the German Rhineland—journeys that accelerated his far-ranging intellectual development. Jefferson adored Paris in particular, glorying in its scientific and literary culture, enjoying its food and wines, and falling in love, exactly as one is supposed to do there. But as president, he slowed the pace, in part to pacify those who had previously objected to George Washington's showy trips, but also because, as a widower, he took solace in the comforts of home, barely venturing outside of Washington except to return every summer to Monticello (the original "Western White House"). Still, even if he didn't travel a lot as president, he did much to expand our territory, spearheading the Louisiana Purchase, and kicking off the great American tradition of adventure travel by sponsoring the expedition of Lewis and Clark.
4. Richard M. Nixon
Where the eagle landed: China, Russia, Venezuela, Vietnam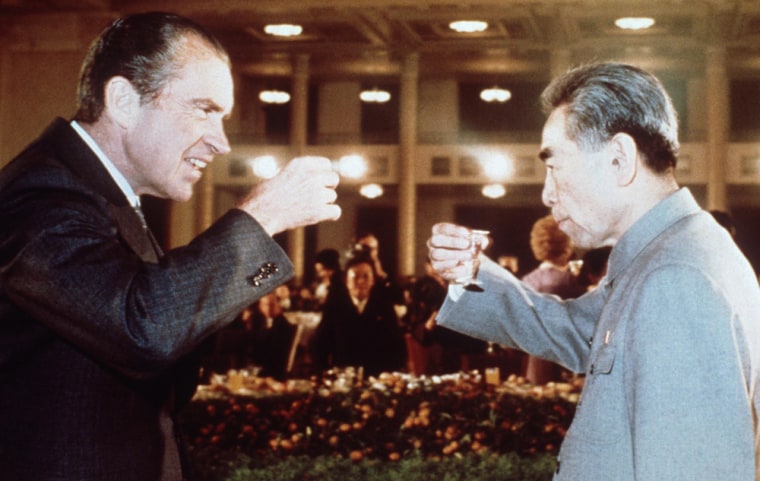 5. Franklin D. Roosevelt
Where the eagle landed: Argentina, Brazil, Colombia, Egypt, Gambia, Haiti, Iran, Morocco, Trinidad, Ukraine
Home and abroad: When it came to travel, FDR shattered the mold and then some. It was not merely that he covered 243,827 miles by train—which the historian Richard J. Ellis correctly compares to the distance to the moon—this most earthbound of all presidents also ventured fearlessly into the air, flying in the most perilous conditions to attend wartime conferences in remote locations such as Casablanca, Cairo, Tehran, and Yalta. Roosevelt was the first president to set foot in South America, when he visited Colombia in 1934, and he continued to travel around the region with visits to Haiti, Trinidad, Brazil, and Argentina. On his way to the Casablanca Conference in 1943, he spent nearly 90 hours in the air, in small planes that were forced to touch down and refuel in Trinidad, Brazil, and then–British Gambia. Many journalists and advisers worried about the dangers of FDR's penchant for air travel, but he laughed it off, later naming his plane the "Sacred Cow" and nearly accepting Walt Disney's offer to design a logo of a smiling cow with a halo over one horn and an Uncle Sam top hat over the other. With that not entirely dignified image, America entered the age of presidential air travel.
6. Bill Clinton
Where the eagle landed: Argentina, Botswana, Brazil, Chile, China, France, Germany, Ghana, Israel, Nigeria, Russia, Turkey, Uganda, United Kingdom, the West Bank
Home and abroad: At a 1992 debate, then-President George H.W. Bush joked that Bill Clinton's idea of foreign policy was a long meal at the International House of Pancakes. Clinton had the last laugh when he won the White House that year, and turned out to be the best traveled president to date. President Clinton wins the jackpot with 133 trips—including one to Chobe National Park, Botswana, in 1998—that's a little more than 16 per year. These trips did not always please the critics, angry at the journeys' expense and distance from the United States. But Clinton's travels were successful outreach efforts that became easier to believe in as the 42nd president tried to solve global problems through shuttle diplomacy—succeeding in some places (Northern Ireland) and failing in others (the Middle East). With his limitless enthusiasm for long discussions with world leaders, policy roundtables, state dinners, and huge crowd events, Clinton simply wore out most of the cynics, building better relations in the long list of countries he visited, especially in Africa, Latin America, and China. Post-term, Clinton's travels have continued, as Condé Nast Traveler has reported, with the aim of highlighting causes such as AIDS, the eradication of poverty, and tsunami relief.
7. Dwight D. Eisenhower
Where the eagle landed: Afghanistan, Canada, France, Germany, Greece, India, Iran, Italy, Korea, Mexico, Pakistan, Tunisia, Turkey, United Kingdom
Home and abroad: Dwight D. Eisenhower might have had a great career as a travel agent (after all, he planned the most complicated expedition in history, the D-Day landing in Normandy), but he was also a world traveler in his own right. Despite his love of his Gettysburg, Pennsylvania, farmhouse, and the calm pleasures of fishing and golf (he once gave his valet permission to shoot to kill any squirrels found burying acorns in the White House putting green), Ike knew that the job also required a more aggressive form of travel. He was swept into the White House with a promise to go overseas ("I will go to Korea"), which he fulfilled even before entering office. Then he continued to hit the road, ultimately visiting far more countries (35) than any president had previously. Eisenhower used travel as a creative way to engage America's friends and allies around the world. In addition to visiting the expected NATO capitals, he went out of his way to see parts of the world that had become newly relevant to the United States in the changed landscape of the Cold War. Eisenhower was received in Turkey with great warmth, and in Pakistan, he drove through huge crowds in an open carriage—unthinkable today. In India, people cheered, "Long live the king of America!"
8. George Washington
Where the eagle landed: Barbados
Home and abroad: When George Washington's half-brother Lawrence, suffering from tuberculosis, went to Barbados to improve his health in 1751, he brought George along for company. Young Washington, then 19, kept a sprightly diary ("The Ladys Generally are very agreeable"), then recorded grimly that he was also sick, "strongly attacked with the small Pox." Fortunately, he survived, scarred but no longer vulnerable to the disease—a fact of supreme importance during the Revolution, when many Americans under his command perished from the pox. Although he never again ventured abroad, Washington was extremely well traveled by colonial American standards. As president, he maintained the tradition, knowing that his visits to the 13 not-very-United States helped to shore up a nation that often lacked a center. A few critics grumbled about Washington's monarchical airs and what was, for the time, an enormous presidential motorcade—a stagecoach with a valet, two footmen, and a coachman, led by four white horses—but Washington's travels were an essential step on the path to nationhood.
9. John F. Kennedy
Where the eagle landed: Europe, the Middle East, Southeast Asia
Home and abroad: JFK was one of the better-traveled presidents even before he came into office in 1961. Thanks to his wealthy father, he had access to lavish vacation homes in Hyannisport, Massachusetts, and Palm Beach, Florida. As a young man, he journeyed across Europe during the tense days leading up to World War II, then saw a bit more of the South Pacific than he expected when his PT boat was sunk by the Japanese. After his election to Congress in 1946, Kennedy traveled to out-of-the-way places like the Middle East and Southeast Asia to investigate their future relevance to Americans, which earned him a reputation as a foreign policy savant well before his run. From 1962, JFK traveled in style on a plane that was soon painted in the colors we now recognize on Air Force One. But it was more than the paint job—Kennedy's youth and "vigah" excited foreign audiences in ways that no American politician ever had. No moment conveyed this more clearly than the outdoor speech ("Ich bin ein Berliner") the president gave to tens of thousands of euphoric Germans in Berlin on June 26, 1963. On the same trip, he flew home by way of Ireland, visiting his great-grandfather's hometown of New Ross, and thrilling the locals with a bit of blarney. Whether sailing off of Cape Cod or visiting cousins in the Old Country, JFK had a knack for making his vacations seem like a natural part of the job.
10. Ulysses S. Grant
Where the eagle landed: Burma, China, Egypt, Germany, India, Ireland, Japan, the Middle East, Thailand, United Kingdom
Home and abroad: Ulysses S. Grant undertook one of the great presidential journeys of the 19th century when he traveled around the world between 1877 and 1879. True, he was no longer president (having happily left office in 1877), but this little-known expedition did an enormous amount of good, introducing a former president to tens of thousands of people in foreign lands. The trip began with Ireland and the British Isles, where Grant appeared before huge crowds and dined with Queen Victoria. He then ventured across Europe, finding a particularly warm welcome in Germany, where Chancellor von Bismarck was fascinated by both his democratic demeanor and his military prowess. From Europe, Grant went to lands that no president would again visit for nearly a century, including Egypt, Turkey (where the sultan gave him two Arabian stallions), the Middle East, India, Burma, Thailand, China, and Japan (where he became the first American to shake the emperor's hand).
11. Woodrow Wilson
Where the eagle landed: Belgium, France, Italy, United Kingdom
Home and abroad: Woodrow Wilson logged 87,000 miles of domestic travel as president, but it was as a foreign traveler that he made his mark on history. In 1918 and 1919 he traveled to Europe on two extended trips, trying to build new post–World War I agreements that would make such catastrophes impossible in the future. His prestige was so great at that moment, when he symbolized the world's hopes for peace, that H. G. Wells likened him to the Messiah. Huge crowds lined the streets of Paris wherever he went, and he was lionized as the "God of Peace" and the "Moses from across the Atlantic." Wilson's dream of the League of Nations failed, but with his heroic exertions (which nearly killed him), he created a new image for the president as a globe-trotting diplomat.
12. Barack Obama, 2008 Democratic presidential candidate
Where the eagle landed: Afghanistan, France, Germany, Iraq, United Kingdom
Home and abroad: Barack Obama gets massive attention wherever he goes, be it a foreign destination like Berlin in July 2008, where he spoke to more than 200,000 people (perhaps trying to bask in some of JFK's aura); on vacation in the U.S. Virgin Islands (where he risked the "elitist" tag by staying at the Ritz-Carlton); or visiting his grandmother in Hawaii. His most recent trip to the Aloha State, in August 2008, was for a family holiday after 18 months on the campaign trail, although the political reporters remained at his side—even if it was merely to document a splash in the surf. But what would Obama be like as a presidential traveler? If elected, he can be expected to spend more time than usual in the developing world, from Africa, his father's birthplace, to the Middle East, Asia, and Latin America. And there may be quite a few visits to Hawaii, which, if it were to become a regular stopover, would become our most extreme "Western White House" yet.
13. John McCain, 2008 Republican presidential candidate
Where the eagle landed: Iraq, Vietnam
Home and abroad: John McCain seems less thrilled than Barack Obama to be in other countries—perhaps understandable, given his nearly six-year stay in the "Hanoi Hilton," although he's been back to Vietnam at least seven times since his release in 1973. On his most recent trip in 2000, McCain posed for photographs with fellow visitors at the former prison, now a stop on the city's tourist trail. McCain revels in the comforts of his vacation house along Oak Creek in Arizona, where he entertains guests with his barbecue secrets. However, like other senators, including Obama, McCain has undertaken several highly publicized trips to Iraq. It would be a simple matter to predict that if elected, he will concentrate on more traditional foreign visits—London, Paris, Brussels, Moscow—stopping at military bases on the way (he's already visited South Ossetia, Georgia). Hopefully McCain's advisors will dissuade him from attempting to visit "Czechoslovakia," as he's referred to it on two separate occasions, despite the fact that the country split into the Czech Republic and Slovakia in 1993.