Pamela Plante's dog knew something she didn't.
Plante's leg was feeling sore when she walked and, as usual, she tried to ignore her aches and pains. But this time her 7-pound Yorkshire terrier, Morgan, wouldn't let her. The dog kept jumping at her aching leg, making it worse. At first, Plante thought something was wrong with Morgan.
"After she jumped on my leg, she would sit and look at me and shake or shiver," says the Smithfield, R.I., woman. "From past experience, I knew she would shake like that when she was in pain, so I picked her up and checked her all over trying to find out what was wrong and couldn't find anything. When I put her down she would jump on my leg again."
Finally, Plante inspected her leg in a mirror and discovered it was red up to the knee.
Plante called her doctor who told her to get checked immediately. She was diagnosed with sepsis and spent a week in the hospital recovering from the infection that started in her leg and spread through her body.
Sensitive dogs, such as Morgan, are proving that besides being man's best friend, some canines also have a lifesaving sixth sense. Dogs' keen ability to differentiate smells enables some of them to know we're sick long before we might ourselves. Combine that with their 24/7 observation of us and some pets have proven to be skilled diagnosticians, even if we're not always sure what they're trying to tell us.
In the past few years, studies have shown that dogs can sniff out both early and late stage lung and breast cancers. The Pine Street Foundation, a non-profit cancer education and research organization, in San Anselmo, Calif., is even training dogs to recognize ovarian cancer.
Some dogs have also been shown capable of detecting skin cancer.
Riker, a 9-year-old Australian Shepherd who lives with Liz and Paul Palika in Oceanside, Calif., poked insistently at Liz's father's chest. "Dad, did you leave some of your dinner on your shirt?" Liz teased him. But Riker wouldn't stop. To satisfy him, Liz and her mother took a closer look. There was a lump on her father's chest. A trip to the doctor revealed a melanoma that had spread beneath the skin.
Other dogs have been taught to catch when diabetics' blood sugar levels drop. And for about the past 20 years, "seizure dogs" have been used to alert their owners to a pending seizure and assist them to a safe place until it's over.
Lifesaving cat
It's not just dogs who have proven to have life-saving noses. Ardis Matson of Brookings, S.D., credits a gray tomcat named Tuffy with keeping her mother alive and able to live on her own for several years.
"My mother was elderly and had insulin-dependent diabetes," Matson says. "Often, her blood sugar would go dangerously low during the night and if left unchecked it could have caused her to go into a coma and die. Tuffy always slept with her, and when her blood sugar started slipping really low during the night, he would nudge her and walk across her body and keep aggravating her until she would get up and take glucose to make her blood sugar levels rise. When she was in control again, Tuffy would go back to sleep."
And then there's Oscar, a cat who lives at Steere House Nursing and Rehabilitation Center in Providence, R.I. He alerts staff to the impending death of patients, a gift that allows families to be notified in time to say their good-byes.
The answer to how animals know something is wrong may be up in the air — literally. Dogs and cats have a keener sense of smell than humans, and that may enable them to detect subtle changes in body odor caused by such things as cancer cells or lowered blood sugar.
In the case of Oscar, for instance, veterinarian Margie Scherk, president of the American Association of Feline Practitioners, notes that he may be picking up a variety of clues that people are too busy to notice or don't have the sensory capacity to detect.
"Cats live in a world of smells; their olfactory sense is a lot more acute than that of a human," Scherk says. "People who are dying, as well as those who aren't eating, emit ketotic odors, which might be one cue that cats like Oscar detect. There could easily be other odors that a dying individual produces that our noses are unable to note."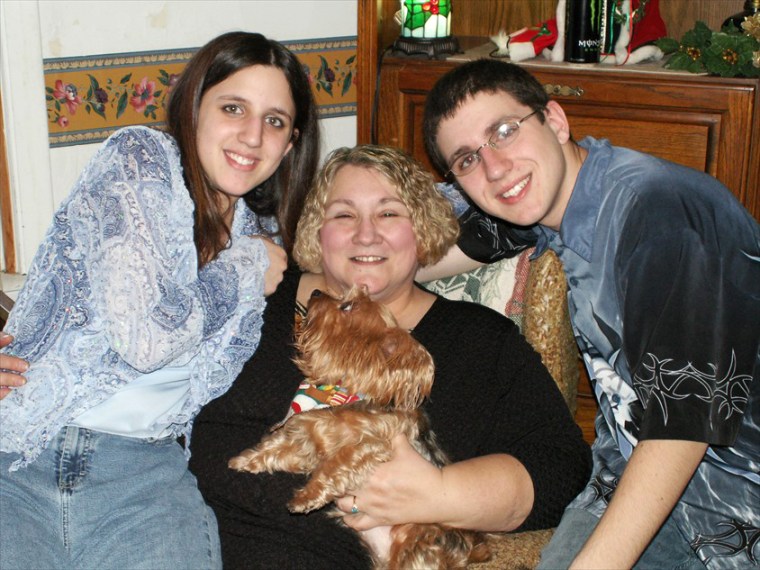 In addition to being able to pick up certain odors, dogs and cats also seem to be able to recognize that it means there's a problem their owners need to know about.
"There is reason to believe that some odors do have an 'intrinsic' value to the animal, that evolution has led to the development of neural pathways that specialize in detecting and processing relevant categories of smell," says Timothy E. Holy, assistant professor of anatomy and neurobiology at Washington University in St. Louis. "Experience, too, plays a big role. You can train a dog to react in particular ways to relatively arbitrary smells."
Those smells might include the breath of a person with lung cancer or the urine of a person with bladder cancer.
So the next time your dog or cat is nagging you, don't ignore him. He might have something important to say. Just ask Joan Beck of Cottage Grove, Minn.
"One morning I woke up in the throes of a severe asthma attack. My husband was already awake and taking a shower. I was having so much trouble breathing that I couldn't call for help. Our English springer spaniel, Sam, suddenly appeared, nosed me for a moment, then turned around and left the room. My husband said later that Sam pushed the bathroom door open and insisted that he follow Sam back to our bedroom. 'Who needs Lassie when we have Sam?' my husband says."
Kim Campbell Thornton is an award-winning author who has written many articles and more than a dozen books about dogs and cats. She belongs to the Dog Writers Association of America and is past president of the Cat Writers Association. She shares her home in California with three Cavalier King Charles spaniels and one African ringneck parakeet.