/ Source: The Associated Press
The largest single-workplace immigration raid in U.S. history has caused panic among Hispanic families in this small southern Mississippi town, where federal agents rounded up nearly 600 plant workers suspected of being in the country illegally.
One worker caught in Monday's sweep at the Howard Industries transformer plant said fellow workers applauded as immigrants were taken into custody. Federal officials said a tip from a union member prompted them to start investigating several years ago.
Fabiola Pena, 21, cradled her 2-year-old daughter as she described a chaotic scene at the plant as the raid began, followed by clapping.
"I was crying the whole time. I didn't know what to do," Pena said. "We didn't know what was happening because everyone started running. Some people thought it was a bomb but then we figured out it was immigration."
Some released for humanitarian reasons
About 100 of those detained were released for humanitarian reasons, many of them mothers who were fitted with electronic monitoring bracelets and allowed to go home to their children, officials said.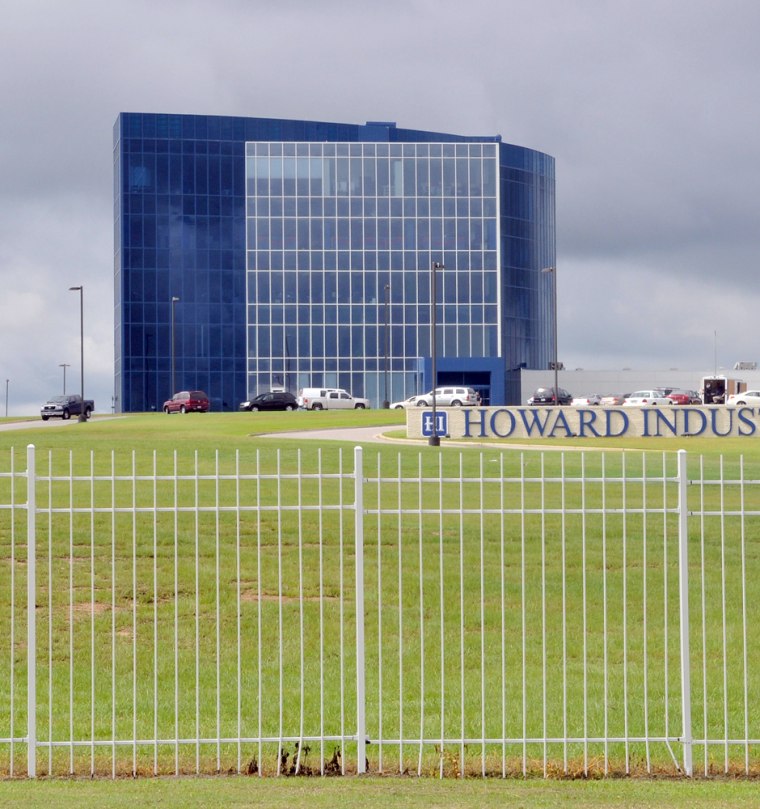 Another 475 workers were transferred to a U.S. Immigration and Customs Enforcement facility in Jena, La. Nine who were under 18 were transferred to the custody of the Office of Refugee Resettlement.
John Foxworth, an attorney representing some of the immigrants, said eight appeared in federal court in Hattiesburg on Tuesday because they face criminal charges for allegedly using false Social Security and residency identification.
He said the raid was traumatic for families. "There was no communication, an immediate loss of any kind of news and a lack of understanding of what's happening to their loved ones," he said. "A complete and utter feeling of helplessness."
The superintendent of the county school district said about half of the district's approximately 160 Hispanic students were absent Tuesday.
Roberto Velez, pastor at Iglesia Cristiana Peniel, where an estimated 30 to 40 percent the 200 parishioners were caught up in the raid, said that's because parents were afraid immigration officials would take them.
"They didn't send their kids to school today," he said. "How scared is that?"
Those detained were from Brazil, El Salvador, Germany, Guatemala, Honduras, Mexico, Panama, and Peru, said Barbara Gonzalez, an ICE spokeswoman.
Elizabeth Alegria, 26, a Mexican immigrant, was working at the plant Monday when ICE agents stormed in. When they found out she has two sons, ages 4 and 9, she was fitted with a bracelet and told to appear in federal court next month. Her husband, Andres, was not so lucky.
"I'm very traumatized because I don't know if they are going to let my husband go and when I will see him," Elizabeth Alegria said through a translator Tuesday as she returned to the Howard Industries parking lot to retrieve her sport utility vehicle.
"We have kids without dads and pregnant mothers who got their husbands taken away," said Velez's son, Robert, youth pastor at the church. "It was like a horror story. They got handled like they were criminals."

Policy to hire only citizens and legal immigrants
Howard Industries is in Mississippi's Pine Belt region, known for commercial timber growth and chicken processing plants. The tech company produces dozens of products ranging from electrical transformers to medical supplies, according to its Web site.
Gonzalez said agents had executed search warrants at both the plant and the company headquarters in nearby Ellisville. She said no company executives had been detained, but this is an "ongoing investigation and yesterday's action was just the first part."
A woman at the Ellisville headquarters told The Associated Press on Tuesday that no one was available to answer questions.
In a statement to the Laurel Leader-Call newspaper, Howard Industries said the company "runs every check allowed to ascertain the immigration status of all applicants for its jobs."
"It is company policy that it hires only U.S. citizens and legal immigrants," the statement said.
The Mississippi raid is one of several nationwide in recent years.
On May 12, federal immigration officials swept into Agriprocessors, the nation's largest kosher meatpacking plant, in Iowa. Nearly 400 workers were detained and dozens of fraudulent permanent resident alien cards were seized from the plant's human resources department, according to court records. In December 2006, 1,297 were arrested at Swift meatpacking plants in Nebraska and five other states.