Delegates to a national political convention do not represent a cross-section of the electorate. They're passionate partisans.
If their candidate is in trouble, don't expect them to admit it. Like Queen Victoria, they say, "We are not interested in the possibilities of defeat; they do not exist."
The delegates here in Denver are the tireless troops who knock on their neighbors' doors, make the phone calls and register new voters.
In Iowa, the state where victory began for Barack Obama, how's morale among the troops?
Are delegates waking up at two in the morning, worrying that maybe the rest of Iowa doesn't share their passion for Obama?
Wayne Laufenberg, a Hillary Clinton delegate from St. Donatus, and a local business representative for the Machinists' union, said he would have preferred to see the former first lady as the vice presidential nominee. But he promises to work hard to get Obama elected in November.
The experience question lingers
Asked about Obama's appeal to voters who aren't Democratic loyalists, Laufenberg said, "I have concerns. The same thing you hear from a lot of other people: does he have the experience? He's definitely a good leader; he's a very intelligent man."
The Machinists and especially their president, Tom Buffenbarger, were among the most ardent Clinton supporters during the primaries.
(Buffenbarger's scathing criticism of Obama makes it unlikely he'll get an early invitation to the White House if Obama wins.)
Asked whether his fellow Machinists in Iowa are enthusiastic or hesitant about Obama, Laufenberg said, "Right now it's mixed. The bottom line is when we come out of this convention we'll come out unified. We always do and we will again."
Laufenberg implied that the economy may win it for Obama despite some voters' doubts about him. "I'm hoping people are hurting enough now from the Bush-Cheney policies that people are wise enough to understand that having McCain in there would be four more years of what we put up with for the last eight years."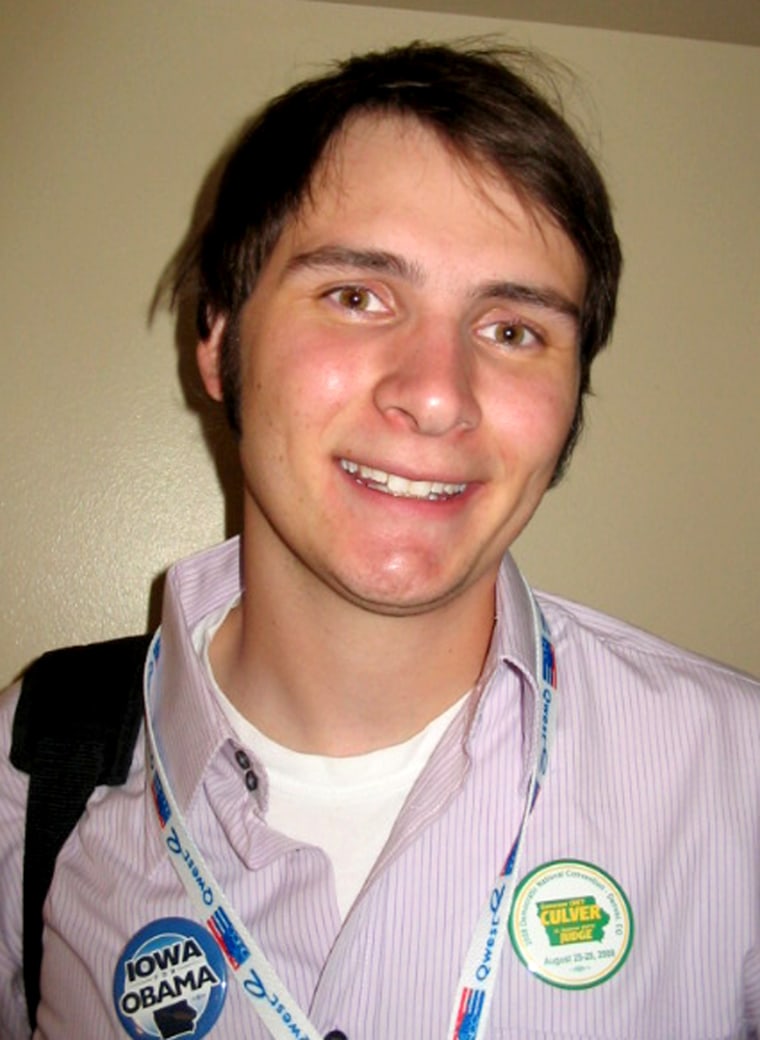 What's the biggest burden for Obama in Iowa?
"People saying he's not a known entity and that's true. He's come very far in four years," said Jordan Oster, a 21-year old Obama delegate from Clive, Iowa, who's a senior at Drake University.
"His greatest challenge is to convince people that he'd going to put together the kind of team that has enough experience to do this well. It's kind of the experience issue," said Council Bluffs, Iowa superdelegate Mike Gronstal, who is the majority leader of the state Senate.
'Not locked into Washington Establishment'
"It's a bit of a trade off: there's part of the electorate that likes that he's not a creature of Washington D.C.," Gronstal added. "One of his strengths is that he's new and fresh and not locked into the Washington Establishment. People are excited about that, but there are some who say, 'does he have enough experience and enough connections?'"
Delegate Arlene Prather-O'Kane, a public health nurse for Black Hawk County, who was committed to John Edwards in the Iowa caucuses, said, "I'm very aware" that many Iowans don't see Obama as these delegates see him.
"My in-laws and some of my family are Republican," said Prather-O'Kane, adding that she realized "very much" the rest of Iowa isn't necessarily as smitten with Obama as his fans are.
But, she said, "I can't go along with that. We need a change in this county. Eight years ago there was a surplus. Now we have a huge deficit. We had a preemptive war which we never before had in this country's history."
Iowa is especially important this year because Democrat Al Gore carried the state in 2000, but then John Kerry let it slip away in 2004.
The momentum in Iowa state legislative races and in U.S. House races in Iowa has been strongly Democratic since 2004, so one would expect Obama to carry the state.
Oster said Iowans "saw the character of the man" when he competed in the state last January.  He sees as a critical indicator "the number of people knocking on doors, the number of people in this campaign who are involved for the first time. There are a lot of people who have not been involved before."
Oster said he'll be doing his part by organizing on the Drake campus, making sure that students — whatever state they come from – vote in Iowa for Obama. A potential edge for Obama: Iowa will allow same-day voter registration, so last-minute "impulse buyers" might supply a batch of votes for Obama. 
Democratic tide in Iowa
Gronstal said the tide is Democratic in the state.
"We've got 60 percent of the [state] Senate; that's they highest we've ever been," Gronstal boasted. "That's higher than we were in the farm crisis (of the 1980s), higher than after the Democratic landslide of 1964, and higher than we were in the Great Depression."
"When we look at our benchmark polls in our competitive legislative districts, we are very encouraged by the numbers we see for Barack Obama," Gronstal said.
"We don't measure statewide polls; we look at individual polls in individual state Senate districts. We don't look at hopelessly Republican districts and we don't spend money to poll in a hopelessly Democratic district. We measure toss-up districts. Obama looks strong."
But four years ago, Democrats in Iowa and elsewhere thought that Kerry's national security credentials and Vietnam War service would make him the winner. Is there similar overconfidence this year?
"I have calluses on my knuckles from knocking on doors. It's about running smart, effective campaigns. That may have been Sen. Kerry's mistake. He didn't respond. He let them take his great strength and somehow translate it into a negative," Gronstal said.
"We're not deluded into thinking this is going to happen on its own — it is going to happen through a lot of hard work," Gronstal said.
He said Obama workers in Iowa "are more committed to the grass roots" than Kerry's team was and the Obama field effort in his part of the state "much better than Kerry's."
Obama's Iowa director Jackie Norris said the Obama campaign has now opened offices in what she called "tier two" places such as Muscatine, Cedar and Cass counties. "I doubt that John Kerry had field offices there four years ago."