/ Source: The Associated Press
An Associated Press photographer and a Democracy Now! TV and radio show host were among those arrested at an anti-war march on the first day of the Republican National Convention. Both were released hours later.
Police said Tuesday they arrested 286 people during Monday's event. Most of the estimated 10,000 people in the march were peaceful, but small groups that police said numbered about 200 broke windows, slashed tires and harassed delegates.
AP photographer Matt Rourke was covering the protest when he was swept up by police moving in on a group of protesters in downtown St. Paul. Democracy Now! host Amy Goodman was arrested as she asked police in riot gear about the status of two producers who had been arrested, one of whom she had heard was bleeding. The producers also were released later.
David Ake, an AP assistant chief of bureau in Washington, said he was concerned by the arrest of Rourke, a Philadelphia-based photographer.
"Covering news is a constitutionally protected activity, and covering a riot is part of that coverage," Ake said. "Photographers should not be detained for covering breaking news."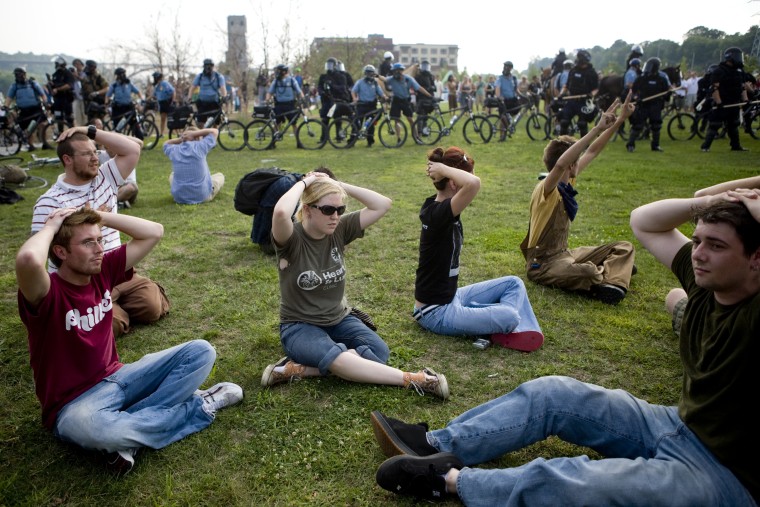 Phil Carruthers, director of the prosecution division of the Ramsey County Attorney's Office, said Monday night that no charges against Rourke were anticipated. Rourke, held on a gross misdemeanor riot charge, was released early Tuesday.
Democracy Now! producers Sharif Abdel Kouddous and Nicole Salazar were arrested while they carried out their journalistic duties, Democracy Now! said in a statement. Democracy Now! said Kouddous and Salazar were arrested on a felony riot charge while Goodman was charged with misdemeanor obstruction of a legal process and interference with a peace officer.
All three appeared on Goodman's show on Tuesday and recounted their experience. A video of Goodman's arrest, aired on her program and also posted on YouTube, shows her begging police not to arrest her before being taken away in handcuffs.