/ Source: The Associated Press
Iraq is planning to give the notorious Abu Ghraib prison a facelift, complete with a museum documenting Saddam Hussein's crimes, though not abuses committed there by U.S. guards, the government said Thursday.
The government said the sprawling prison complex, which has not held prisoners since 2006, will be refurbished in order to accept new inmates in about a year.
A section of the 280-acre prison just west of Baghdad will be converted into the museum, featuring exhibitions of execution chambers and torture tools used by Saddam's regime, including an iron chain used to tie prisoners together.
"There is evidence of the crimes (Saddam committed) such as the hooks used to dangle prisoners, tools used to beat and torture prisoners and ... the execution chambers in which 50 or 100 people were killed at once," deputy justice minister, Busho Ibrahim, told The Associated Press.
But the Iraq's predominantly Shiite government, while highlighting the crimes of Saddam's Sunni-dominated Baath party, has no plans for the museum to include displays dedicated to the U.S. military abuse scandal that erupted in 2004.
"That was nothing compared to what Saddam has done," Ibrahim said.
U.S. motives questioned
It was the U.S. abuse scandal that made the four-decade-old prison notorious for many around the world, with the publication of pictures showing grinning U.S. soldiers mistreating Iraqi prisoners, some naked, being held on leashes or in painful and sexually humiliating positions.
The pictures were a blow to America's reputation. The abuse angered many in Iraq and around the Arab world and undermined U.S. claims that its invasion of Iraq was aimed at building a country based on rule of law and respect for human rights. In all, 11 U.S. soldiers were convicted of breaking military laws and five others were disciplined.
But for Iraqis, the massive, gray prison had long been a symbol of horror and despair under Saddam's nearly quarter-century rule — a place where people arrested on the suspicion of dissent would disappear, be tortured and executed without trial.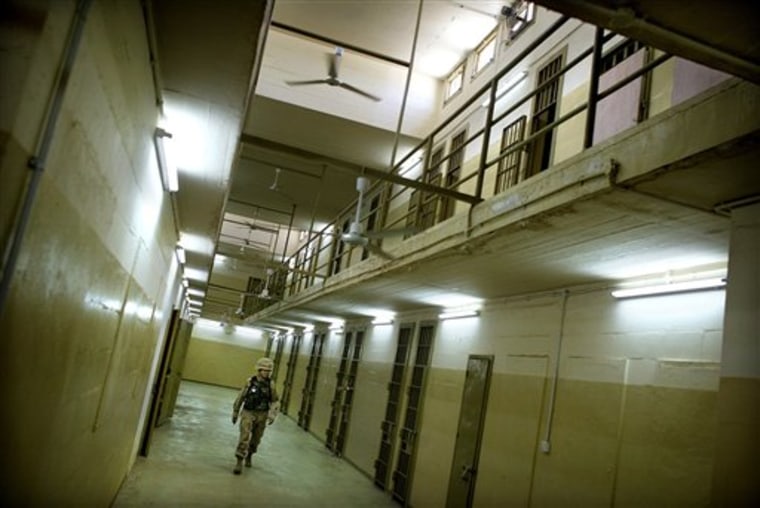 Former inmates have told of chemical and biological weapons experiments on prisoners. Saddam's son, Qusai, had hundreds executed there in the 1990s just to ease overcrowding. Others have spoken of tiny isolation cells where political detainees were kept for up to a year without seeing a single person.
Several former prisoners later testified during Saddam's trial about torture at Abu Ghraib. The deposed leader was later convicted and hanged in 2006 for ordering the killings of more than 140 Shiite Muslims.
No one ever knew how many prisoners Abu Ghraib held during Saddam's era. In the early 1990s, however, tens of thousands of people would gather outside the walls each week to visit inmates.
Saddam freed thousands
Shortly before the March 2003 U.S.-led invasion, Saddam released thousands of inmates from the facility, including murderers, rapists and thieves. Many of them were believed to have returned to crime or joined the insurgency after the regime collapsed in April 2003.
Abu Ghraib's reputation was so bad that that U.S. President Bush offered to tear it down after the American abuse scandal broke. Bush promised to build a new prison "as a fitting symbol of Iraq's new beginning" and to eliminate the legacy of torture and abuse.
But Iraqi officials reminded the Americans that the prison was, after all, Iraqi government property. Destroying it would be a needless waste of resources, the government said.
The Iraqi government took final control of Abu Ghraib in September 2006 after the last of the inmates had been transferred to other prisons.
In addition to adding the museum, the government plans to rehabilitate the prison's main building, outer fence and two dozen prison towers.