/ Source: msnbc.com contributor
Anybody who doubts the rapidly growing influence of Japan's erotic cultural imports in the U.S. only has to spend a little time playing with a Hello Kitty vibrator while reading a fan-created pornographic Pokemon comic — or visit a "maid café" (now available near Los Angeles and Canada) where the waitresses all dress in costume — to realize it's not just a fringe subculture anymore.
There is a good argument to be made, based on those characters alone, that we are all "turning Japanese" as the '80s song goes — especially sexually.
These cartoony, sexualized characters are all part of otaku culture. Otaku is a Japanese word that has evolved from meaning "techno-geek" to describing devoted fans who pore over Japanese animation (anime), manga (graphic books), hentai (erotic comics) and other comics-derived media. As the recent fashion collaboration of designer Marc Jacobs and Japanese artist Takashi Murakami illustrates, otaku culture has become entrenched in the hip American mainstream.
When anime conventions started in the U.S. back in the mid-1990s, the main demographic was mostly Asian college-age male students, says 32-year-old otaku expert Lawrence Eng. "Now, at least 50 percent are female," he says. "Fandom itself is more diverse than ever."
Within the adult realm of otaku culture, cuteness is fetishized (hence the Hello Kitty sex toys) and gender is often bent or dissolves altogether. Women are penetrated by octopi and young women in short school-girl skirts save the world. Men, on the other hand, are often passive worshipers of small figurines depicting sexy characters.
Of course, not all anime and manga is overtly sexual — a lot of it is meant for children. Even some adult anime isn't sexualized any more than, say, Wonder Woman (who was created as a dominatrix bondage fantasy.)
But sexually-suggestive and explicit anime like "Gurren Lagann" and "Legend of the Overfiend," is finding an eager audience of adult Americans who are drawn to the post-modern, almost post-human mash-up of playful, blurry morality found in the genre.
"The appeal of Japanese pop culture [to Americans] is that it is a moral-free zone," explains Patrick Macias, editor in chief of Otaku USA, a bi-monthly magazine with a circulation of approximately 60,000. "The ideas of good/bad, right/wrong, that duality is not present."
Lolita-complex culture
Yet while adult anime may be fascinating because it pushes the edges of normal reality, there is enormous potential to be misunderstood. Because some of the edgier elements such as "Lolicon" (or Lolicom, a combination of "Lolita" and "comic") involve very young anime girls in erotic situations, adult otaku media is a "really sensitive topic," in the U.S., says Macias.
"When we hit those images, we are really kind of on an abyss," Macias says.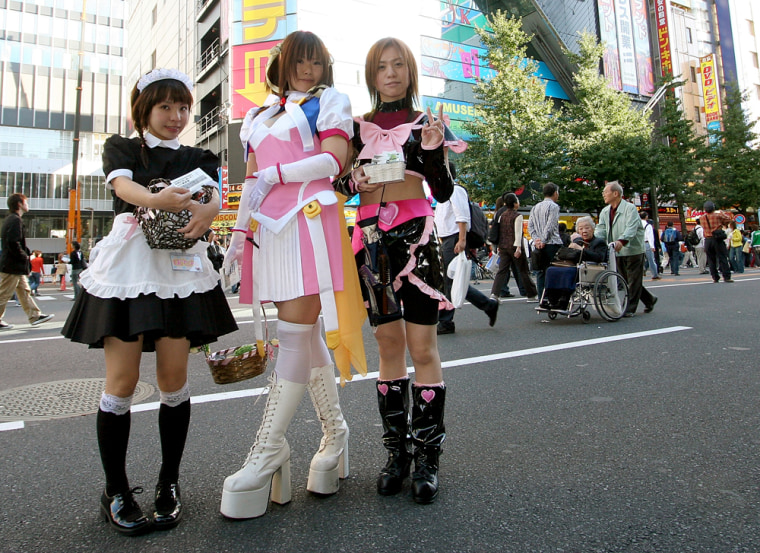 In fact, trying to explain the appeal of Lolicon has become a serious field for a few sociologists.
The appeal may rest in blooming eroticism, some theorize. Or, as British sociologist Sharon Kinsella suggests, the Lolita-complex anime culture appeals because it's rebellious. "Depictions of sexual deviance and uncontained energy projected onto girls in stories in boy's comics ... contain an antiauthoritarian impulse that gains intense vicarious pleasure from viewing scenes of social chaos, misbehaviour and sensual liberation," she has written.
Whatever it is, for a true otaku, Eng says, it is not pedophilia. "Fans abhor young looking [real-life] models," he said. "They abhor real child porn. They do not want to be associated with that stuff."
For example, on a Lolicon chat board recently, someone posted a Japanese DVD cover showing real schoolgirls, around 8 years old, dressed in uniforms, showing their panties, smiling, giggling. The community was outraged and urged harsh punishment for the makers of the DVD, arguing that there is a vast and important difference between "2-D" and "3-D."
More satisfying than real life
Some otaku do try to transform the cartoon objects of their affection into 3-D by buying figurines of sexy anime characters, or of "Japanese idols," often female pop stars or bikini models.
That may be the biggest Japanese influence on American sex. In otaku culture, gender is increasingly fluid and interchangeable. Play and fantasy are more important than actually having sex with a real person. Among some otaku, love and sex in the anime realm become vicarious experiences, more satisfying than real life, Macias says.
"Among Japanese fans — the guys — it is a badge of honor to say, 'We do not need real women; [these] figures are better, they do not talk back'" said Macias. "Americans are not there yet, but at the rate things are going, we are going to be seeing that."
American fans may not go that far — at U.S. conventions, for example, otaku men and women socialize, date and sometimes actually fall in love, unlike their loner Japanese counterparts. But in both cultures, Eng believes, the expanding popularity of otaku is a positive reaction to the problems of global alienation, mass culture's assault on individual identity, changed gender roles, and "the lack of satisfactory grand narratives."
Macias agrees and has little doubt that otaku will influence attitudes about sexual expression here. "When you see a kid sitting in Borders reading a manga, he's not just reading a comic book," Macias said. "There is something really powerful going on there."